Correct spelling is crucial for SEO. As a non-native English writer, I admit to be dependent on a spell checker. Grammarly is a must have tool for blogging. Have a little more background about me and why this language tool is essential for me and my blog.
In today's blog post I want to share with you the very useful tool Grammarly, which I am using to write my blog posts and emails.
As you can tell, I am not a native English speaker. Born in Switzerland, I have learned English at school and later, with 24, went to Newzealand & Australia to improve it even more. I am a number person, and it is not easy for my brain to learn new languages (one of my weaknesses). What helps me in my daily routine is to read and watch TV only in English.
As you now know my relationship I have with the English language, let me explain to you what I do to make sure my posts are not totally wrong written.
There is this very fantastic tool called Grammarly, which helps me a lot to check all my grammar and spelling. To be honest, I would be lost without it. You can add Grammarly as a Chrome extension, which allows checking your text in every document, email and blog post in WordPress. You can also write directly in your Grammarly account, which has kind of the same setup like Google Drive.
Sometimes I prefer to write my posts directly in their tool, as, in my opinion, the spelling check works the best.

This is how Grammarly looks like in your Chrome extension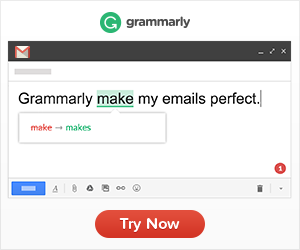 So what it does is running a test over your text and monitoring these five details:
1. Critical grammar and spelling checks
2. Advanced checks for punctuation, grammar, context, and sentence structure
3. Vocabulary enhancement suggestions
4. Genre-specific writing style checks
5. Plagiarism detector that checks more than 8 billion web pages
If you are writing your own recipes and text, the last one is not very important.
There is a free version which does only the first check, and a premium version which does all five checks.
The question on why you should pay for a tool like Grammarly? You want to make your audience happy and want to give your readers the best possible experience on your site. Also, for SEO purpose it is essential to have well-written posts with as little grammar and spelling error as possible. This is the most significant fact why I decided to go with the premium version. On top of that, I love the vocabulary enhancement suggestions, from which I already learned some great alternative words to use.
Try out the free tool today and if you are delighted with it, go for the premium version, try it out for one month, and decide if you need it or not. The yearly subscription is way more affordable. Therefore I recommend you choose this one for the long term.
Happy writing!
Please let me know in the comment if you like this kind of blog post, and if I should share more useful tools with you!
* This site contains affiliate links. It doesn't cost you more if you buy a product through my links, but it helps me to buy more food for awesome free recipes. I only recommend products I love and use.