*This post may contain affiliate links.
The creamiest vegan pasta carbonara with vegan mushroom bacon! Nobody is going to miss the original recipe with this dairy-free carbonara version!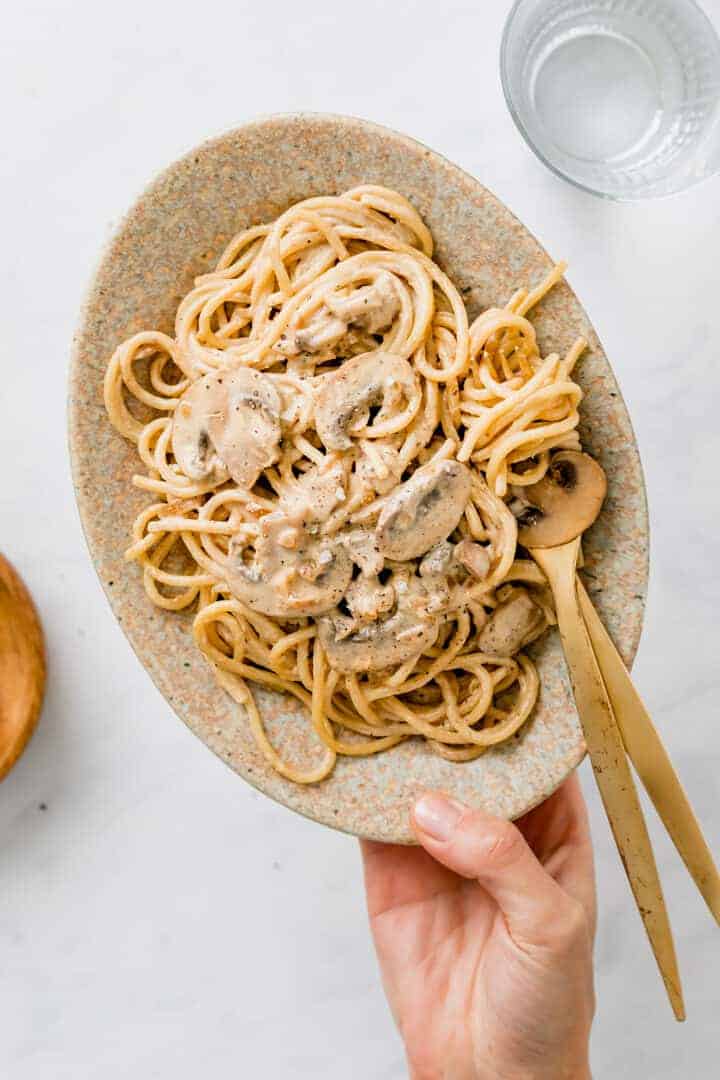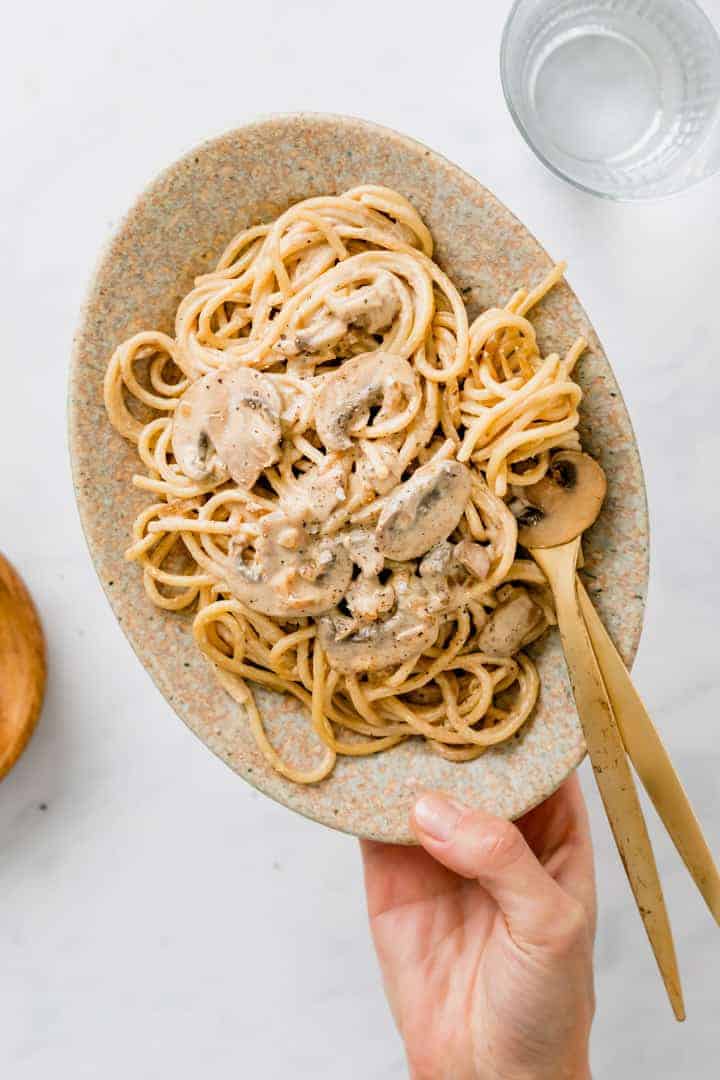 Spaghetti Carbonara, probably one of the most loved Italian pasta recipes next to Spaghetti Pomodoro! It's such a creamy pasta dish with smoky flavors.
The original recipe calls for eggs, cream, and Parmesan for the sauce and crispy bacon for the topping. But let me show you how to make a decent Vegan Pasta Carbonara with no eggs, cheese, and cream. This recipe is dairy-free and comes with a vegan bacon alternative!
Vegan Carbonara Sauce
This vegan carbonara sauce will literary blow your mind. It is so creamy, even creamier than the original recipe.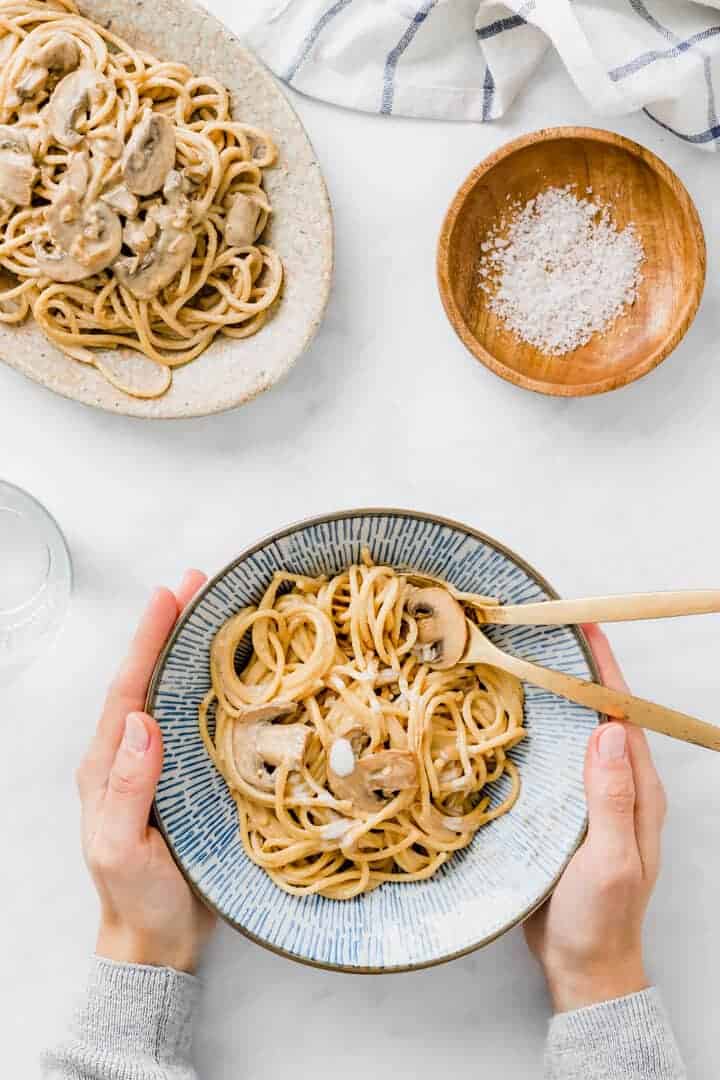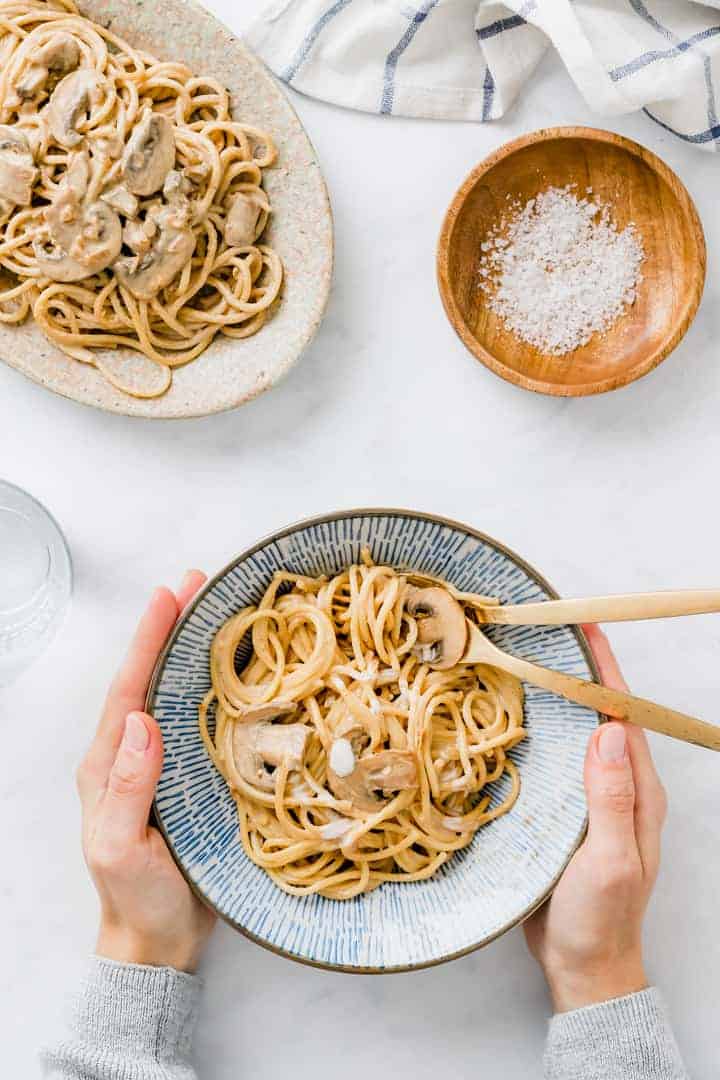 But how do you make carbonara without eggs? Use the vegan wonder nuts, also known as cashew nuts. Blend cashew nuts with water, nutritional yeast, black salt (also known as Kala Namak salt), ground nutmeg, and pepper into a smooth sauce.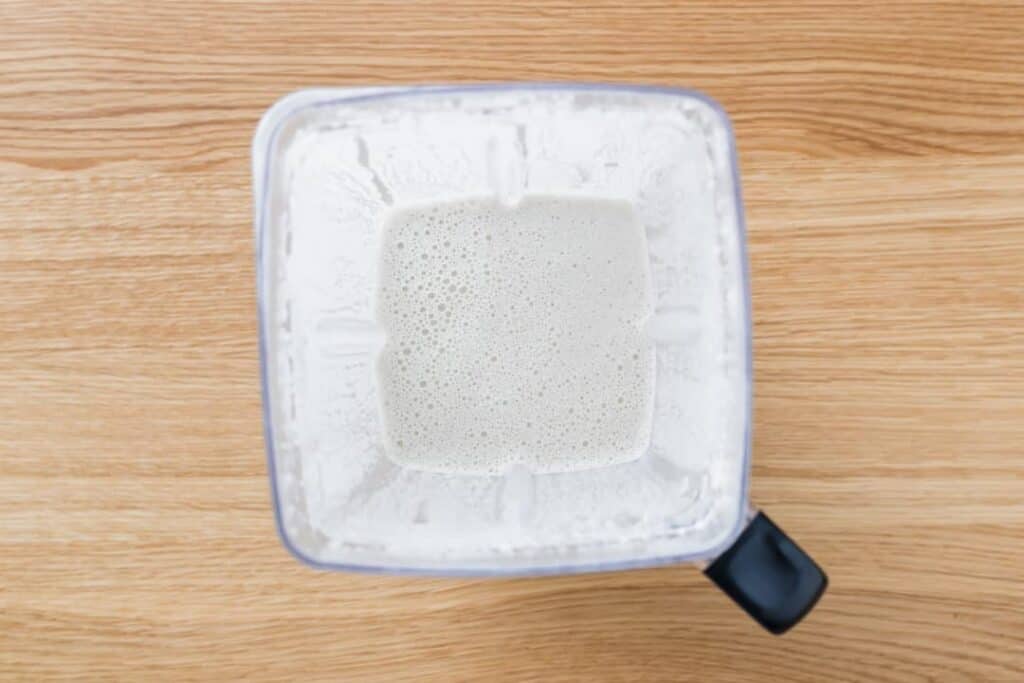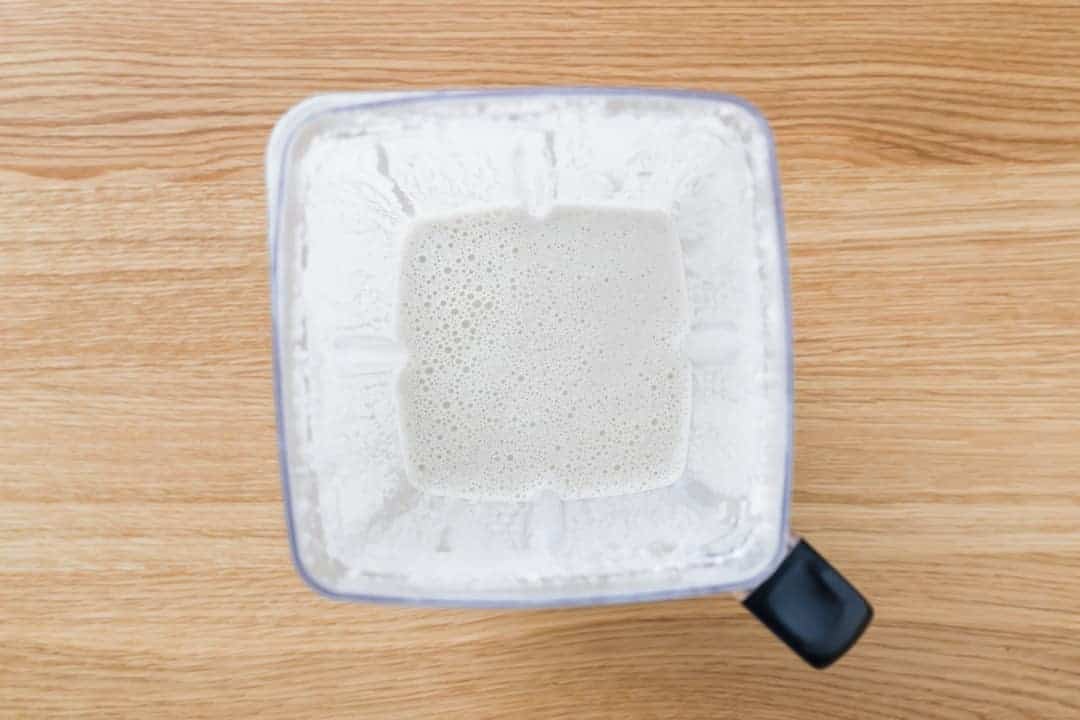 Once you toss the cashew sauce with the spaghetti in a hot skillet, the spaghetti starts to soak it up, and the sauce begins to thicken into a dreamy creamy carbonara sauce. Don't worry if you have the feeling that the sauce is too liquid. It soon starts to thicken once hot.
The sauce is super creamy, if you don't like this, stretch it with a little more pasta or prepare the recipe with slightly less sauce.
For sure, the bacon can't be missing here! That's why I will show you how to make a perfectly smoky vegan bacon alternative using mushrooms.
Kala Namak
Kala Namak is an Indian salt with a sulfurous smell. It is often used in the vegan kitchen to imitate the taste of eggs. The color of the salt is between pink and black, that's why it's also called black salt. You can buy it in larger supermarkets or dedicated vegan shops. Or order it right now trough Amazon → Buy Kala Namak Salt now!
If you love the delicious vegan kitchen and often cook vegan dishes, it's worth having it.
More recipe ideas using Kala Namak Salt:
Vegan Mushroom Bacon Recipe
You can't call a pasta Carbonara if it doesn't come with bacon, or in this case, vegan bacon. Let me show you how to make this tasty smoky alternative at home. It gives your pasta the perfect finish!
You only need button mushrooms and following few ingredients to make them smoky: soy sauce, maple syrup, liquid smoke, mustard, and smoked paprika.
Smoky Sauce

Vegan Mushroom Bacon
Feel free to replace maple syrup with another sweetener, such as agave nectar or date syrup. I love smoked paprika and prefer it over the regular ground paprika. If you only have the regular one at home, don't worry and just use this — no need to buy the smoked one if you are not using it for other recipes.
By the way, you can also use this mushroom bacon for other recipes or to fill your sandwiches. 🙂
Most of the time I use button mushrooms cause I can always buy them in the supermarket next to my house. Feel free to substitute them with portobello mushrooms or king oyster mushrooms.
Liquid smoke
Liquid smoke is an essential ingredient to make a vegan version of bacon and gives the mushrooms a smoky taste. Unfortunately, you can't replace it with anything else.
I love cooking with liquid smoke hickory, and it's especially handy for vegan recipes. I would say it's worth to buy!
More recipe ideas using liquid smoke hickory:
Vegan Pasta Carbonara Recipe – Tips & Variations
The recipe is simple and can be cooked in under 30 minutes. Take a look at my video to know how to cook it in less than a minute!
Do I have to soak the cashew nuts?
No, for this recipe, it is not necessary to soak the cashew nuts. You can mix them immediately with the other ingredients. So, no unnecessary recipe planning!
Vegan Bacon Alternatives?
The smoky mushrooms do enhance the flavor of this recipe perfectly. However, if you have another favorite recipe for vegan bacon, such as rice paper bacon or smoked tofu bacon, you can also use them instead of the mushrooms. We can't buy vegan bacon here in Switzerland, but I know that in the US, you can already buy it in the supermarket. I once tried store-bought one in Mexico, and it was super tasty. Feel free to use store-bought vegan bacon for this pasta recipe if available in your country.
Slicing mushrooms:
I prefer to cut half of the mushrooms in thin slices and finely chop the other half. This is only a guideline, cut them as you wish.
How long does it keep fresh?
Stored in an airtight container in the refrigerator, it stays fresh for a maximum of 3 days.
How do I reheat Spaghetti Carbonara?
You can heat the leftovers in a microwave or a skillet. Since the sauce thickens quite a bit once cooled, it is best to add some water to reheat it. This is going to make your sauce creamy again.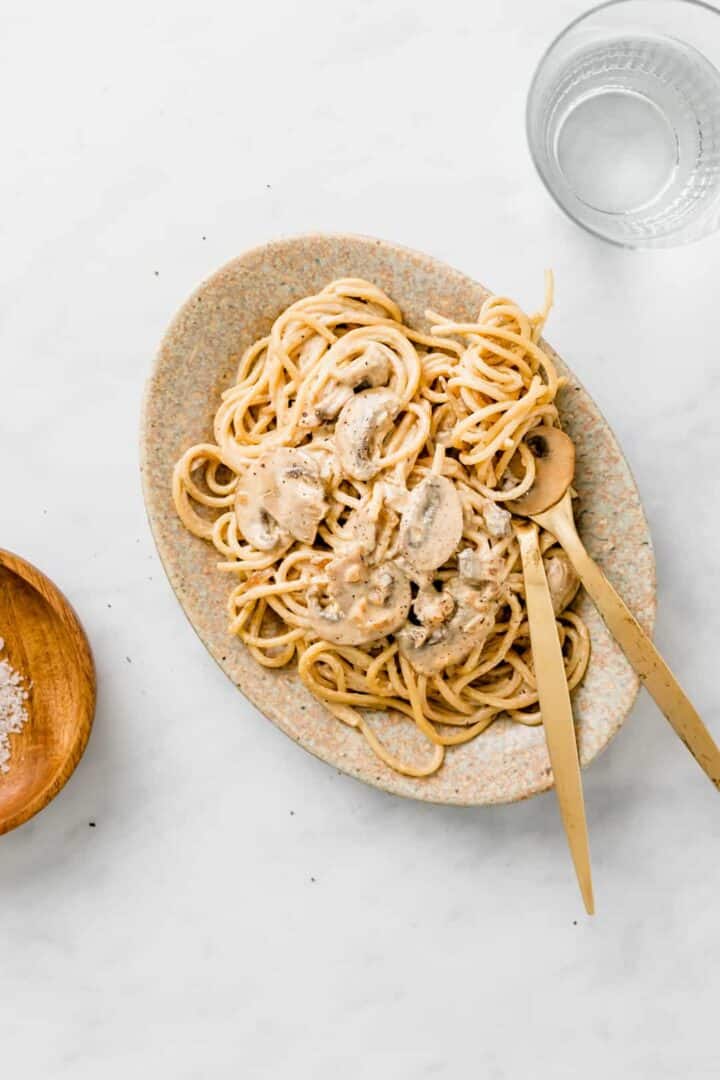 More vegan pasta recipes you'll love:
Did you try this recipe?
I would love it if you leave me a 5-star rating or comment. This way, I better get to know which recipes you like and can make more of them.
Please follow me on Facebook, Instagram, and Pinterest to see more tasty shiny food pictures! I would be thrilled to welcome you to my community!
📖 Recipe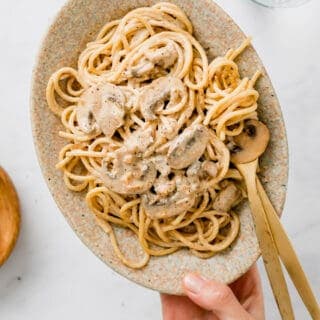 Vegan Carbonara
The creamiest vegan pasta carbonara with vegan mushroom bacon! Nobody is going to miss the original recipe with this dairy-free carbonara version!
Click on the stars to leave a vote!
Ingredients
Vegan Mushroom Bacon
2

tbsp

olive oil

1

onion

peeled & minced

2

cloves

garlic

peeled & minced

3

cups

(

200

g

)

button mushrooms

½ sliced & ½ chopped

2

tbsp

soy sauce

or tamari

1

tsp

liquid smoke

1

tsp

maple syrup

or any other sweetener

½

tsp

mustard

½

tsp

ground smoked paprika

or regular ground paprika
Instructions
Pasta
Bring a large pot of water to the boil. Add some salt and spaghetti and cook per packet directions MINUS 1 minute.

Drain, toss with some olive oil (optional - prevents the pasta from sticking together), and set aside.
Vegan Mushroom Bacon
Heat a skillet with olive oil. Add minced onion and garlic cloves and sauté for 3 minutes until translucent.

Slice half of the mushrooms and finely chop the other half. Mix the soy sauce, liquid smoke, maple syrup, mustard, and smoked paprika in a small bowl.

Add the mushrooms and sauce into the skillet and cook for 5 minutes on high heat, until no liquid is left.
Vegan Carbonara Sauce
Add all ingredients into a blender and blend until smooth.
Assemble
Add the cooked spaghetti and the carbonara sauce to the mushrooms and cook for one minute, stirring constantly, until the sauce has thickened.
Notes
If the sauce gets too thick, add more water.
The pasta is super creamy. If you prefer it less creamy, stretch it with more spaghetti (+2-3 oz more spaghetti).
Keeps fresh for 3 days. Store it in an airtight container in the refrigerator.
Kala Namak: It's a salt with a strong "egg" flavor. It can't be replaced with anything else.
Liquid Smoke: Is essential for smoky mushrooms. Can't be replaced. Omit if you don't have it.
Cashew Nuts: There is no need to soak the cashew nuts.
Nutrition
Serving:
1
g
|
Calories:
675
kcal
|
Carbohydrates:
66
g
|
Protein:
22
g
|
Fat:
40
g
|
Saturated Fat:
7
g
|
Polyunsaturated Fat:
30
g
|
Sodium:
1749
mg
|
Fiber:
9
g
|
Sugar:
11
g
Did you make this recipe?
Let me know by leaving a recipe rating below, or by tagging @aline_made on Instagram. I love seeing your beautiful creations!