Flammkuchen is a traditional dish from the Alsace. If you do not now the Alsace, it's located on France's eastern border and the west bank of the upper Rhine adjacent to Germany and Switzerland. Everybody there eats flammkuchen (and a lot of it).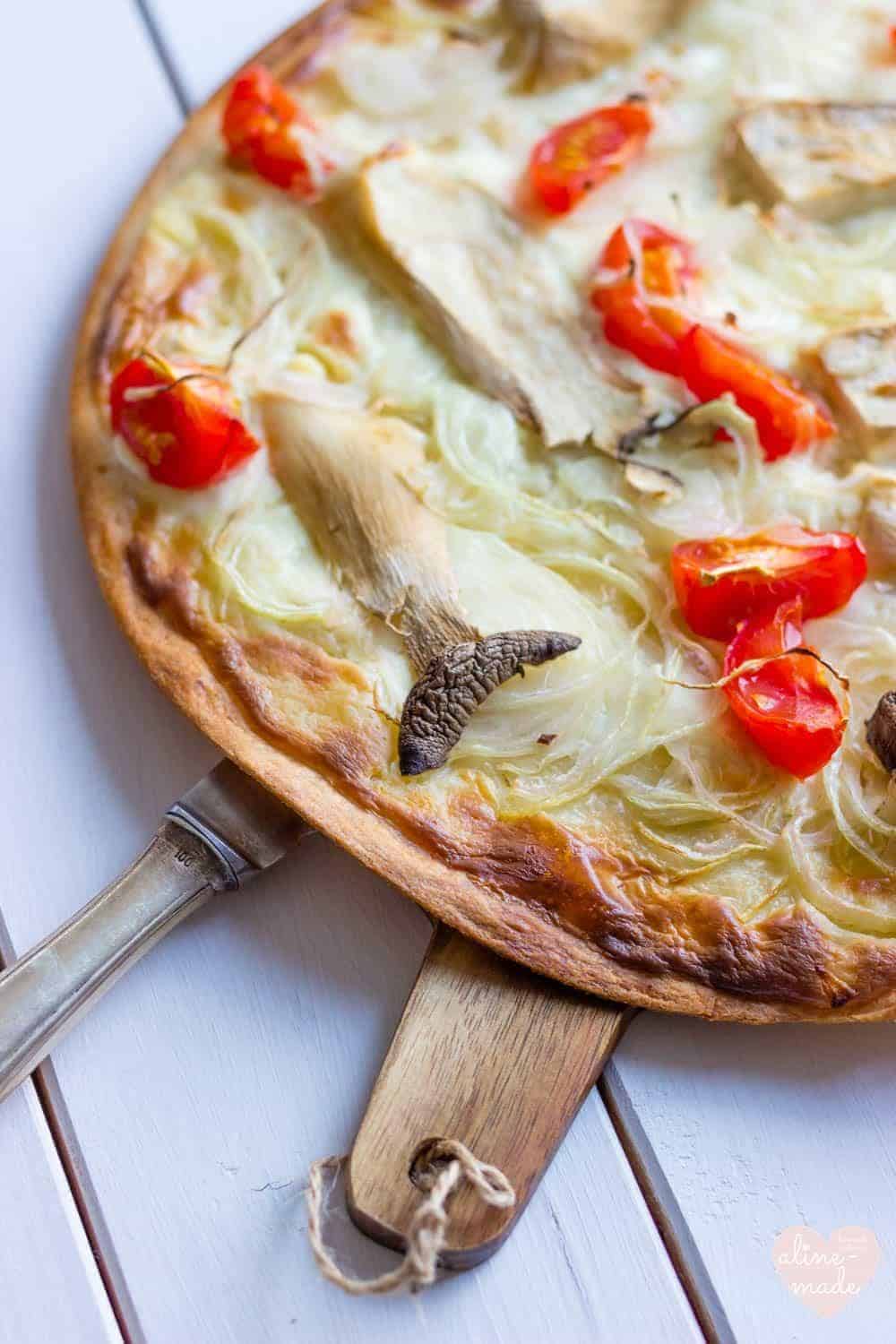 If you do not know it, it's almost like a pizza. But the dough is thinner, and it's typically spread with creme fraiche, loads of onions and bacon. This recipe for the vegetarian flammkuchen is made with creme fraiche and onions too, but instead of the bacon, you have to add some king oyster mushrooms and tomatoes. If you don't like the king oyster mushrooms, just swap them with champignons.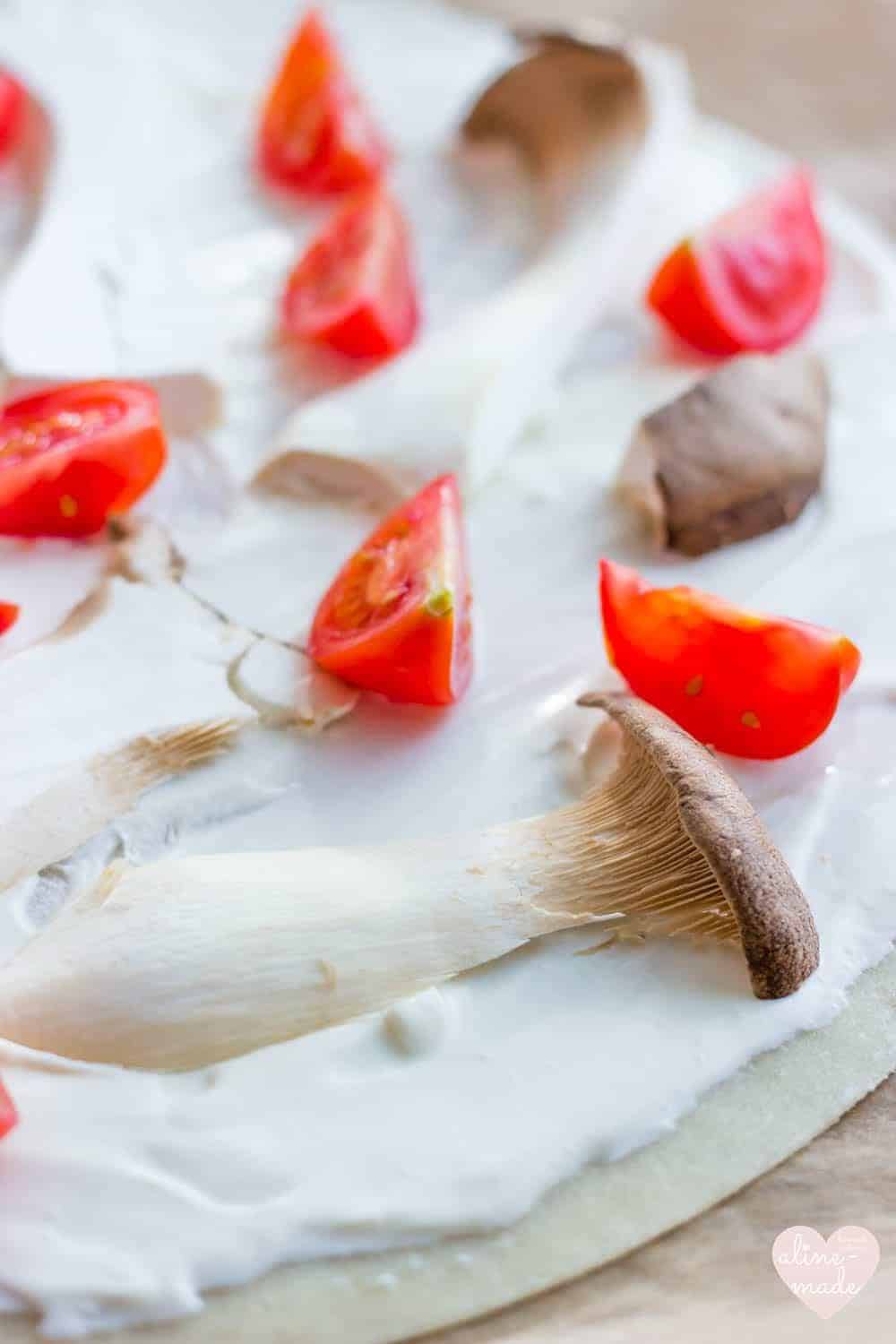 Vegetarian Flammkuchen – Don't forget to sprinkle the onions over the creme fraiche like I did…
And do not forget to sprinkle the onions over the creme fraiche as I did 🙂 It will get a bit messy if you have to sneak them under the king oyster mushrooms afterward….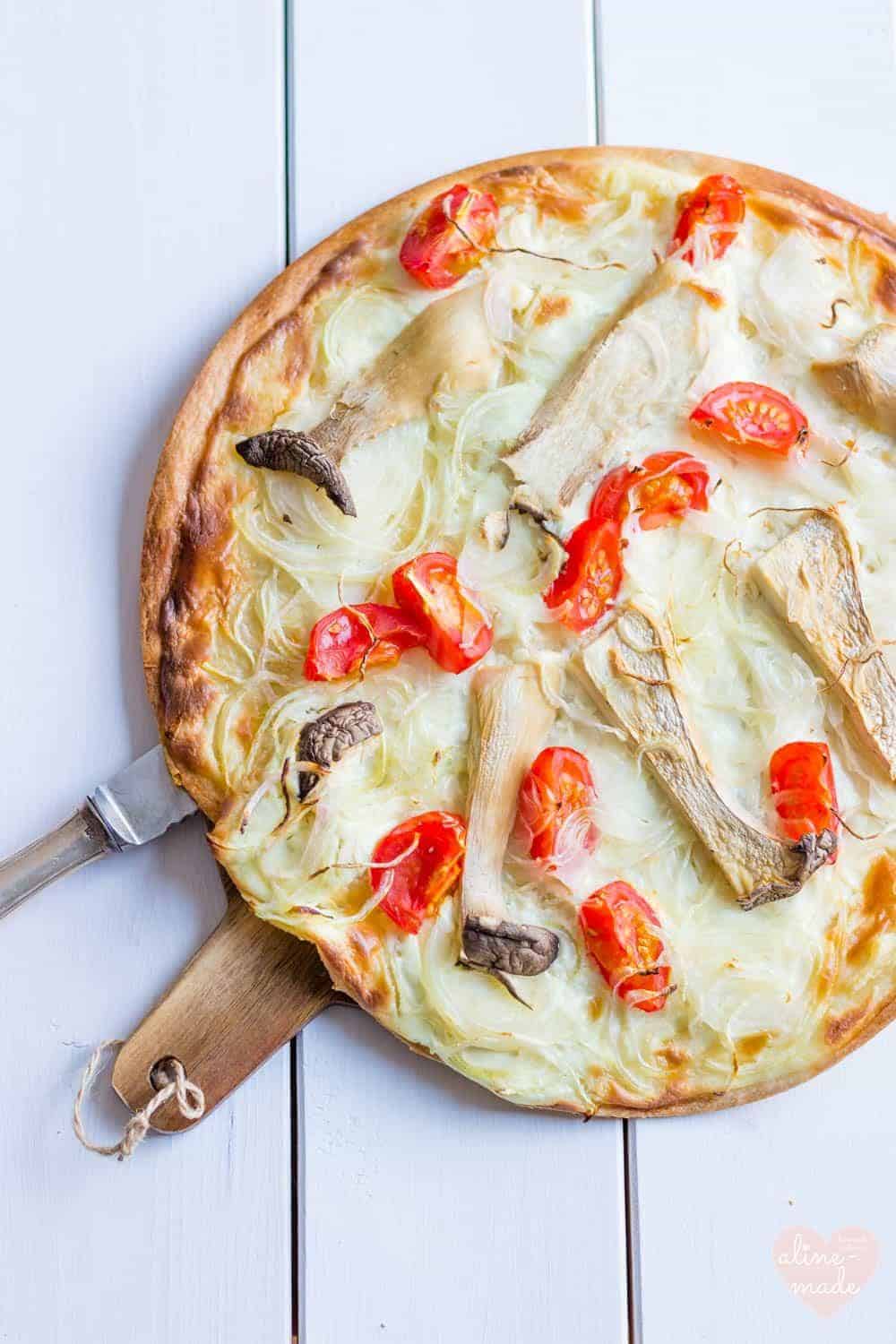 Vegetarian Flammkuchen – Recipe for 1 Flammkuchen | Serves 1 – Total Time 30 Minutes
Calories per serving
710
kcal
Ingredients
1

round flammkuchen dough

,

(~150g)

100

g

Creme Fraiche

3

tbsp

milk

1

onion

80

g

king oyster mushroom

,

~1 big one or a few smaller ones

2

tomatoes

salt & pepper
Instructions
Preheat your oven to 230°C/446°F (conventional).

Line a baking sheet with baking paper and place your flammkuchen dough on it.

Mix the creme fraiche with the milk and spread it evenly on the dough.

Peel the onion, slice it into very thin round slices and sprinkle over the dough.

Cut the king oyster mushroom into thin slices and sprinkle as well over the dough.

Cut each tomato into 6-8 pieces and add on top of everything else.

Bake your flammkuchen for about 18 minutes in the lower half of your preheated oven.

Season it with salt and pepper.
Aline's Suggestion
Use a vegetable slicer to get very thin onion rings. Use the one, which you use for cucumber salad. Just be careful with your fingers 🙂
Nutrition per Serving
Calories:
710
kcal
|
Carbohydrates:
108
g
|
Protein:
22
g
|
Fat:
24
g
|
Saturated Fat:
1
g
|
Cholesterol:
57
mg
|
Sodium:
463
mg
|
Potassium:
1139
mg
|
Fiber:
6
g
|
Sugar:
21
g
|
Vitamin A:
51.4
%
|
Vitamin C:
50.7
%
|
Calcium:
26.1
%
|
Iron:
10.9
%