This recipe for vanilla yogurt with candied walnuts and fig is a very easy recipe to pimp up your yogurt or to make a simple and fast dessert.
And the best is that you only need 4 ingredients for this very delicious yogurt with candied walnuts and fig. Sugar (which you might have any way at home), a fresh fig, some walnuts and a vanilla yogurt. All you have to do is caramelize your walnuts, cut your fig and place both of them in a nice way on your vanilla yogurt. So simple.
When you caramelize your walnuts and put them on the baking paper sheet to dry, you will have some pieces of hardened brown sugar on the baking paper left, just take them off the baking paper and place them as well on your bowl of goodness, it's a very crunchy feeling if you eat them.
If you do not have the time in the morning to caramelize your walnuts, you can do this task also in advance and store them in a glass jar. Make a bit more and you have a little sweet snack for in between or for a lazy TV Sunday ❤

Vanilla Yogurt with Candied Walnuts and Fig – Delicious & Simple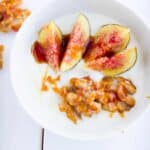 Yogurt with Candied Walnuts and Fig
This vanilla yogurt with candied walnuts and fig is a great recipe to pimp up your breakfast yogurt or for a simple dessert.

Ingredients
1

vanilla yogurt

1

fresh fig

1

tbsp

sugar

1.5

tbsp

walnuts
Method
Caramelize the walnuts. Heat one tablespoon sugar in a pan over high heat until the sugar has dissolved and turned golden. Add the walnuts and mix until they are well combined with the sugar. Place them on a baking paper sheet to cool down.

Cut the fig into small slices and place them with the yogurt in a bowl.

Top it with the caramelized walnuts.
Aline's Suggestion
If you like it very sweet, top your figs with some coconut blossom syrup or honey.
Nutrition Facts
Yogurt with Candied Walnuts and Fig
Amount Per Serving
Calories 182
Calories from Fat 81
% Daily Value*
Total Fat 9g 14%
Sodium 1mg 0%
Potassium 182mg 5%
Total Carbohydrates 23g 8%
Protein 2g 4%
* Percent Daily Values are based on a 2000 calorie diet.