*This post may contain affiliate links.
A list of the most helpful blogger tools that will help you grow your blog. These are the tools I love most and use daily to run my successful food blog. Some of them are free, some of them are paid tools such as my Wordpress theme, hosting, or more advances software.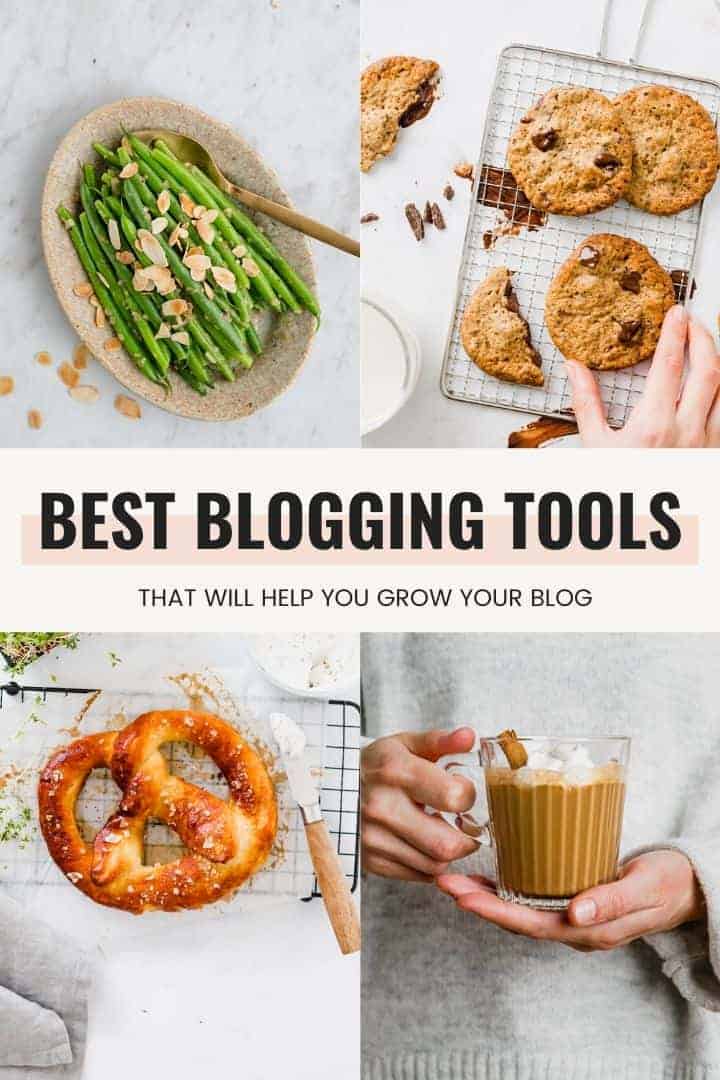 You do not need to use every one of those blogging tools to be successful. This list can be a bit overwhelming when you are just starting with your blog, but I suggest to bookmark it and come back whenever you are ready for more information.
Pick out the ones you love the most! I do hope it helps you narrow down your list of the best blogging tools ever.
Create Your Blog
Namecheap – Basic platform to buy a domain. Best function: Auto-renew your domain! Never forget to check the tickbox "auto-renew". Namecheap also comes with lots of helpful tutorials on how to redirect domains, email servers, and such tech stuff.
BigScoots – Manages WordPress Hosting that is built for speed! Affordable hosting with supreme customer support. I recommend the Managed WordPress Hosting plan for everybody with >30K Pageviews. I switched to them as soon as I was approved by Mediavine. They also have more affordable shared servers when you are just starting out.
WordPress – One of the most used and most powerful online platform to run a successful blog! WordPress is free, and also comes with free themes. I do not recommend using the free themes it comes with, preferably get a license for the Genesis Framework. Make sure to use WordPress.org and not WordPress.com
Genesis Framework – Best WordPress Framework any half-serious blogger should consider. The Genesis Framework also comes with lots of beautiful child themes.
Seasoned Pro Theme – Beautiful child theme by Feast Design. It is built for and used by many successful food bloggers. Speed, design, function! It has all you wish for in a premium theme.
Helpful Marketing Tools
Later – The scheduler I currently use for Instagram. It auto-posts regular and video posts. Furthermore, It comes with a nice preview function, and you can reply to any Instagram comments directly from your computer. For me, it's much more convenient to plan my feed from my computer rather than my smartphone.
Tailwind – Hassle-Free Pinning! So easy to schedule Pinterest Pins trough Tailwind. It auto-posts them, which means you can plan all pins once a week (or whatever schedule fits you), and then forget about it. I partly have to thank Tailwind for my Pinterest success (traffic, baby!).
SEMrush – Essential but expensive marketing software I recommend every blogger who wants to turn this thing into his/her career. Keyword Research is one of the most important things in blogging! If you want your SEO to work and lurking for lots of organic traffic, you must invest in such a tool. I love the SEO Writing Assistant, with which I write every single blog post.
Canva – A free online tool to create stunning Pinterest Pins, Instagram Stories, Media Kit, or any other design you need. It's super easy to use and comes with so many beautiful templates. I create all my Pinterest Pins with Canva.
Mailchimp – E-Mail Marketing! Easy and free (up to 2'000 email addresses) newsletter tool! Use a basic template and start building your mailing list from day one.
Google Analytics – Must have to know how much traffic your blog gets, which posts your readers love the most, and from where your traffic comes. Integrate the tracking code in the header script of your website, but make sure to only place it once within your entire website. Otherwise, the metrics aren't accurate, which is a mistake lots of beginner bloggers are making.
Google Search Console – Helps you to understand your Google Search performance and shows you if you have anything to fix for the best SEO performance. Very helpful to see any metadata bugs you can quickly fix (for example, within your recipe card as a food blogger) or sitemap errors.
Helpful Business Tools
Google G-Suite – Get yourself a professional email address.
Google Drive File Stream – Online storage, which you can access from anywhere. Helpful to free up space on your computer, especially if you are working with lots of images and videos.
Grammarly – Saves my ass every time I write a blog post for you, email, or social media captions. A spell checker is a must for every business and comes with little monthly costs. The premium subscription, which I use, has much more to offer besides the simple spell checker.
Wave – Free Online Accounting Software! Keep track of your expenses and create professional-looking invoices! It also comes with an App to scan an automatically book all your receipts!
Pin For Later!