This authentic fluffy French brioche recipe is for all French bread lovers. A golden bread which is rich in flavor, sweet, and super fluffy – Delicious with sweet and savory food.
Brioche is a French bread recipe which is very intense in its flavor due to the high use of butter and eggs. This basic French brioche recipe needs a lot of time to make, and it needs to rise in your fridge overnight. But the fluffy texture and rich flavor of this bread are worth your time.
Stored in a plastic bag, you can keep it fresh for up to 3 days and use it to make delicious homemade Brioche French Toasts or Cheese Sandwiches. You can also freeze single portions for up to 2 months. It's best to freeze them right after the bread is baked and has cooled down.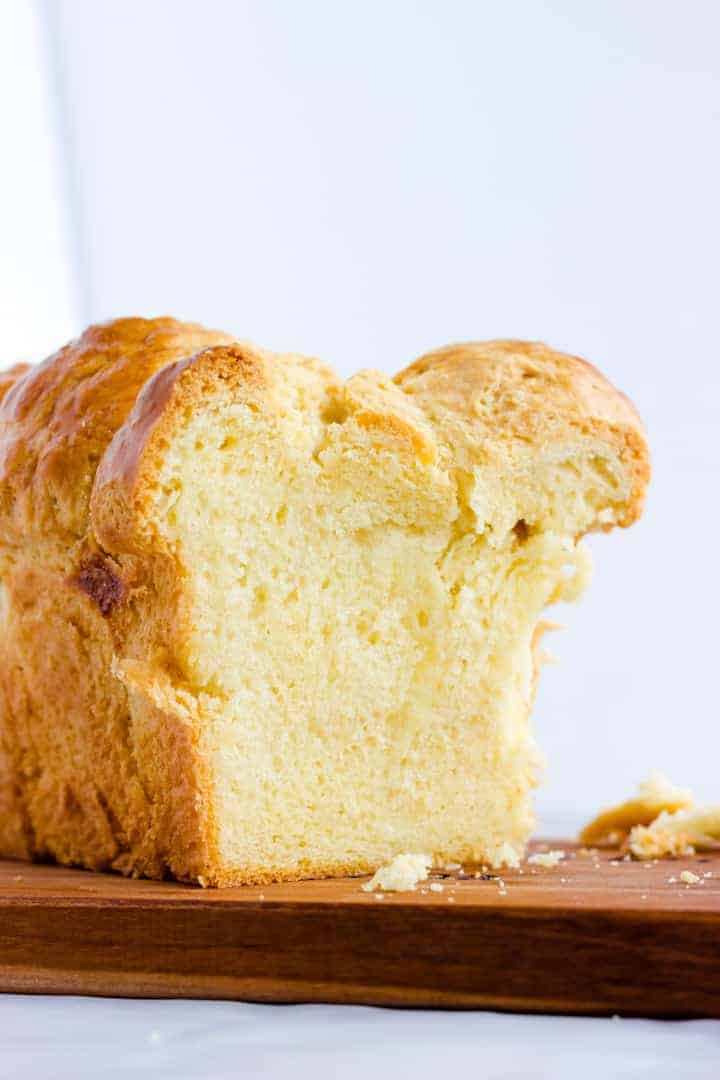 How To Make This French Brioche Recipe
The recipe for this authentic French brioche recipe is not the easiest one and needs a lot of time. But if you follow the steps in the recipe card, you will end up with a fantastic fluffy homemade brioche bread.
Knead all ingredients together to a smooth dough. I highly recommend using a kitchen machine for this step.
Let your dough rise for 2 hours.
Knead the dough again to "knead out" the air.
Let your brioche bread rise overnight in your fridge.
The next morning, form your dough into a brioche loaf which is explained in more details below.
Brush your brioche loaf with egg wash and let it rise for another 1.5 hours.
Bake it for a total of 75 minutes in your oven before you can enjoy a fluffy homemade French brioche bread.
How To Form French Brioche
There are several ways how you can form your French brioche. I prefer to make one big bread which I am going to explain you a bit further. You need to form 6 balls of identical size, place them in a loaf tin, let them rise for an hour, and you will have a fabulous looking French Brioche loaf like in the picture above. Don't be irritated if there is a lot of empty space when you place the balls in the loaf tin. They will rise a lot in one hour and fill up this empty space.
Recipes With French Brioche Bread
Sharing is Caring
Do you like my recipe? I would love if you leave me a rating or comment. This way I better get to know which recipes you like and can make more of them ? Also, tag me on Instagram @aline_made or #alinemade – I will future all of your delicious food pictures on my account when you made my recipe!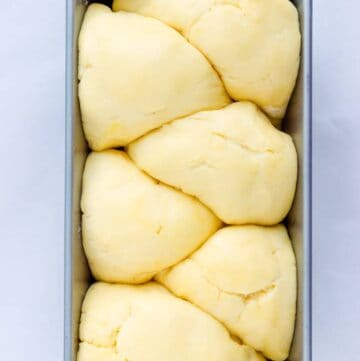 Basic French Brioche Recipe
Brioche is a traditional French bread which is rich in its taste due to the use of eggs and butter.
Print |
Pin |
Rate
Calories per serving
654
kcal
Ingredients
Brioche Dough
20

g

fresh yeast

60

ml

milk

,

warm

30

g

sugar

450

g

all-purpose flour

4

eggs

,

beaten

1

tsp

salt

250

g

butter

,

cold
Instructions
Warm your milk in a microwave or a pot over your cooking stove. Do NOT cook the milk, just let it warm up -> put a finger into the milk to check the temperature.

Put the yeast with the warm milk and 5g of the sugar in a bowl and let it sit for a few minutes until foaming.

When the yeast mixture is foaming, add the flour, beaten eggs, and one tablespoon of salt. Knead at the lowest possible speed for 5 minutes.

Turn the speed level up to 2 and knead for another 10 minutes until you have a smooth dough.

Take your dough out of the bowl and set aside. Add the rest of the sugar and butter in the bowl and mix for 2 minutes until creamy. It's better to exchange your dough hook with a K Hook (Kenwood) or Flat Beater (Kitchenaid).

Add the dough back into the bowl and beat together (still with the K Hook attached) at speed level 2 for 10 minutes until you have a well combined and shiny dough.

Cover with a damp kitchen towel and let it rise at room temperature for two hours.


Knead your dough again for 5 minutes at low-speed level using the dough hook.

Cover the bowl with a damp kitchen towel and leave it to rest in your fridge overnight.

The next morning, place your dough on a well-floured working surface and form 6 equal balls out of it. Use a scale to make sure all are the same size.

Grease a loaf tin and place your 6 balls in it. They should sit very tight, check out the image.

Mix one egg with one tablespoon of milk and brush your brioche dough with it. Let it rise for 1.5 hours at room temperature.

Preheat your oven to 200°C/395°F conventional.

Brush it once again before baking.Now, bake your brioche for

15 minutes

in your preheated oven at 200°C/395°F. Turn the heat down to 160°C/320°F and bake for a further

60 minutes

.

Let your brioche cool down on a cooling rack before removing it from the loaf tin.
Aline's Suggestion
You can store your brioche for a few days in a plastic bag or freeze it for up to 2 months.
Nutrition per Serving
Calories:
654
kcal
|
Carbohydrates:
63
g
|
Protein:
13
g
|
Fat:
38
g
|
Saturated Fat:
22
g
|
Cholesterol:
227
mg
|
Sodium:
745
mg
|
Potassium:
174
mg
|
Fiber:
2
g
|
Sugar:
5
g
|
Vitamin A:
25.1
%
|
Calcium:
5.6
%
|
Iron:
23.5
%