The taste of ladyfinger biscuits and mascarpone is very delicious, but also high in calories, sugar, and fat. If you are looking for a healthier alternative, you can replace the mascarpone and cream with greek yogurt. Ok, I must admit, it's not the same but it's way healthier, that means you can eat a lot more of it….(did I just say that loud…). So have a look at my recipe for the healthy Greek Yogurt Tiramisu below and adjust it, if you are not satisfied with my ingredient list. But I promise you, this fake tiramisu with peach does taste delicious.
You must ask yourself: Why does she write recipes for 1 person? Nobody does that and certainly, nobody is going to cook for 1 person… I know, many people do think like that. But if you are single, living apart from your boyfriend or just want to have one damn good dish for yourself, you are certainly not going to cook a recipe for 4 people. Because you don't want to have 4 tiramisus and ending up by eating all by yourself (that means way more exercises the next day…who wants that???) or a lot of food waste (I really do hate that one…even if I am struggling with the exercises too). So what my normal approach is if I am looking up other recipes: I have to take my phone and calculate every single ingredient down to one, very annoying. But what are you going to do if you need 3 eggs? So ¾= 0.75 -> Did you ever see a ¾ size egg? Me not.
Here you go, just cook that damn good dish for yourself and enjoy it without sharing…feels so good.
And if you do decide to be social and share it, just double the size – goes way much easier in my head than divide :)))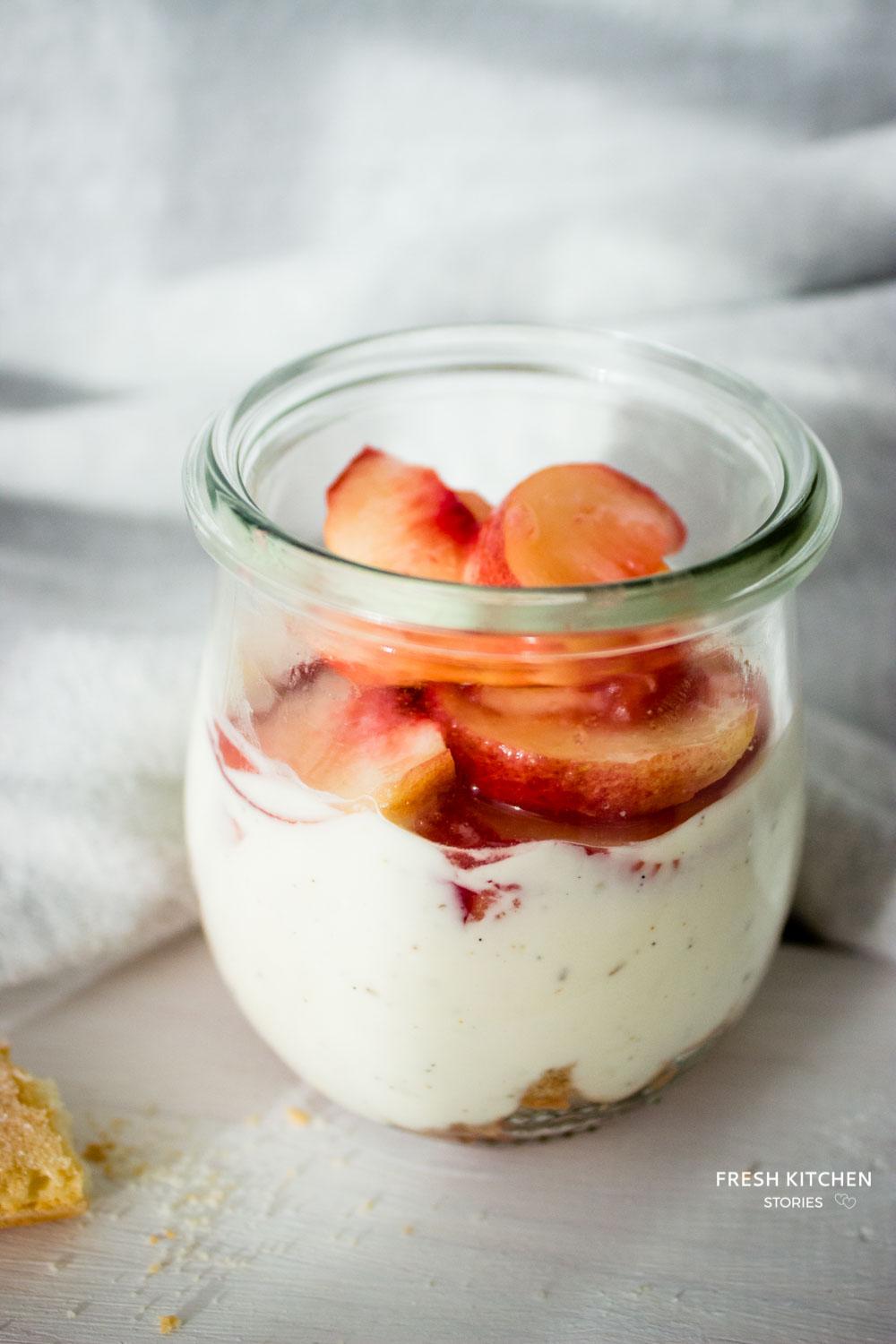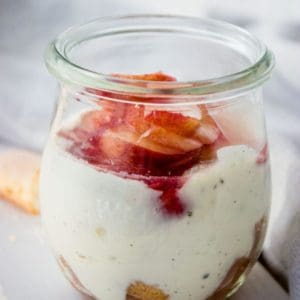 Healthy Greek Yogurt Tiramisu
Healthy Greek Yogurt Tiramisu with pomegranate syrup and peaches.

Ingredients
1

white peach

1

tbsp

lemon juice

0.5

tbsp

sugar

2

ladyfingers biscuits

1

tbsp

pomegranate syrup

100

g

greek yogurt

1

tbsp

honey

1

tsp

vanilla extract
Instructions
Cut the peach into thin slices and mix them with the lemon juice and sugar. Set aside.

Break the ladyfingers so that they fit into a glass or a small dessert bowl and pour the pomegranate syrup over them.

In another bowl, mix the greek yogurt, honey and vanilla extract. Place it in the dessert bowl over the ladyfingers.

Top it with the marinated peach slices.

You can eat it right away or leave it in the fridge for about 1 hour – this way, the ladyfingers will absorb all the syrup and get very soft.
Nutrition
Nutrition Facts
Healthy Greek Yogurt Tiramisu
Amount Per Serving
Calories 353
Calories from Fat 18
% Daily Value*
Fat 2g3%
Cholesterol 53mg18%
Sodium 75mg3%
Potassium 426mg12%
Carbohydrates 69g23%
Protein 14g28%
Vitamin A 610IU12%
Vitamin C 15.7mg19%
Calcium 120mg12%
Iron 1.2mg7%
* Percent Daily Values are based on a 2000 calorie diet.