I have to tell you right from the beginning that you can do this recipe for the steamed applesauce just if you have a steamer; I am very sorry for the ones of you who do not have one at home. It's absolutely possible to make your homemade applesauce in a pot over your stove, but in this recipe, I am going to show you how you can make a homemade applesauce in your steamer.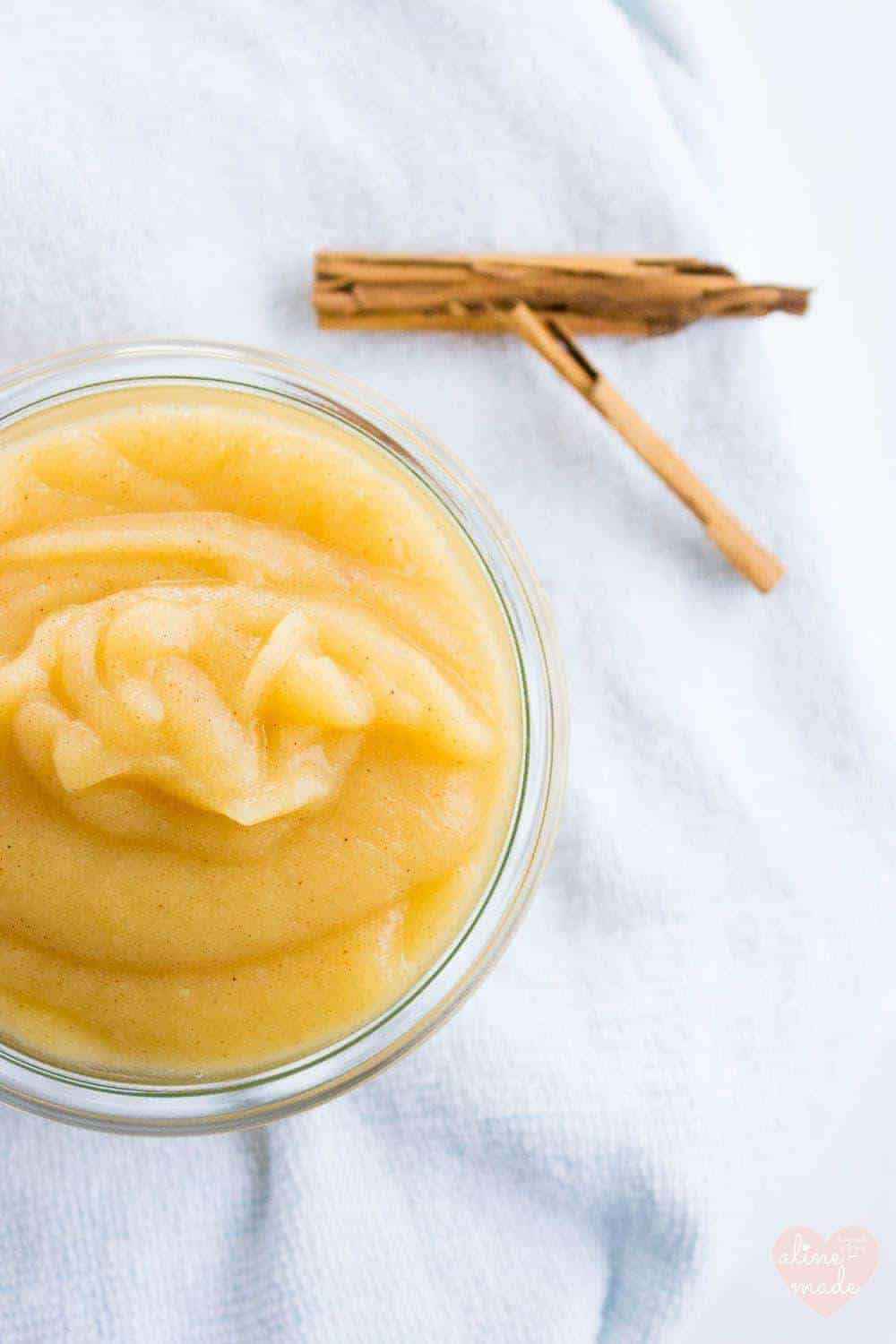 The good part of it is that it takes you just about 30 minutes to do it, you do not have to add any sugar, you don't kill all the vitamins and nutrients in your apples with the steam technique, and you will be surprised how good it tastes. I promise you. If you are a proud owner of a steamer, I am almost sure that you know the positive side of it. Just to remind you once again (I am such a big fan of my beloved steamer), steaming your vegetables and fruits at 96°C, prevents them from losing vitamins and nutrients, as it is a very gentle way of cooking. In my steamer, the temperature is 96°C, but this varies a bit from the model you have. Some steam at 95°C, others at 100°C.
A recommendation from me, clean your steamer with some apple vinegar, after every 5th time you use him. This will help you to keep him clean and prevents you from using chemical cleaners, which is a no-go if you think of it that later you will have the chemicals in the steam and therefore in your food.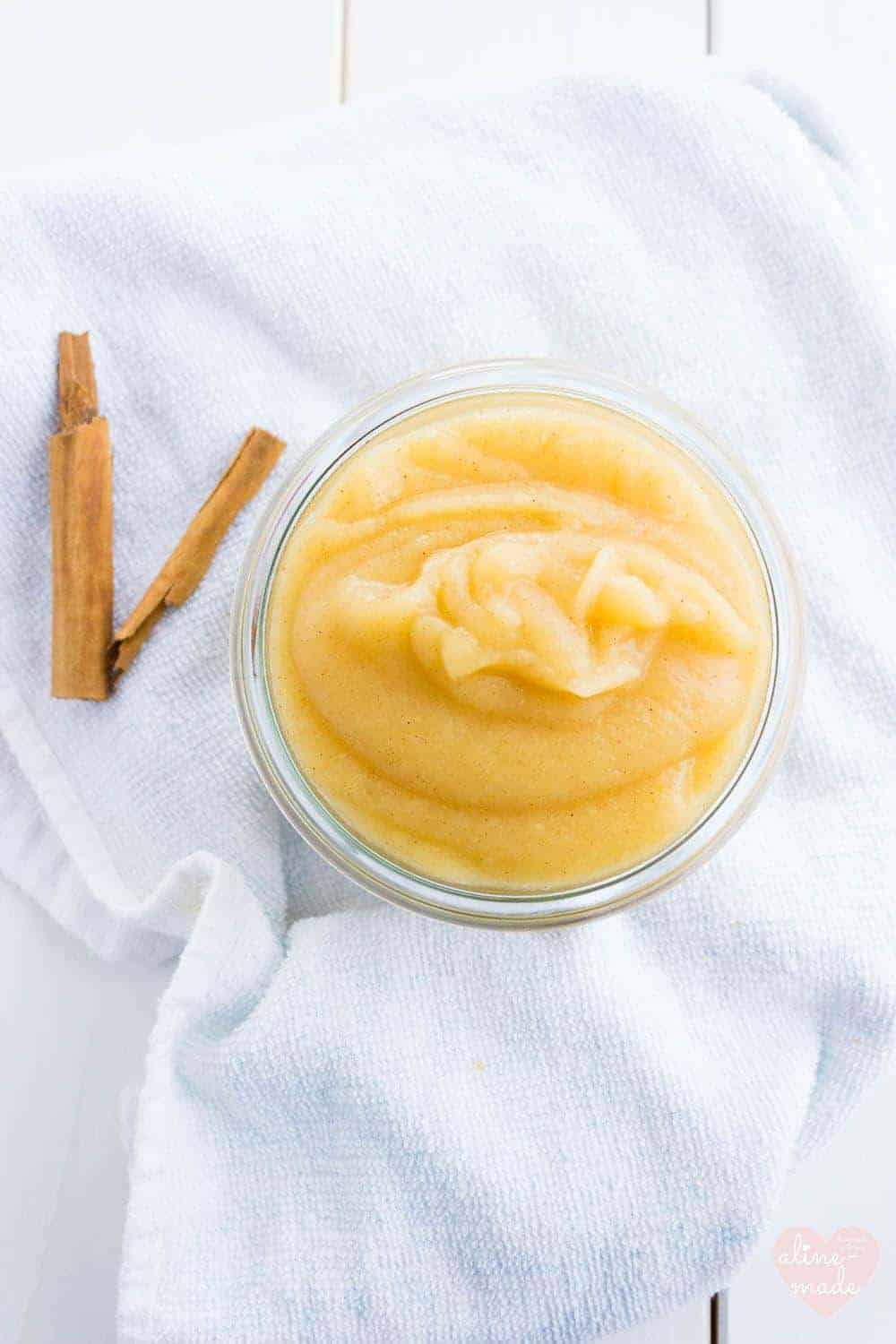 You can store this steamed applesauce at least for one month. I always love to have some prepared in my fridge for times when I do not have time to make a fresh one.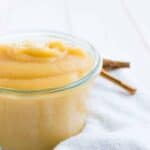 Steamed Applesauce
Leave a Review
Print
Pin
Homemade Apple Sauce made in a steamer and seasoned with cinnamon.
Calories per serving
132
kcal
Scale
Ingredients
1

kg

(

8

cups

)

apple

1

tsp

(

1

tsp

)

cinnamon powder

1

tbsp

(

1

tbsp

)

lemon juice

100

ml

(

0.4

cups

)

water
Instructions
Peel your apples and take out the inner part. Cut them into cubes.

Steam your apple cubes for

15 minutes

at 96°C in your steamer.

Place the hot steamed apple cubes in a food processor and add all other ingredients.

Blend until very smooth.

Pour the applesauce while still hot into glass jars (wash them out with very hot water just before you fill them with the applesauce) and close them tight.

Let the filled glass jars cool down and store them in your fridge or a cold cellar for at least one month.
Nutrition Per Serving
Calories:
132
kcal
Carbohydrates:
35
g
Sodium:
3
mg
Potassium:
267
mg
Fiber:
6
g
Sugar:
26
g
Vitamin A:
135
IU
Vitamin C:
13
mg
Calcium:
22
mg
Iron:
0.4
mg
DID YOU MAKE THIS RECIPE?
I would love if you leave me a 5-star rating or comment. Don't forget to mention @aline_made or tag #alinemade on Instagram!