*This post may contain affiliate links.
Delicious homemade chai tea latte recipe with the typical winter spices like cinnamon, cloves, cardamom, and ginger. This recipe is using almond milk and therefore suitable for vegans. Make it with the new MASTER.T for a minimal effort.
*The recipe today is sponsored by SPECIAL.T – The best tea machine every tea addict like me needs to have! Thank you for sponsoring this post and make it possible to create free content for my readers.
Chai Tea Recipe & MASTER.T
Let me show you how to make a homemade chai tea latte with almond milk. This tea recipe is a mixture of black tea, plant-based milk, and delicious winter flavors.
As the days are getting colder, I am pleased to introduce you to my new favorite tea machine,MASTER.T, the new generation machine of SPECIAL.T by Nestlé, which prepares delicious hot comfort drinks with only one touch.
MASTER.T – How To Use It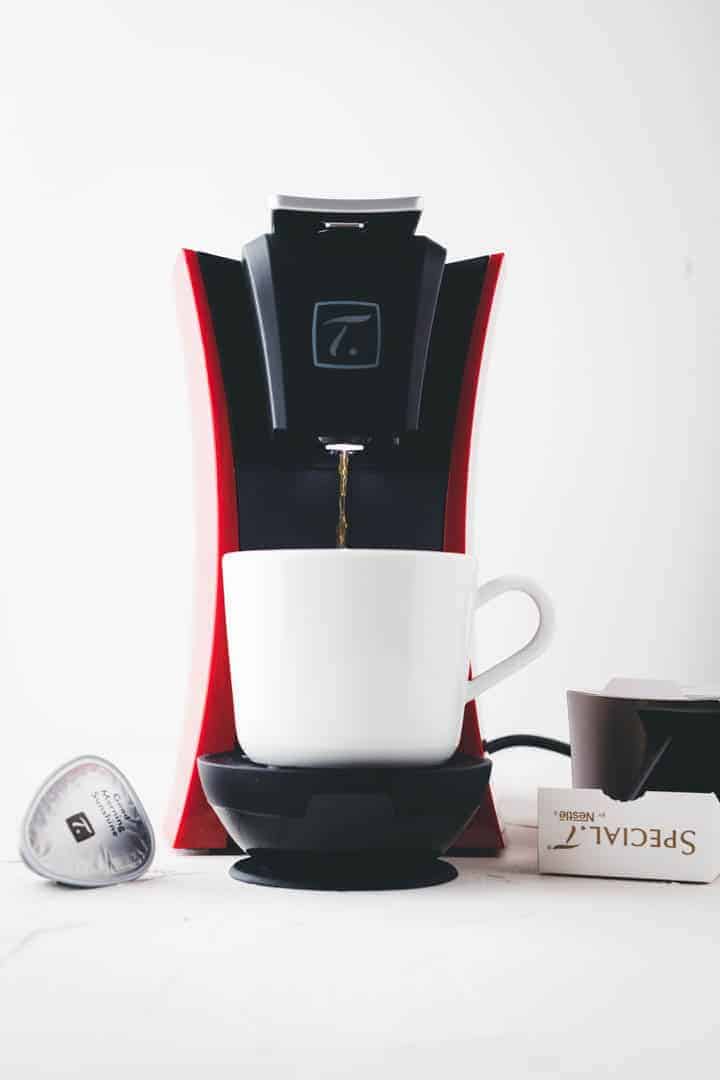 The new SPECIAL.T machine is a beauty itself and looks great in every kitchen. It comes with a 180° rotatable water tank and therefore fits in every small corner, which is quite handy if you such a tiny kitchen counter like I have.
Furthermore, you can choose between a metallic grey, red, or green colored machine. The red one looks very fashionable!
SPECIAL.T From Top
What can you do with this machine?
Prepare a small (200ml) or large (350ml) cup of tea with one click.
Froth milk for a tea latte.
Read the temperature on the display with which your tea will be brewed.
Read the brewing time on the display to know exactly how long you have to wait before enjoying your tea.
Adjust your desired tea strengths – You can choose between 5 levels. I always use the predefined strength.
Take out the drip tray and capsule container and clean it with water or once in a while in your dishwasher.
Recycle the used capsules.

How To Froth Milk
What I love most about this machine is that you can froth your milk very easily.
You receive a little milk doser in the form of a can with your machine. Fill it with your preferred milk and pour it into your cup. Once you have the feeling of how much milk fits in your cup, there is no need to use the can – it's just helpful at the beginning that you are not going to end up with tea spillover.
Press the TEA LATTE button and then prepare your tea as usual. The MASTER.T will now froth your milk in its own way, which is simply fantastic (see in the GIF above).
One click tea latte – isn't that great for sleepy mornings?
I found with almond milk you are ending up with the nicest milk foam.
Other kinds of milk I have tried are cashew and cow milk, which resulted in only a little milk foam. But this is like with every common milk frother. Usually, almond milk, lactose-free cow milk, and barista soy/oat milk work the best.
Capsules & Tea Varieties
Tea capsules are filled with the best tea leaves
Capsuled have a hermetic seal (airtight) and therefore protected against humidity, air, and light.
Capsules have an infusion code – The machine recognize each capsule and can brew it with the optimal brewing time and temperature for the tea.
Choose between 35 tea varieties by SPECIAL.T – Read more about the best tea capsules for the Latte function with my drinking recommendation below.
Morning Tea Favorites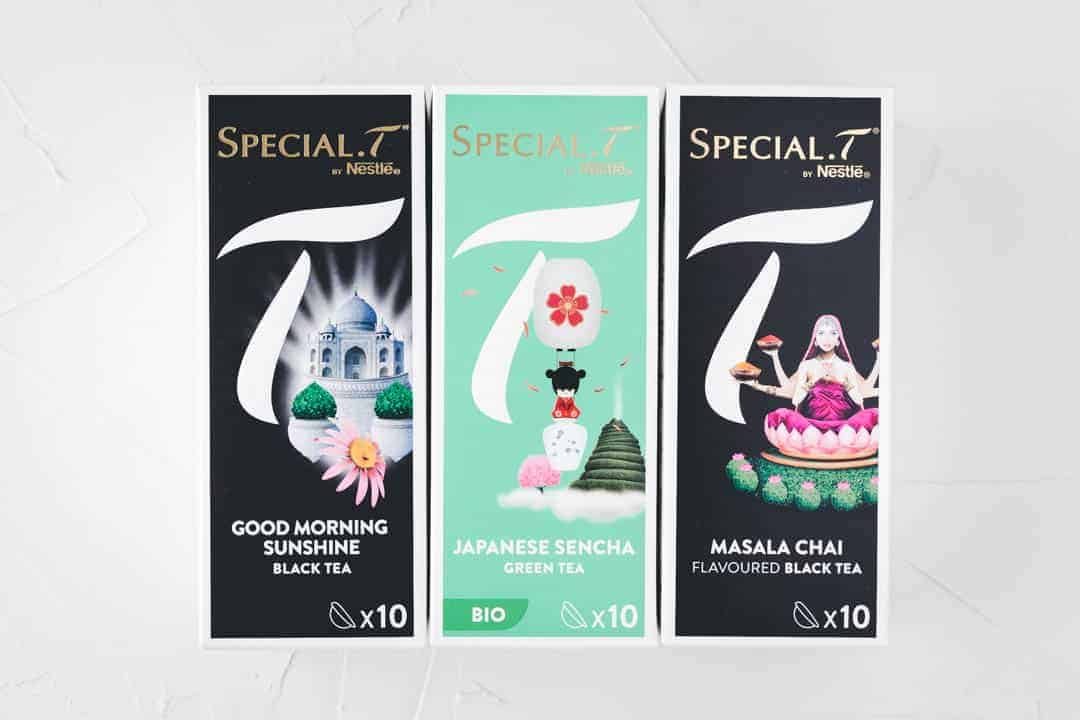 Good Morning Sunshine: A delicious black tea which can be enjoyed after waking up. Add a tablespoon of honey and your favorite milk for a cozy morning tea.
Japanese Sencha: This tasty green tea is one of my favorites if I don't need the extra caffeine boost in the morning. Green tea contains half the amount of caffeine as black tea does.
Masala Chai: Black tea infused with the best chai flavors like pepper, cardamom, cloves, cinnamon, and ginger. Tasted delicious with all kind of nut milk. Make sure to check out the recipe at the end of the post for an extra flavorful chai tea latte.
Afternoon Tea Break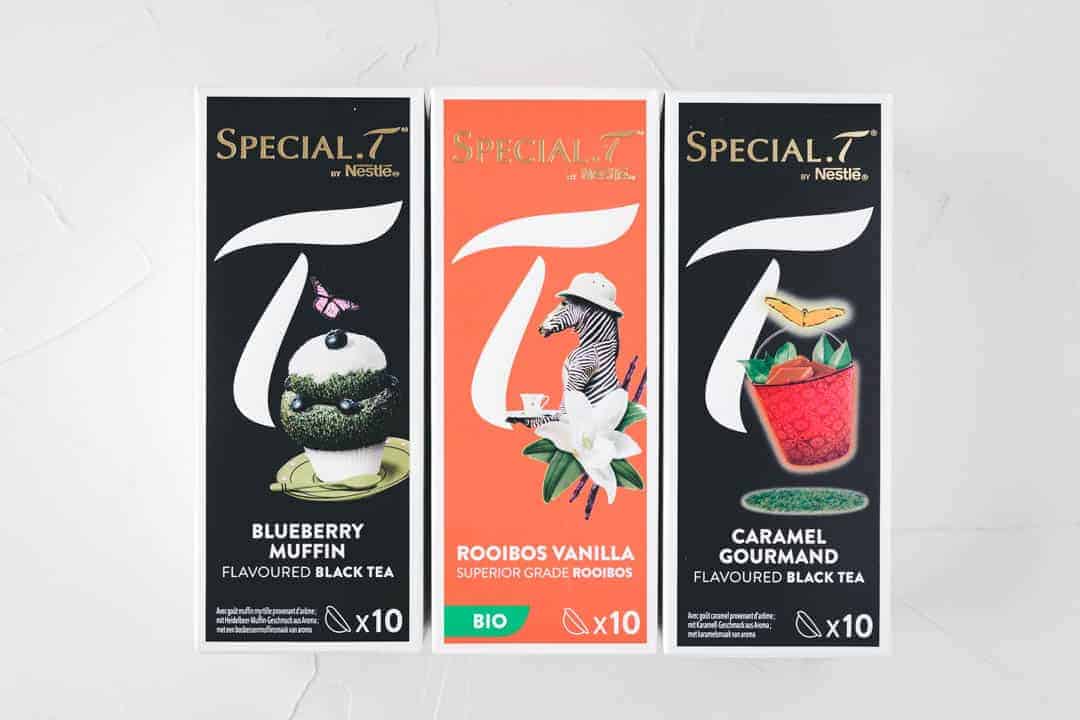 Blueberry Muffin: This tea makes you feel like eating a healthy blueberry muffin. It's black tea which is flavored with blueberry pieces and does taste delicious with cashew milk.
Rooibos Vanilla: An organic rooibos tea infused with the finest vanilla flavor. No milk needed here.
Caramel Gourmand: Could you say no to caramel? Enjoy it as a tea latte topped with whipped cream and homemade salted caramel sauce.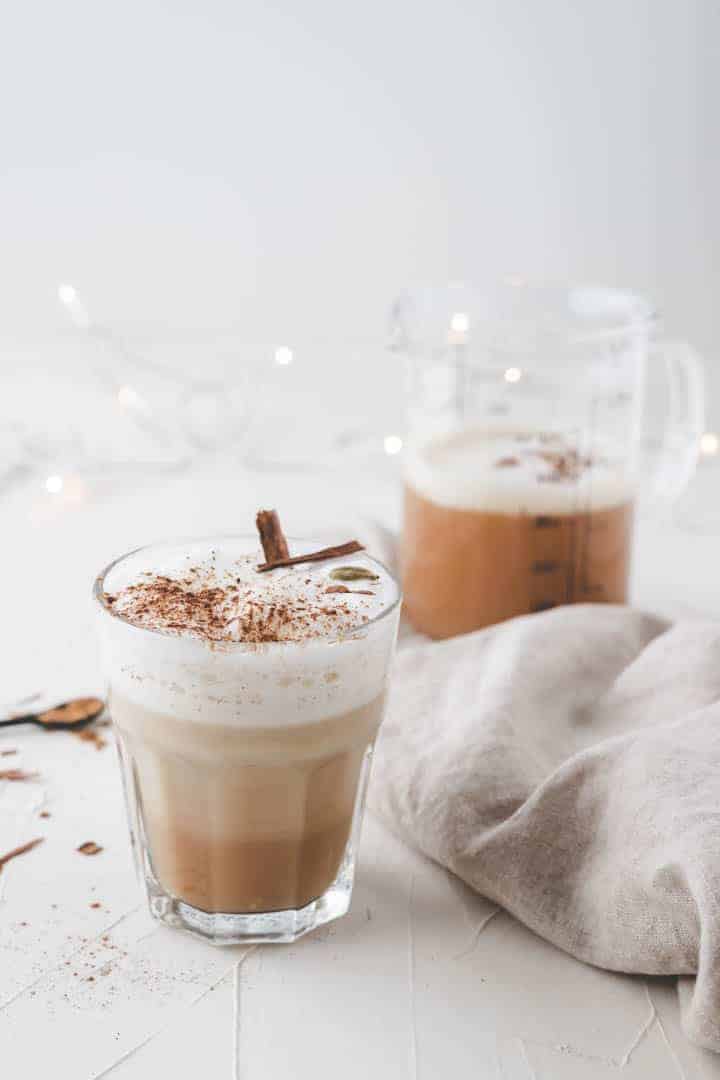 How To Make Chai Tea Latte
Using the MASTER.T
Place the milk and all the spice and maple syrup in a cup and mix well.
Insert a Masala Chai capsule and brew your tea with the tea latte function.
Using a tea bag and milk frother
Steep a chai tea or black tea teabag in boiling water.
Mix in all the spices and maple syrup.
Froth the milk and pour it over your chai tea.
Did You Try This Recipe?
I would love it if you leave me a 5-star rating or comment. This way, I better get to know which recipes you like and can make more of them.
Please follow me on Facebook, Instagram, and Pinterest to see more tasty shiny food pictures! I would be thrilled to welcome you to my community!
📖 Recipe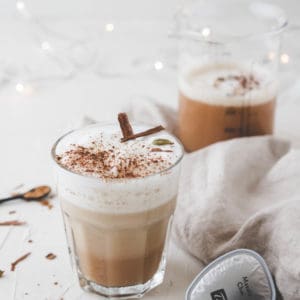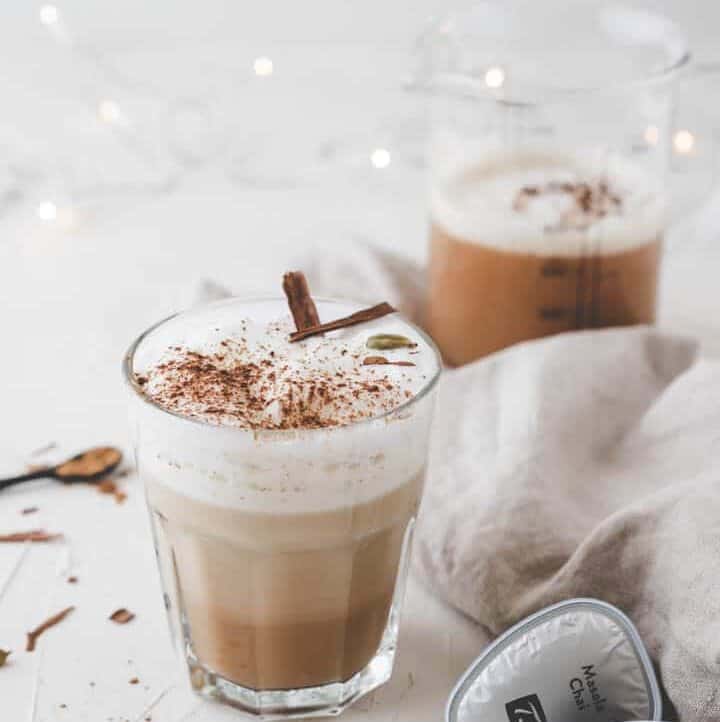 Homemade Chai Tea Latte
Delicious homemade chai tea latte recipe with the typical winter spices like cinnamon, cloves, cardamom, and ginger. This recipe is using almond milk and therefore suitable for vegans.
Click on the stars to leave a vote!
Instructions
Steep the tea bag for 3-5 minutes in boiling water.

Mix in the spices and top it with frothed almond milk.
Notes
Almond milk is excellent for frothing and gives you a nice foam. But you can also use any other plant-based milk for this recipe.
If you make the recipe with the MASTER.T machine, use the Masala Chai tea. Therefore place the milk in your cup and mix it with the spices and maple syrup before you press the tea latte function.
Nutrition
Calories:
66
kcal
|
Carbohydrates:
14
g
|
Sodium:
132
mg
|
Potassium:
45
mg
|
Sugar:
12
g
|
Calcium:
97
mg
Did you make this recipe?
Let me know by leaving a recipe rating below, or by tagging @aline_made on Instagram. I love seeing your beautiful creations!