*This post may contain affiliate links.
Making oat milk at home is super easy, quick, and you only need a few ingredients! Let me show you how to make oat milk at home!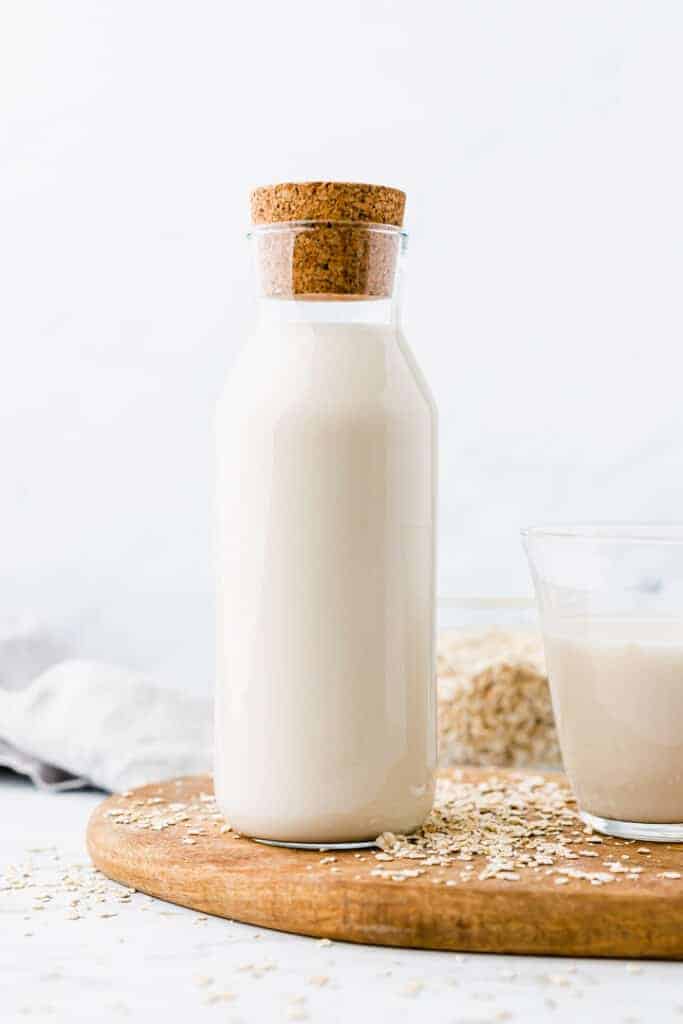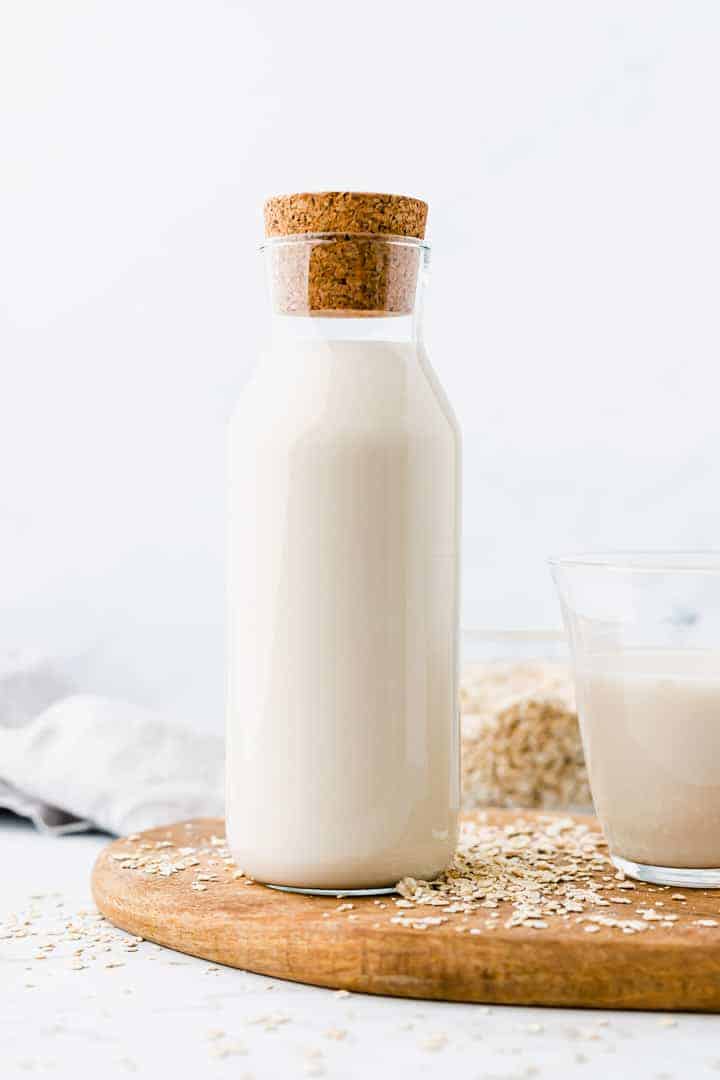 Homemade oat milk is super tasty and super quick to make. It tastes delicious in coffee, tea, cereals, or can be used in many recipes as a healthy & plant-based alternative to cow milk. Popular recipes which are using oat milk are vegan crepes or French toasts (you can find more recipe ideas below).
What is oat milk?
Oat milk is dairy-free milk made with oats, preferably rolled oats. It is considered to be the most environmentally friendly milk and is therefore super trendy. Only a fraction of water and soil is needed for the cultivation of oats (the main ingredient of this milk) in comparison with nut milk or even cow milk (which is environmentally the worst choice).
Another plus point: oat milk doesn't contain lactose!

Furthermore, oat milk can be an excellent alternative to soy milk or almond milk for the case you are allergic to soy or nuts!
Lactose-free, soy-free, and nut-free – what do you want more?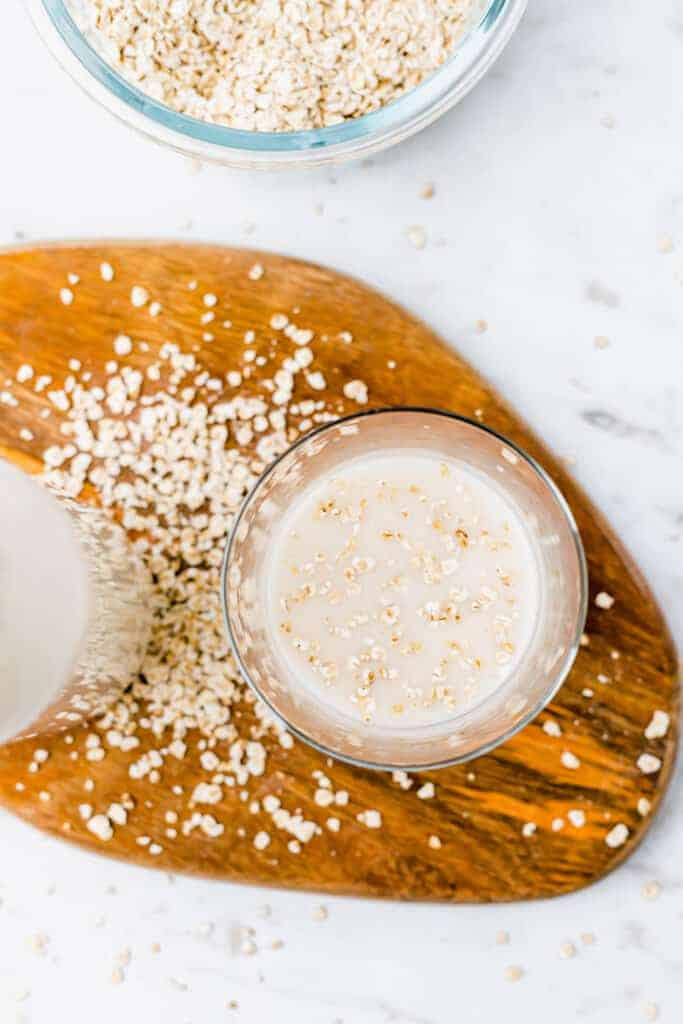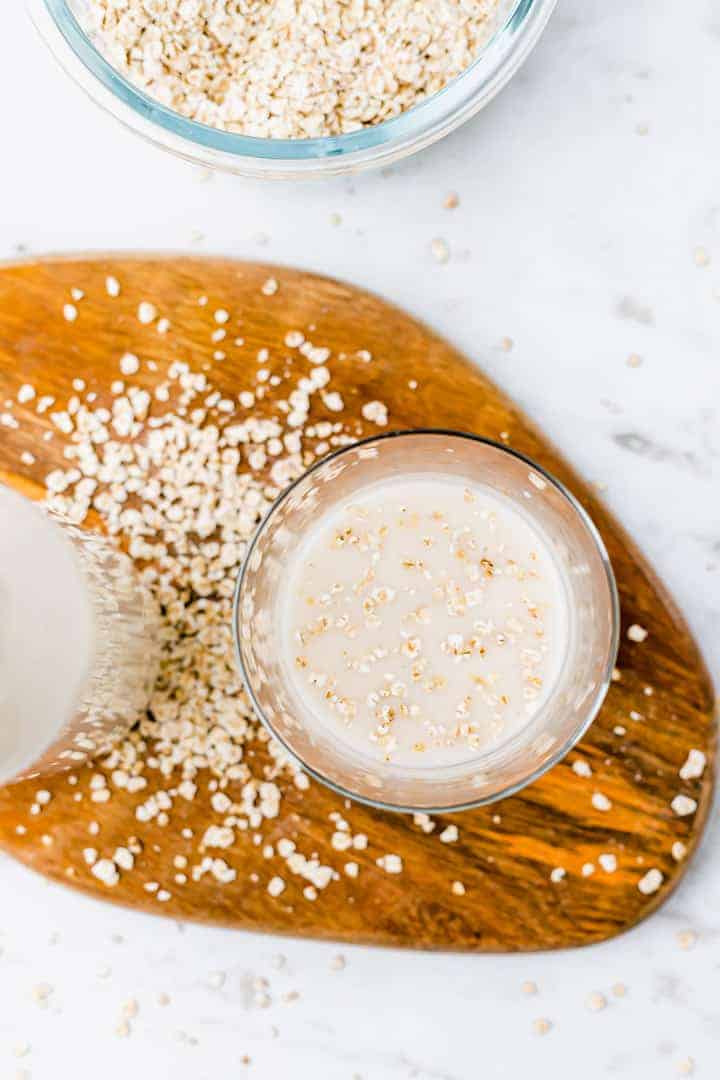 Making homemade oat milk is easy on your budget and the environment
Vegan milk alternatives can be quite expensive and can have a noticeable impact depending on your household budget. Unfortunately, cow milk is still much cheaper than non-dairy milk alternatives. But if money is the only concern which is holding you back from switching to non-dairy milk, you don't have a point anymore.
I'll show you how you can make the best oat milk at home at a very reasonable price. Plus, it's super delicious too!
All you need is a few ingredients, a nut milk bag or cheesecloth, and a blender. You can make at least 10 liters oat milk out of a 2-pound bag rolled oats (you can get them for little money). That's quite a lot of milk to drink!
How does oat milk taste?
It is slightly sweet and tastes a bit like oatmeal. This healthy milk alternative is slightly thicker than traditional cow milk and can be a bit slimy, depending on the recipe you are using. However, this is quite normal and should not concern you. It doesn't have an impact on the taste.
If you are too lazy to make this oat milk recipe at home, I can highly recommend you to use the Oatly Milk (to buy). If so, watch out for the barista version of it, which is perfect for frothing and leaves you with a delightful foam like you know if from Starbucks!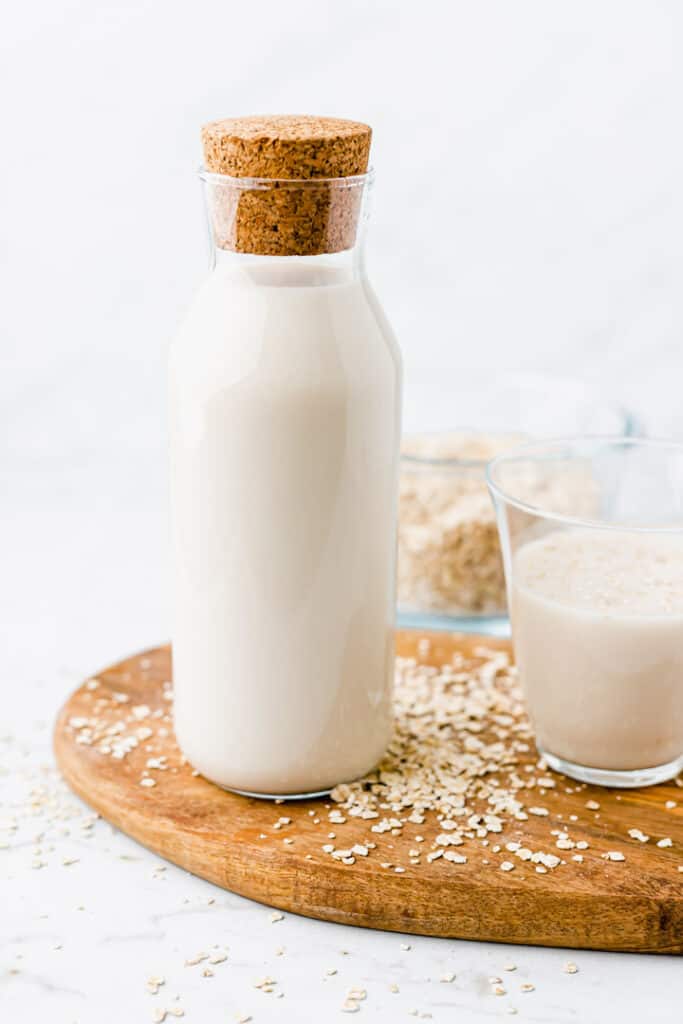 How to Make Oat Milk Gluten-Free
Commercially available rolled oats contain gluten. But if you want to make this recipe gluten-free, you can use certified gluten-free oats. Alternatively, you can use oat flakes made from buckwheat. These are gluten-free too.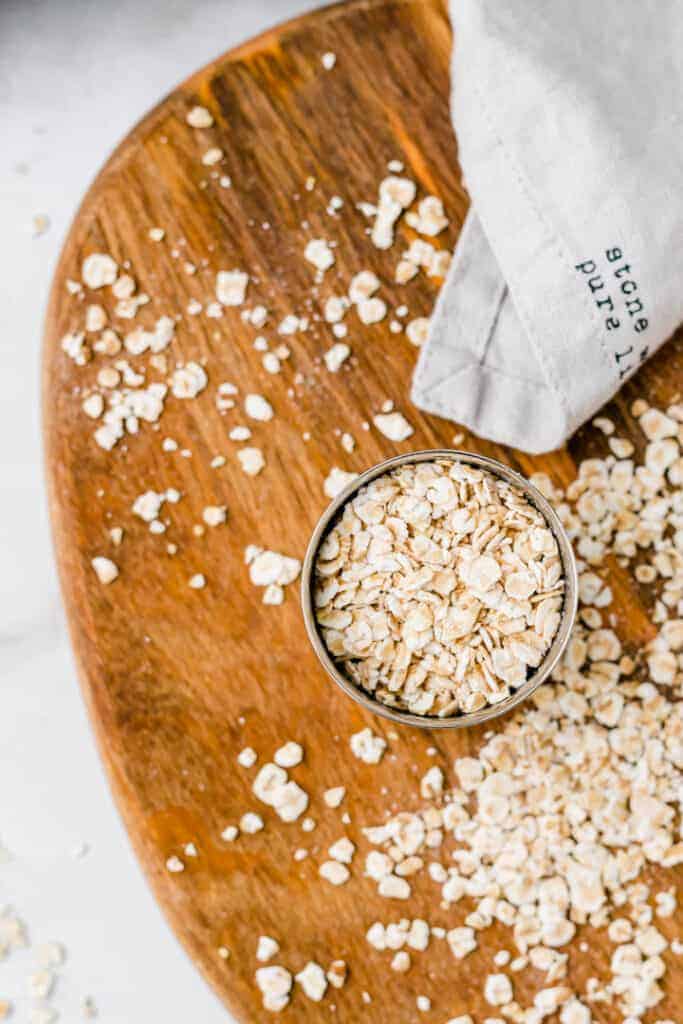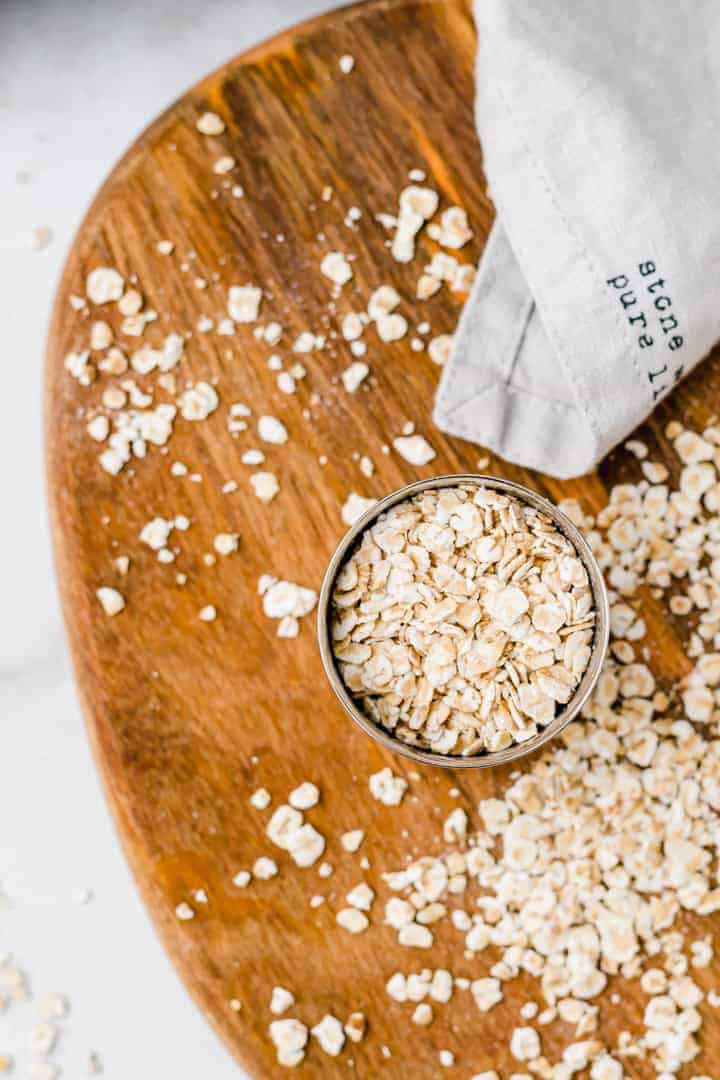 Oat Milk Recipe
Ingredients you need (you can find the exact amount in the recipe card at the end):
Rolled Oats, or steel-cut oats, quick oats
Cold water
Maple syrup or agave nectar
A pinch of salt
If you need the milk for a salty recipe, you can skip the vanilla extract and maple syrup. These two ingredients are used for a slightly sweet taste in this milk.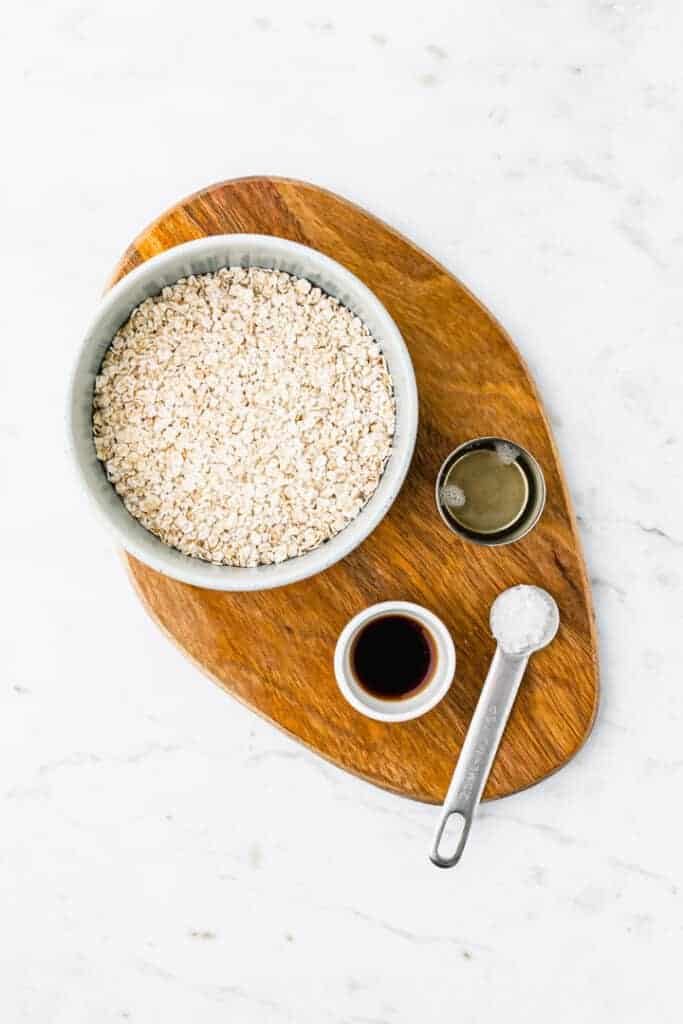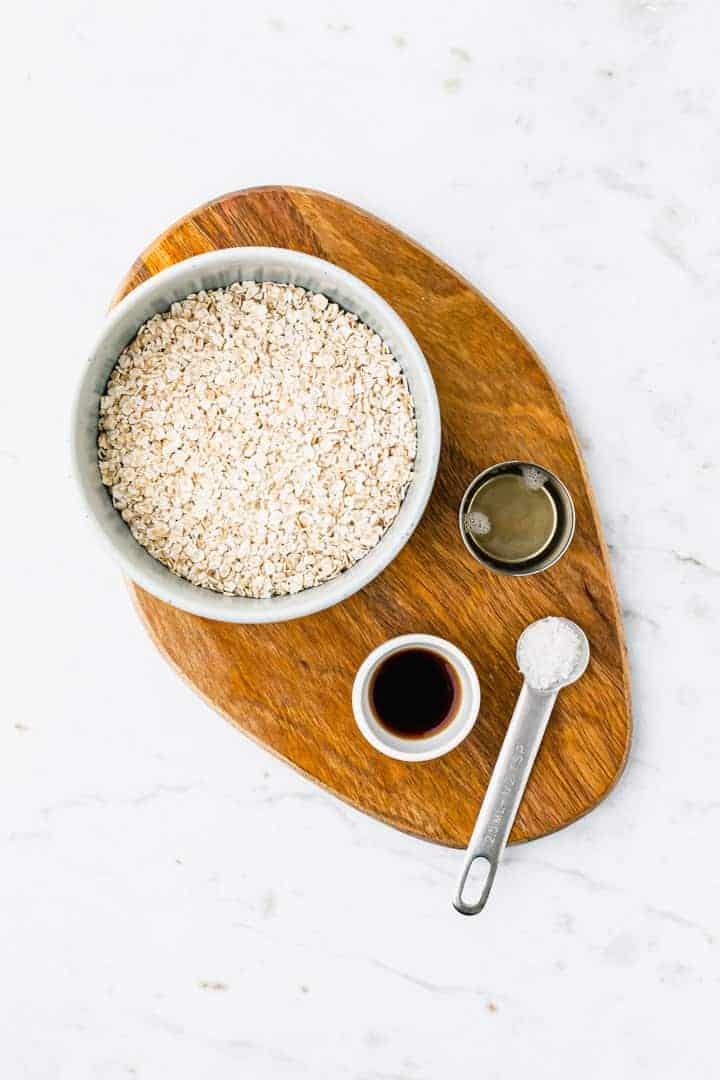 How to make it:
Place all the ingredients in a blender.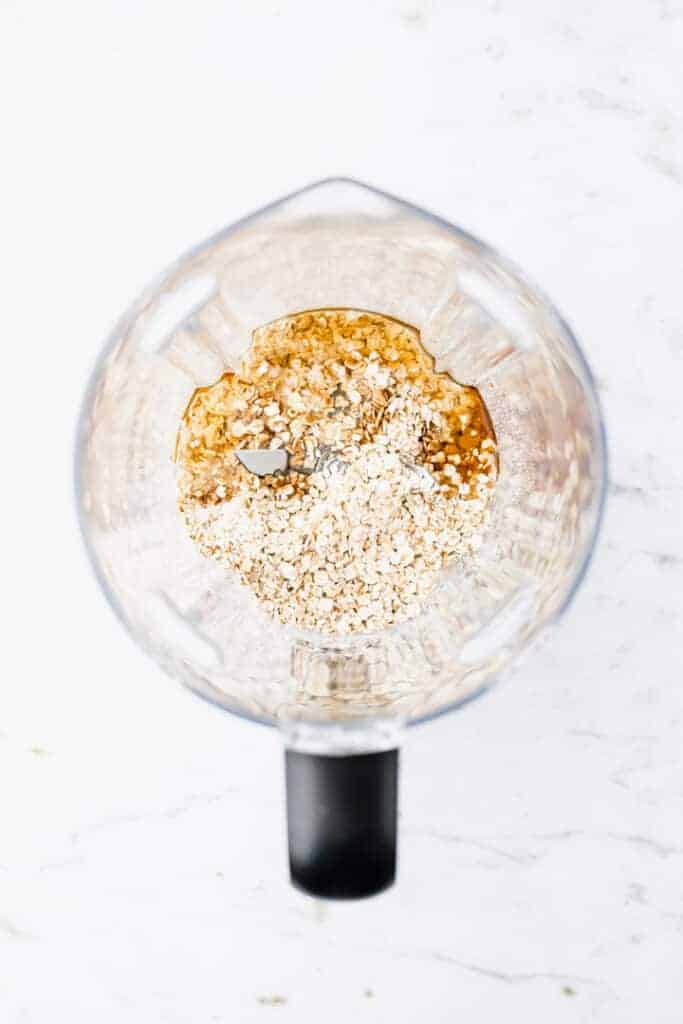 Blend well for about a minute until you have a homogeneous mixture. Don't mix too long, this can lead to a very slimy milk.
You now want to strain the milk. Therefore, place a cheesecloth or a linen cloth over a large bowl.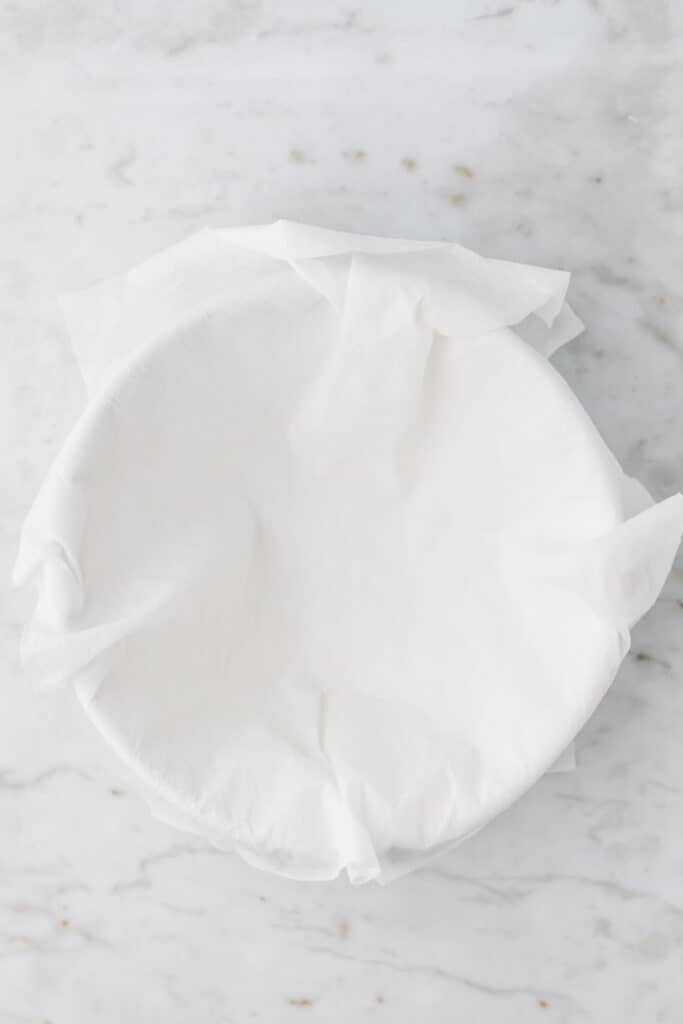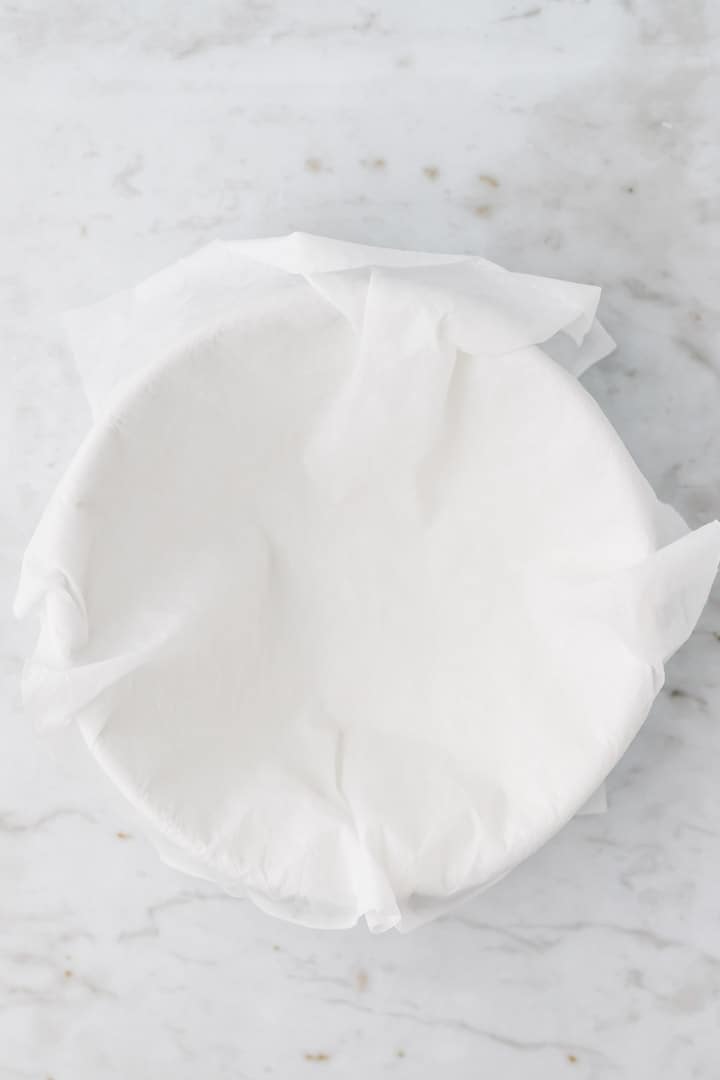 Pour the oat milk through the cheesecloth into the bowl.
Now press the milk carefully through the cloth until there is no liquid left.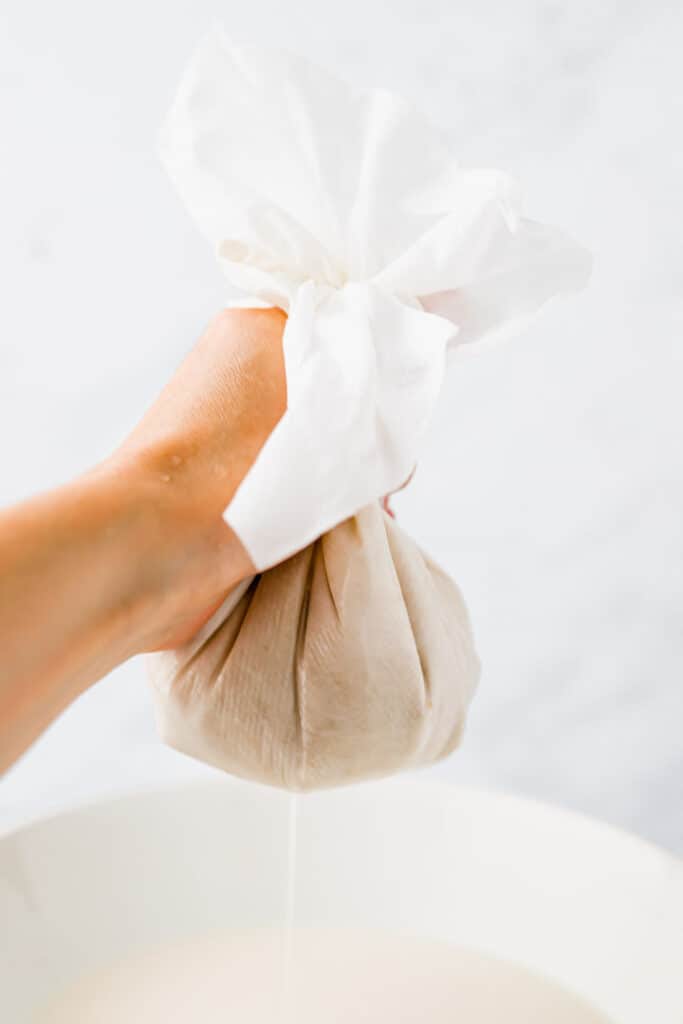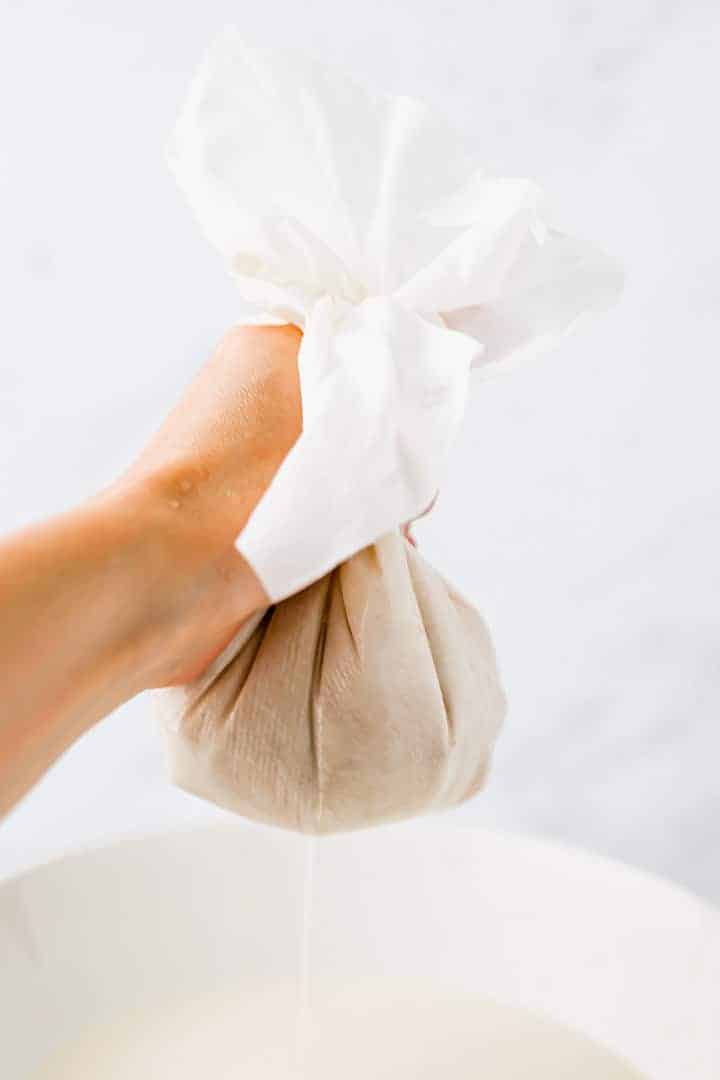 Alternatively, you can use a nut milk bag or a small mesh laundry bag. I tried it with a French press and a kitchen sieve, unfortunately, I was very dissatisfied with both variants, because the strained milk still contained oat pulp leftovers.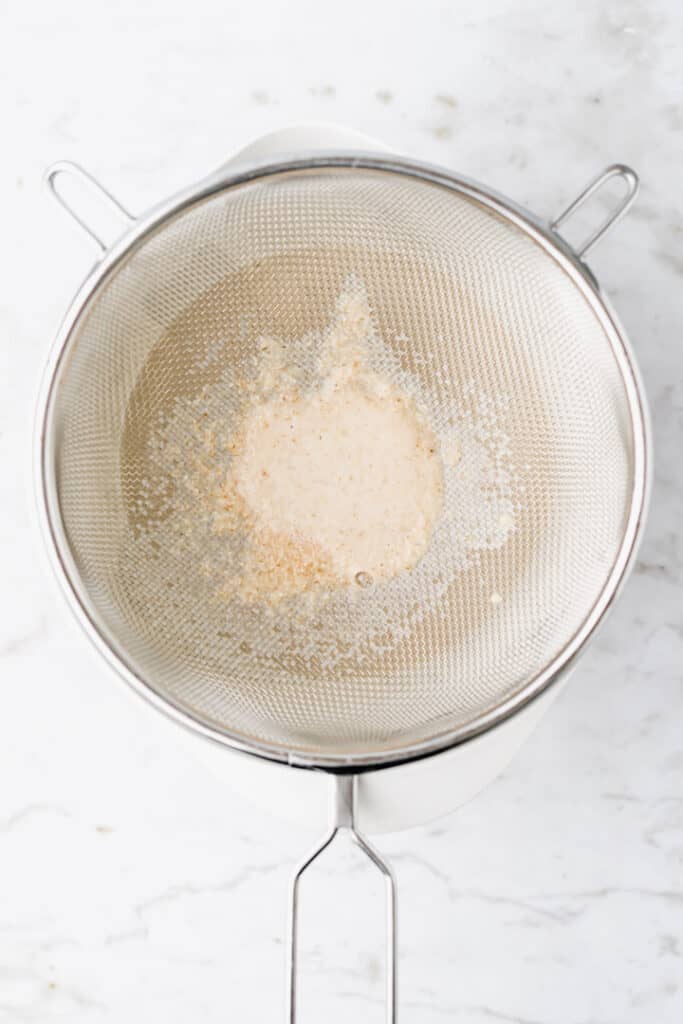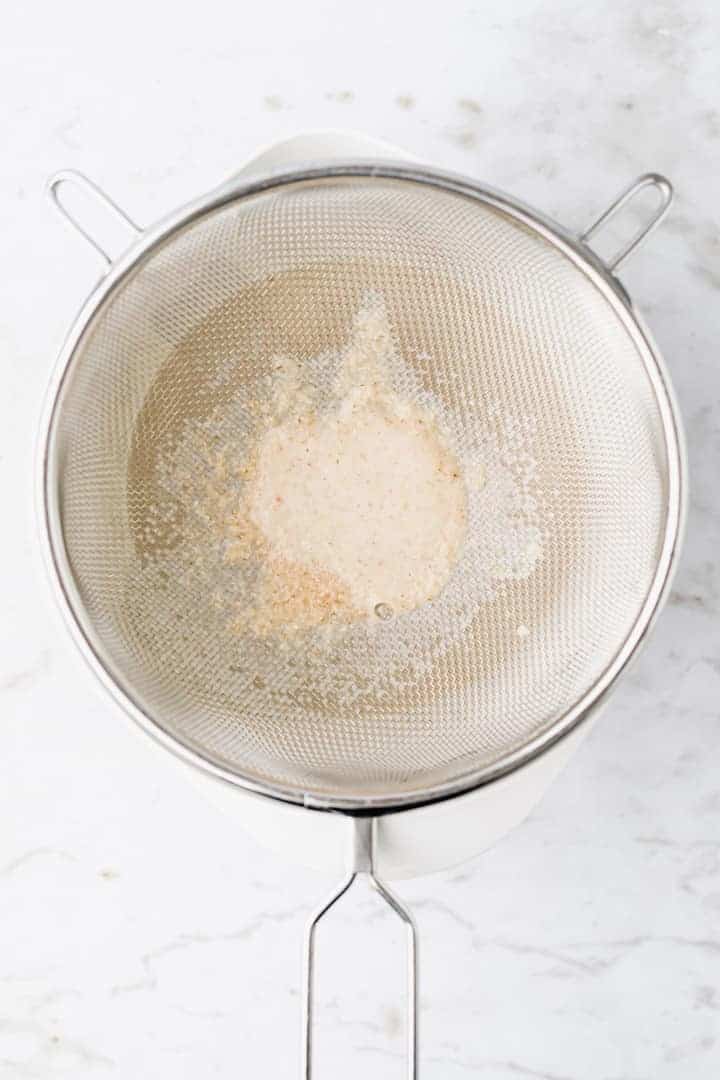 Store the milk in the fridge.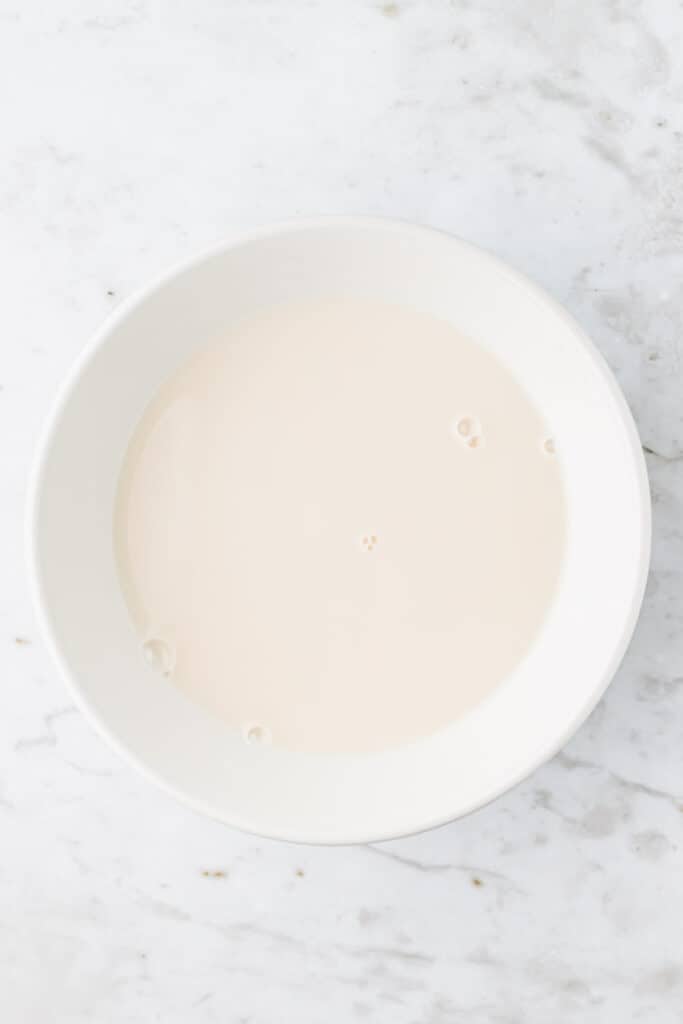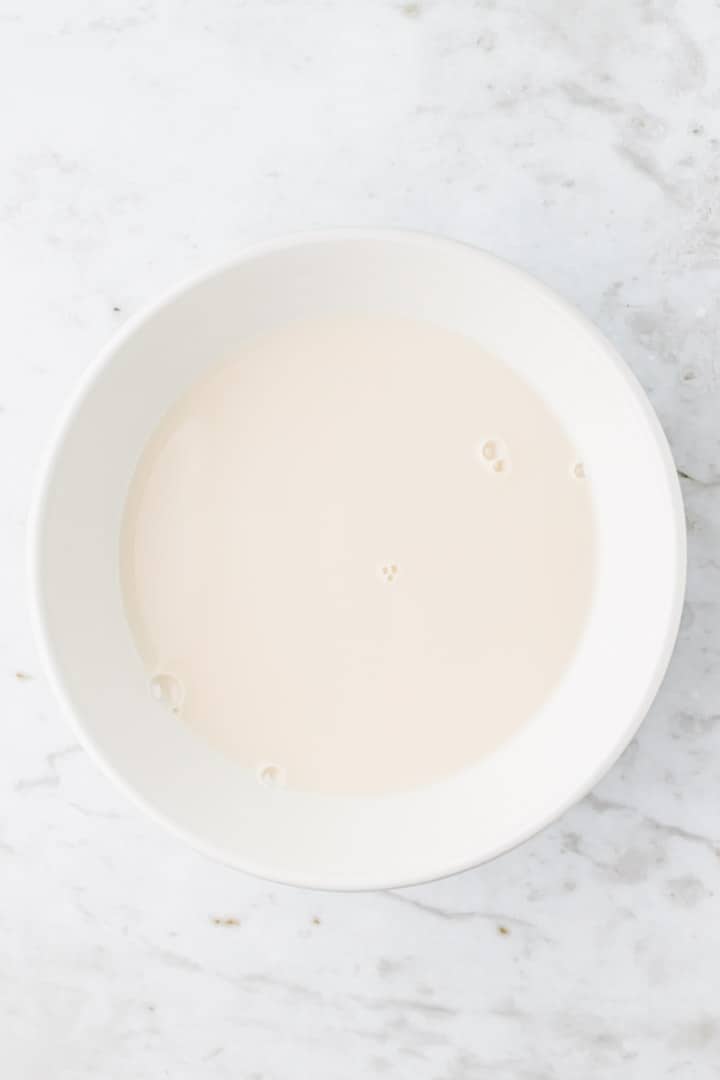 You can rinse the remaining oat pulp in the cheesecloth, or whatever you used to strain the milk, under running water!
→ It is not necessary to soak the oats in water or boil them before blending them with water into milk.
How long does oat milk last?
You can store freshly made oat milk for about three days in your fridge. Make sure to store it in a clean glass bottle. If the milk is no longer edible, you will quickly notice as the milk becomes sour. Pour a little on a tablespoon and smell or taste it if you are not sure!

If you don't drink a lot of milk, I advise you to prepare only half of the recipe and make fresh one whenever you need!
Recipes Using Oat Milk
Did you try this recipe?
I would love it if you leave me a 5-star rating or comment. This way, I better get to know which recipes you like and can make more of them.
Please follow me on Facebook, Instagram, and Pinterest to see more tasty shiny food pictures! I would be thrilled to welcome you to my community!
📖 Recipe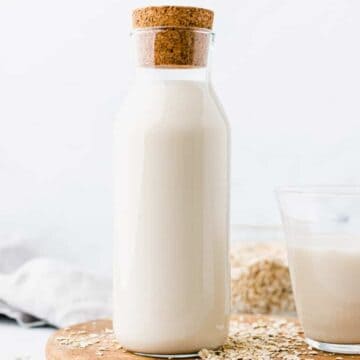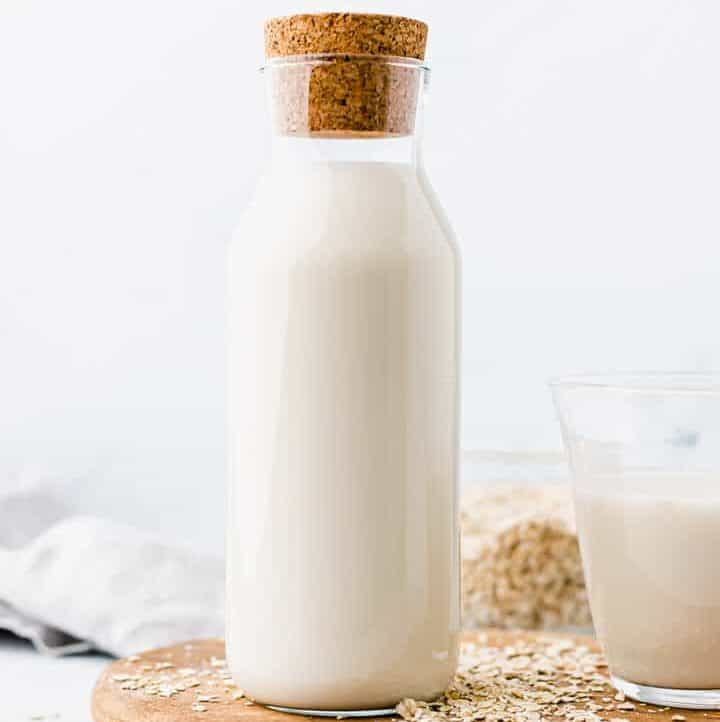 Oat Milk
Making oat milk at home is super easy, quick, and you only need a few ingredients! Let me show you how to make oat milk at home!
Click on the stars to leave a vote!
Instructions
Add all ingredients in a blender and blend for about one minute until smooth (don't over blend).

Pour it through a cheesecloth, nut bag, or linen towel and carefully press until no liquid is left.

Pour in a glass bottle and store for up to 3 days in your fridge.
Notes
Leave the maple syrup and vanilla extract out if you want to use the oat milk for a savory recipe.
Recommended Products
Nutrition
Calories:
107
kcal
|
Carbohydrates:
21
g
|
Protein:
3
g
|
Fat:
1
g
|
Saturated Fat:
1
g
|
Sodium:
305
mg
|
Potassium:
96
mg
|
Fiber:
2
g
|
Sugar:
6
g
|
Calcium:
29
mg
|
Iron:
0.9
mg
Did you make this recipe?
Let me know by leaving a recipe rating below, or by tagging @aline_made on Instagram. I love seeing your beautiful creations!