Read in: Deutsch
This non-alcoholic grapefruit mocktail with rosemary simple syrup is fizzy, fresh, and delicious! The perfect drink companion for festive occasions with children and adults!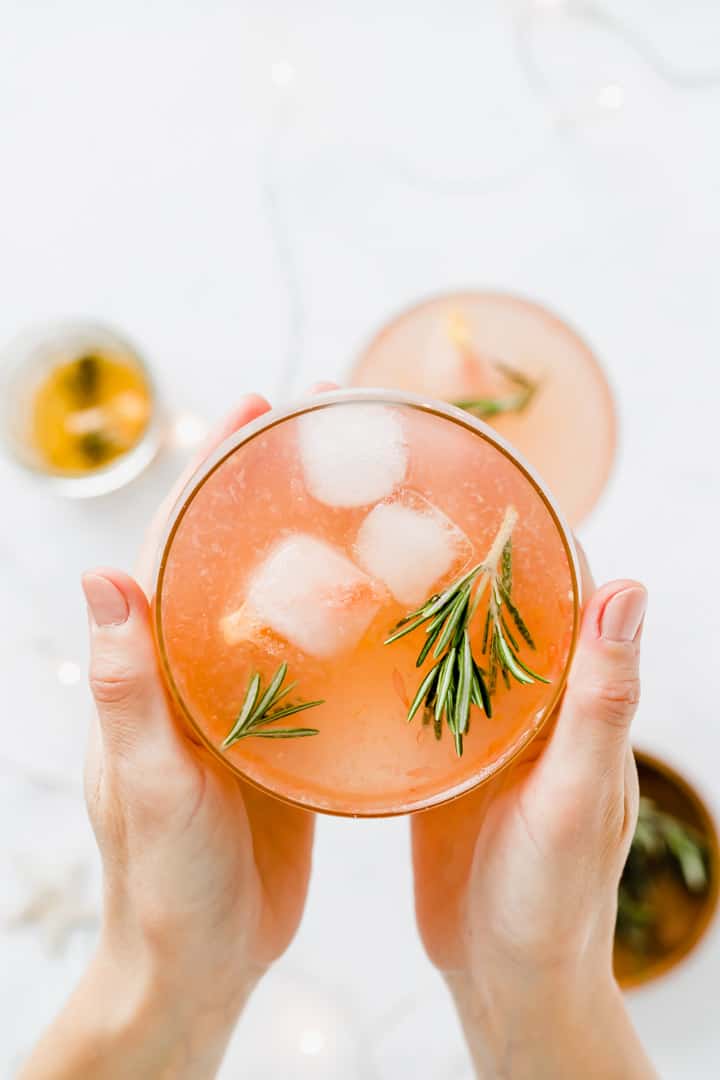 *This post today is kindly sponsored by SodaStream.
Non-alcoholic Cocktails = Mocktails
It doesn't always have to be alcohol, because non-alcoholic cocktails are also super delicious and don't rob you of sleep or cause headaches the next day. There is even a special word for it: Mocktail!
A mocktail is an alcohol-free cocktail. Most mocktail recipes are made with the same ingredients as the original, just leave out the alcohol or replace it, for example, with sparkling water, tonic water, club soda, or ginger ale.
Especially during the holidays, when the champagne and wine flows endlessly, this Christmas mocktail recipe is a game-changer. Let me show you how to make this non-alcoholic grapefruit cocktail to impress your guests – it's kids save too!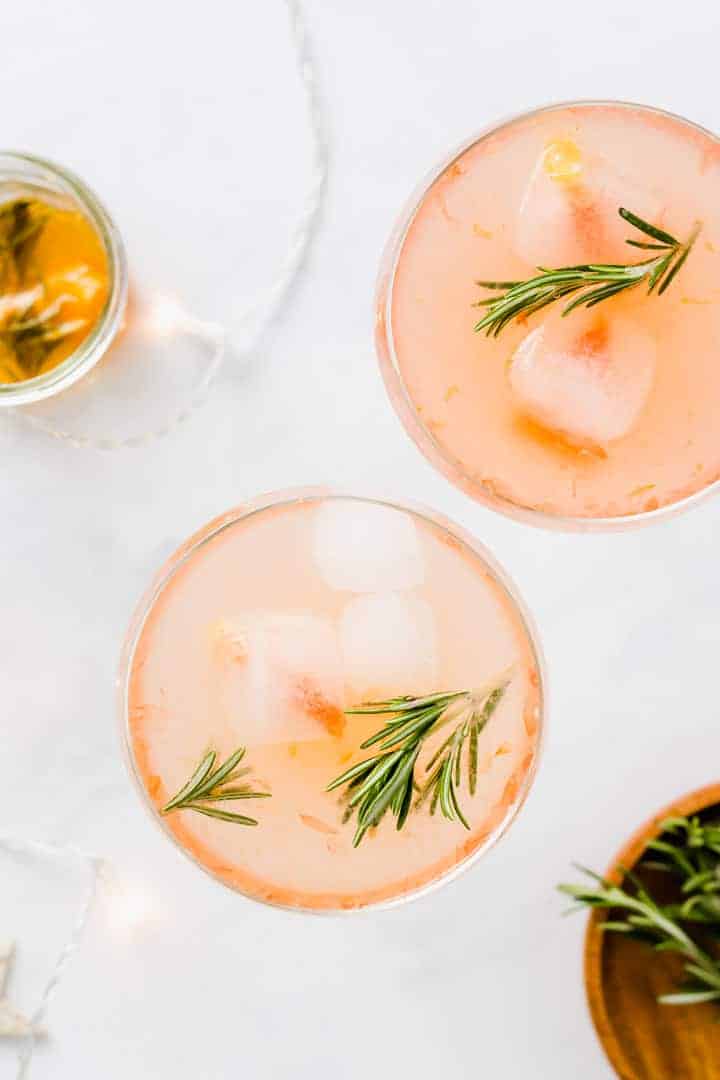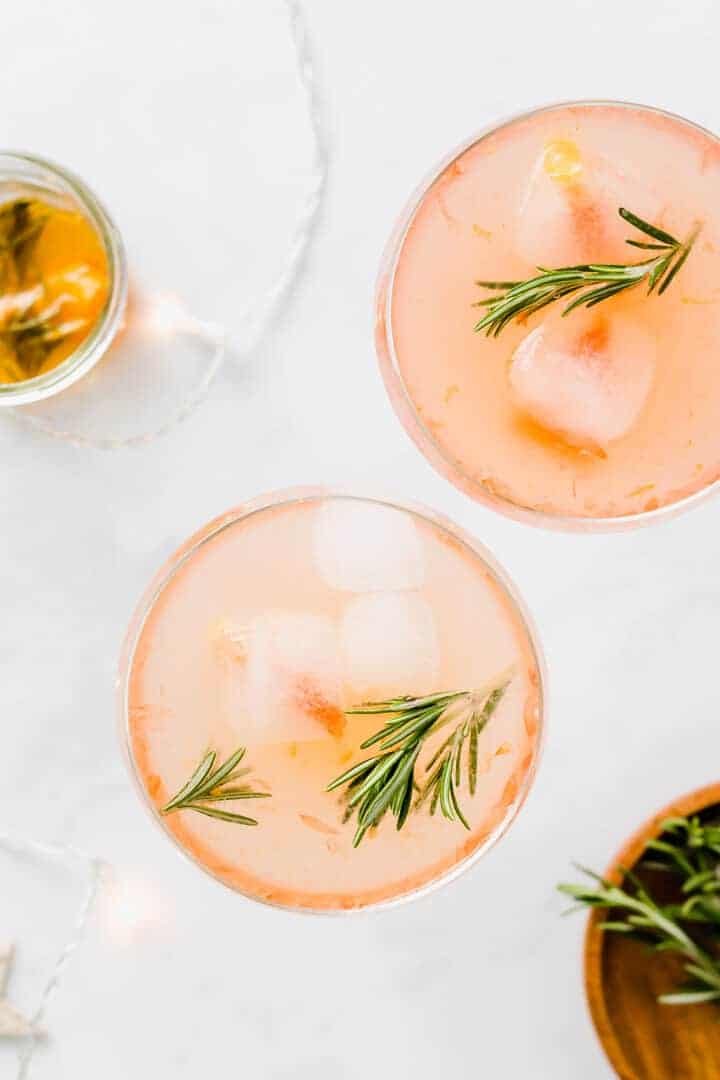 Grapefruit Mocktail
Freshly squeezed grapefruit juice with homemade grapefruit rosemary simple syrup and freshly bubbled water from the SodaStream: this blend makes the perfect festive grapefruit mocktail!
Grapefruit is a fruit with a lot of vitamin C, which has a slightly bitter taste. However, this bitter note is particularly suitable for drinks. Freshly squeezed grapefruit juice also gives your cocktail a beautiful red color.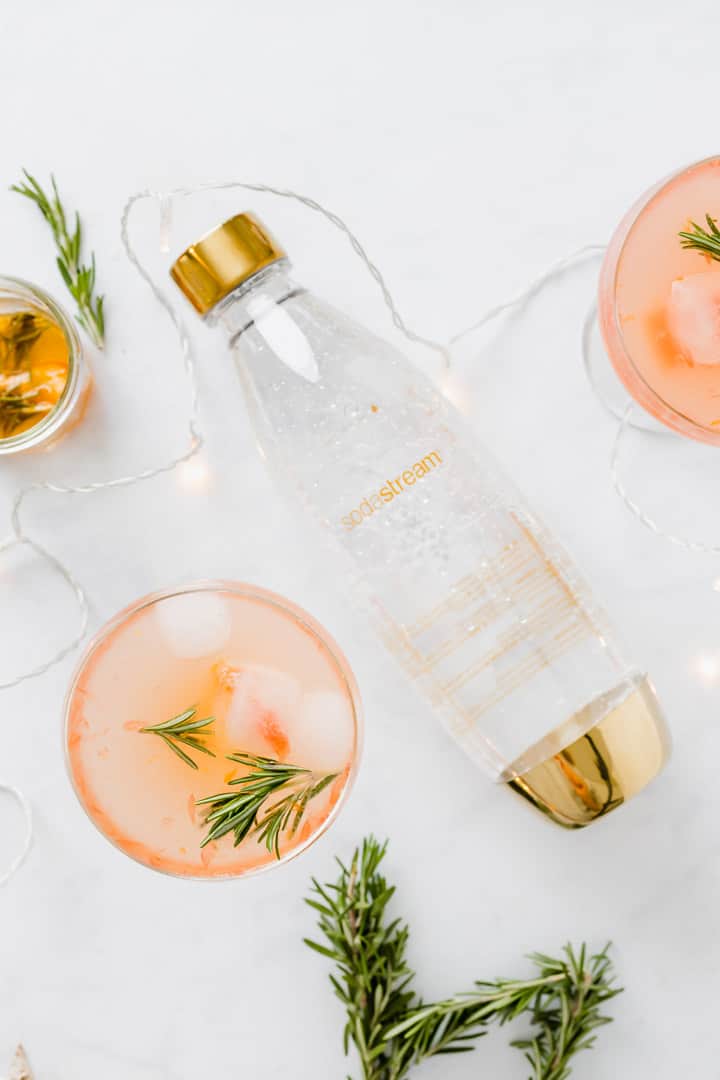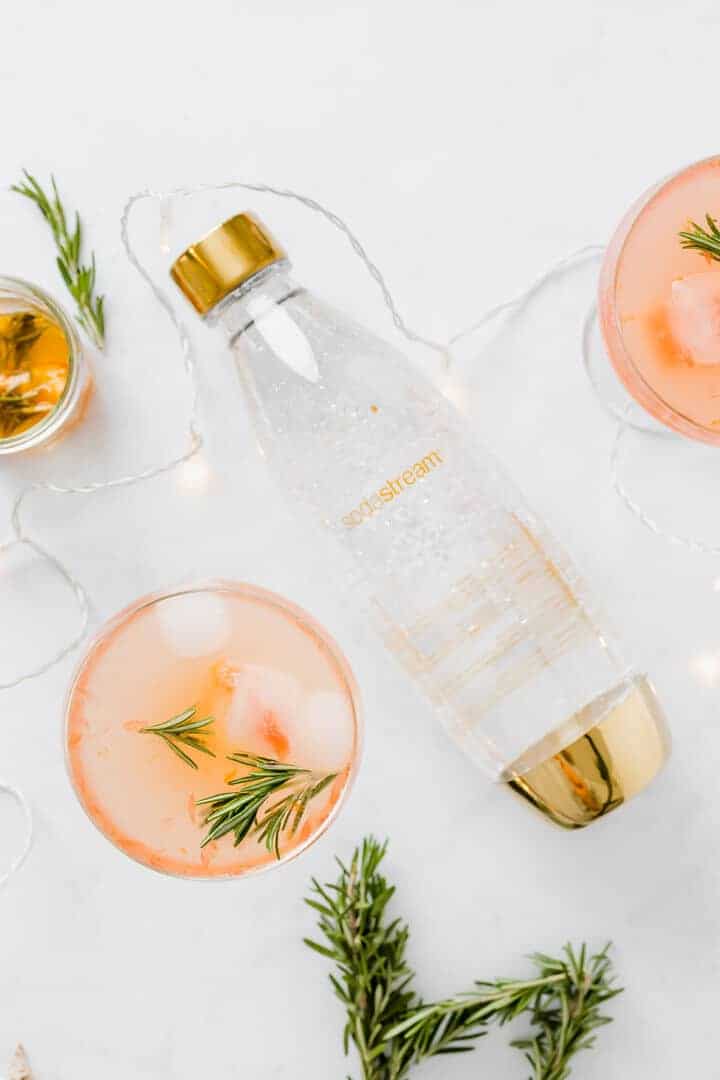 SodaStream Sparkling Water
To make this alcohol-free drink fizzy and enjoyable, you must top it with sparkling water. A SodaStream is the best choice for bubbly water.
If you are living in a country with excellent water quality out of the tab, like here in Switzerland where I live, it is unnecessary to buy bottled water. Say no to: Single-use plastic bottles, long transportation routes, and heavy lifting when carrying bottled water home from the store!
With a SodaStream, on the other hand, you can do something good for the environment and against plastic waste. Its reusable bottles are very environmentally friendly and can be used up to 4 years.
I love my SodaStream and I always use it if I fancy sparkling water or a fizzy syrup.
Right for the holiday season, there is a new product line called Spirit Gold available. All products come with a beautiful gold or rose gold design, perfect as a Christmas present for yourself or your loved ones. Make sure to check out the new: SodaStream Spirit Gold Edition!
Grapefruit Rosemary Simple Syrup
The best thing about this grapefruit cocktail is the syrup! A homemade grapefruit rosemary simple syrup! Sweet with subtle notes of rosemary, ginger, and grapefruit!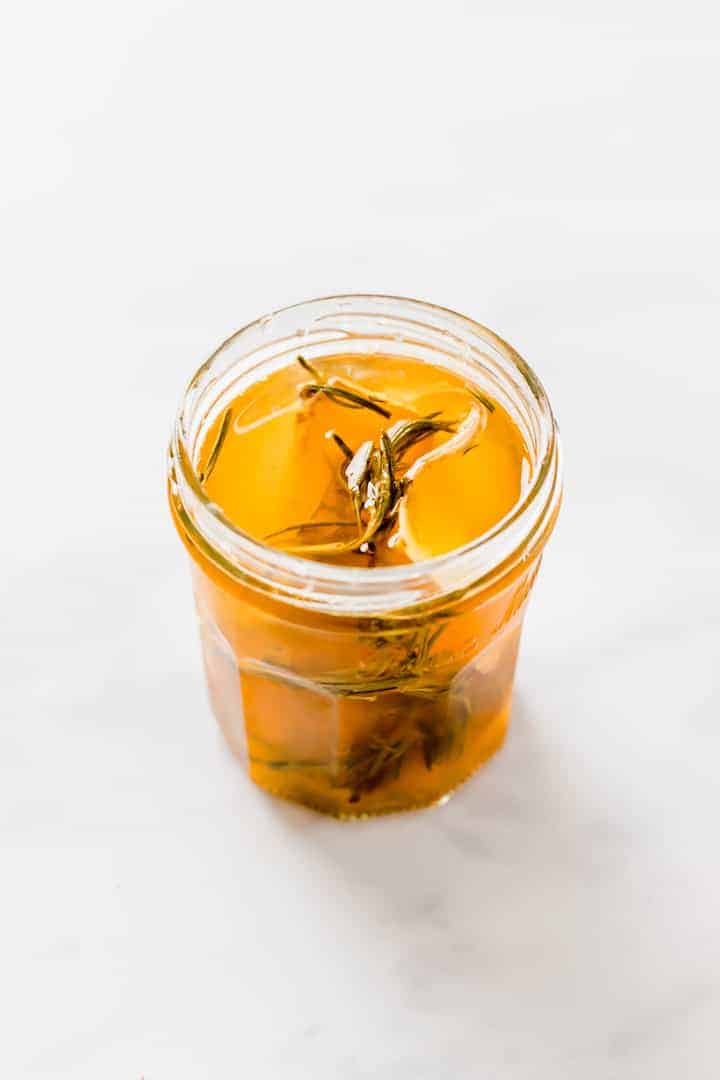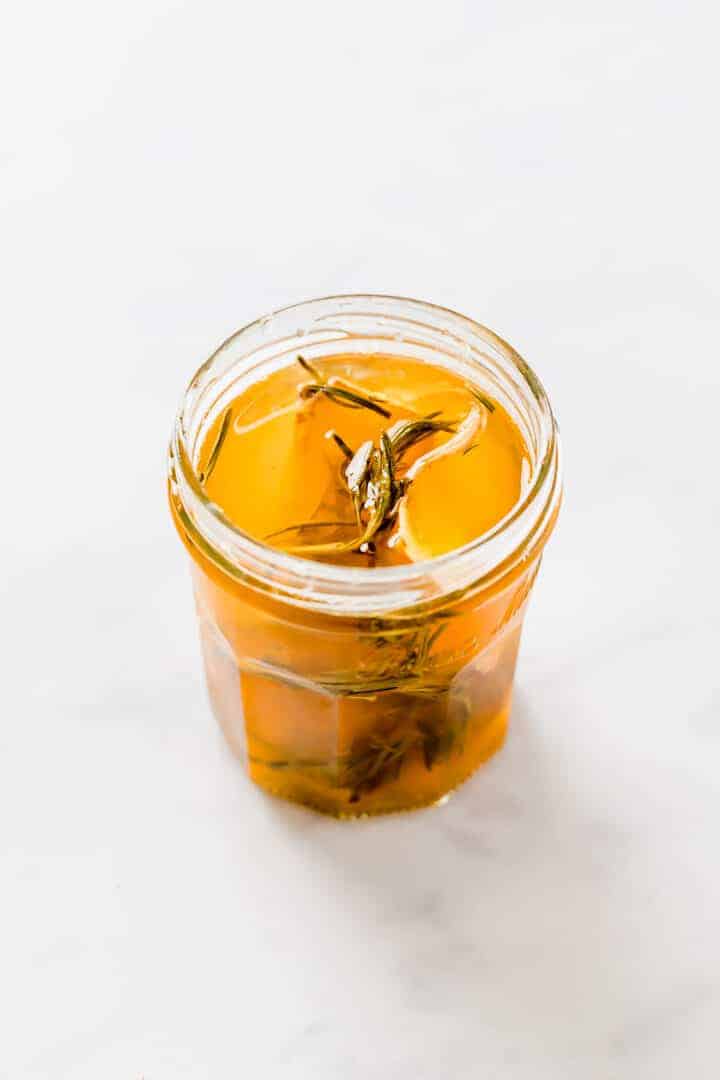 You have to simmer water, sugar, freshly squeezed grapefruit juice, fresh rosemary sprigs, fresh ginger, and some grated grapefruit zest in a small pot for about 10 minutes.
Remove from the heat and let it cool for about an hour. The flavor will develop further during this time.
Pour it into an old jam jar or a small glass bottle. You can use the syrup as soon as it has cooled down. However, it becomes particularly aromatic if you leave it to steep overnight in the refrigerator.
It's up to you if you want to filter the syrup. If so, pour it through a fine-mesh sieve right before you use it. I do love to store it with the rosemary sprigs and ginger in it, cause it looks beautiful, and the longer you leave them in, the more aromatic the syrup becomes. → It also makes a pretty homemade gift from the kitchen!
This rosemary simple syrup can also be used for other drink recipes or to enjoy it with sparkling water.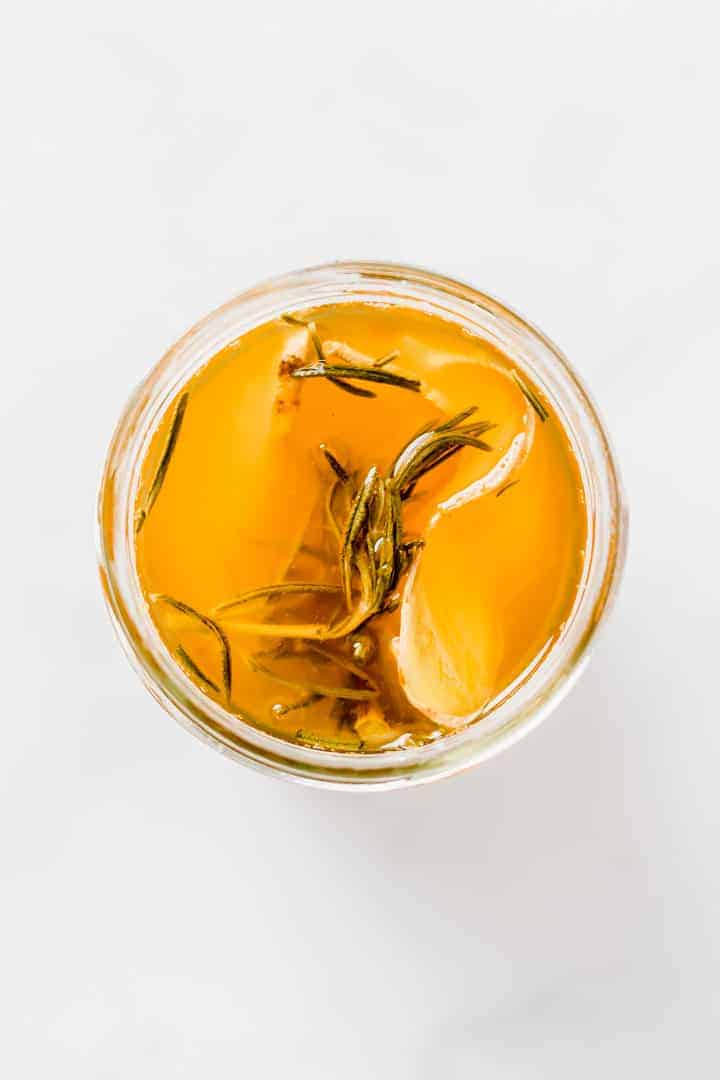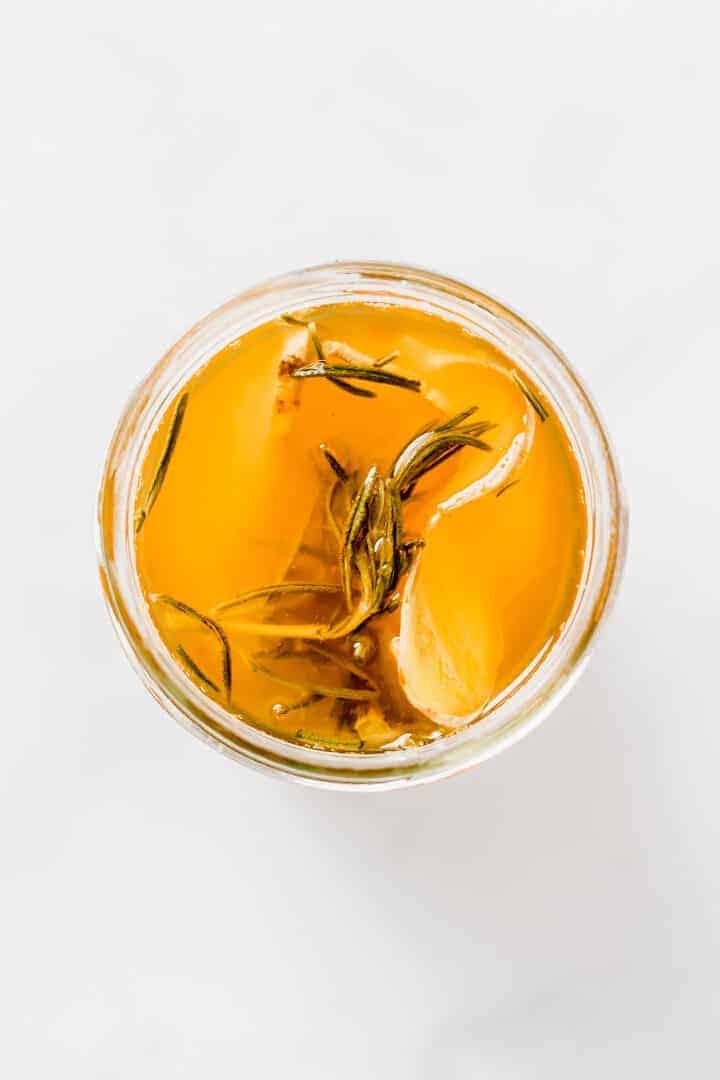 Grapefruit Rosemary Cocktail – How to Serve
Champagne Coupe: I love to serve this grapefruit mocktail in a champagne coupe. It looks very festive and like a classic cocktail. But feel free to use any other champagne or cocktail glass, it's also suitable to serve it as a grapefruit soda in regular glasses, double the recipe amount if so.
Pour Drinks: First, pour in the syrup, then the fresh grapefruit juice, and finally top it with SodaStream sparkling water. I like to use fresh rosemary as well as ice cubes or crushed ice to decorate the drinks.
Grapefruit Ice Cubes: Cut the grapefruit into small triangles, place them in an ice cube tray, fill it with water and let it freeze overnight. Those beautiful ice cubes with fresh grapefruit in it make quite an impression on your guests!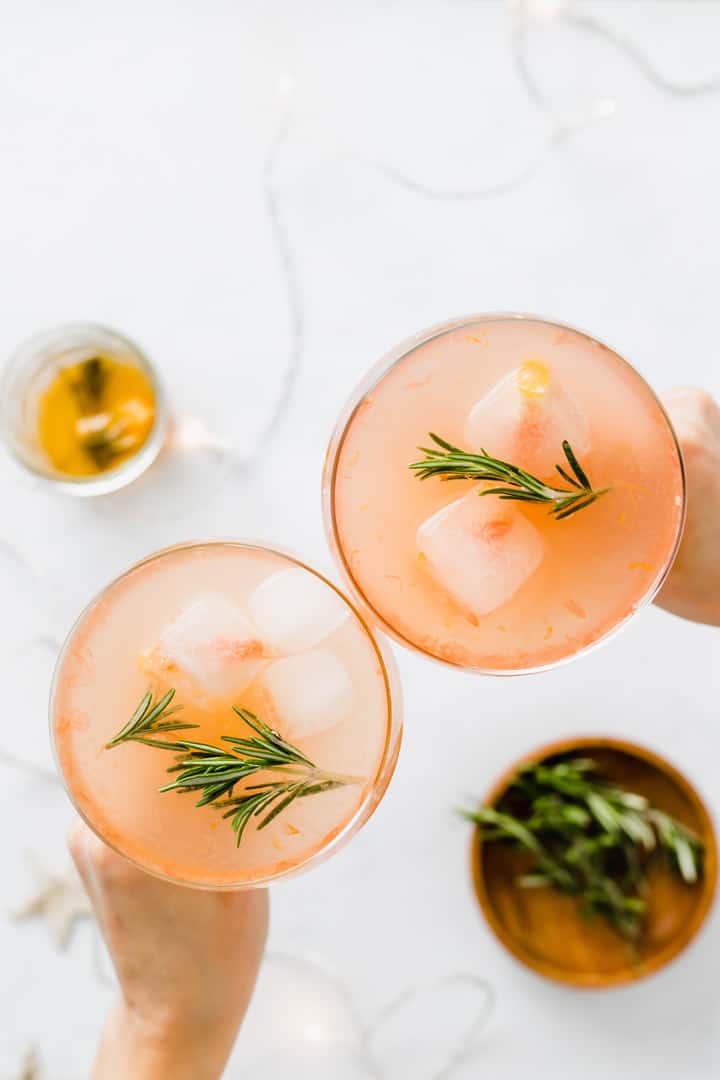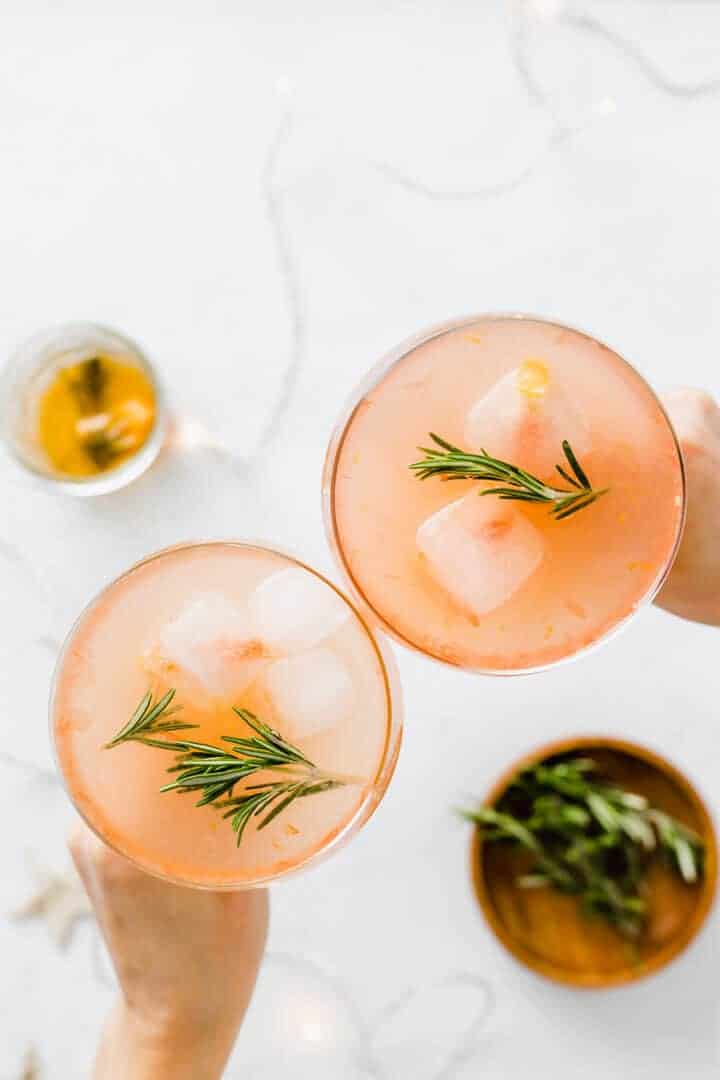 Recipe FAQ
Can I buy grapefruit juice? Store-bought juice often contains sugar or preservatives, so if anyhow possible, I would recommend buying grapefruits and juice them at home.
Can I prepare the recipe in advance? Yes, you can prepare the syrup and freshly squeezed grapefruit juice a day in advance. Keep both stored in a glass bottle in the refrigerator and pour it as soon as your guests arrive.
How long does the syrup stay fresh? For a good week when stored in the refrigerator.
More Drink Recipes You'll Love:
Did you try this recipe?
I would love it if you leave me a 5-star rating or comment. This way, I better get to know which recipes you like and can make more of them.
Please follow me on Facebook, Instagram, and Pinterest to see more tasty shiny food pictures! I would be thrilled to welcome you to my community!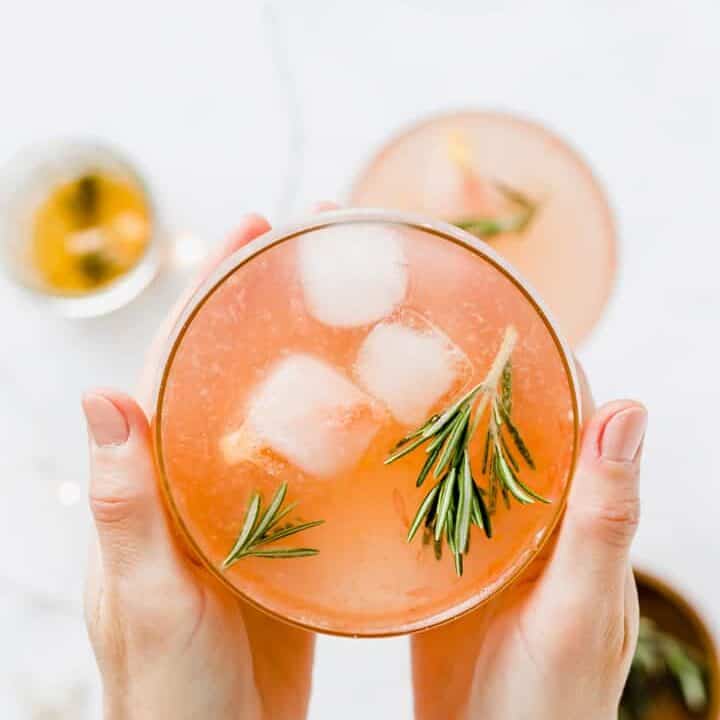 Grapefruit Rosemary Mocktail
This non-alcoholic grapefruit mocktail with rosemary simple syrup is fizzy, fresh, and delicious! The perfect drink companion for festive occasions with children and adults!
Ingredients
Grapefruit Rosemary Simple Syrup
1 cup (200g) white sugar
1 cup (240ml) water
1/2 cup (120ml) fresh grapefruit juice
2 sprigs of fresh rosemary
4 slices fresh ginger
1 tbsp grapefruit zest
Grapefruit Rosemary Mocktail
1 tbsp grapefruit rosemary simple syrup
1/8 cup (30ml) fresh grapefruit juice
Instructions
Grapefruit Rosemary Simple Syrup
Add all the ingredients for the syrup in a small pot and bring to the boil. Reduce the heat and let it simmer for 10 minutes.
Remove from the heat and let the syrup steep and cool for about one hour.
Store it in a glass bottle or glass jar and keep refrigerates for up to one week. → If you don't like grapefruit zest in your drink, pour it through a fine-mesh sieve just before serving.
Grapefruit Rosemary Mocktail
Add the syrup and then the fresh grapefruit juice in a cocktail glass.
Top it with sparkling water and ice cubes. Decorate with fresh rosemary or grapefruit slices.

Notes
Grapefruit: ∼ 3 fresh pink grapefruit should be enough to prepare the syrup and 4 drinks.
Syrup: Make the syrup one day in advance and store it in the refrigerator for a more flavorful syrup.
Syrup Yield: You can make up to 20 mocktails with the syrup, depending on how sweet you like them.
For Kids: If your kids don't like the bitter taste of grapefruit juice, serve them only the syrup topped with sparkling water.
Large Drinks: The serving size is for a small cocktail or champagne glass. Double the amount of ingredients if using regular glasses.
Recommended Products
As an Amazon Associate and member of other affiliate programs, I earn from qualifying purchases.
Nutrition Information:
Yield:

20
Serving Size:

1
Amount Per Serving:
Calories:

79
Total Fat:

0g
Saturated Fat:

0g
Trans Fat:

0g
Unsaturated Fat:

0g
Cholesterol:

0mg
Sodium:

2mg
Carbohydrates:

20g
Net Carbohydrates:

0g
Fiber:

0g
Sugar:

18g
Sugar Alcohols:

0g
Protein:

0g