Read in:

Deutsch
Warm and crispy homemade pita bread can be enjoyed as a side dish or filled and eaten as pita pockets. You will never again buy them in the supermarket after you have made this recipe.
The smell when you cook this pita bread in your pan is worth all the effort starting with kneading, rising the dough, and roll it out. There is nothing more delightful than eating homemade bread. You can serve it along with an appetizer, to your salad, vegetable curry, or even filled and enjoyed as a sandwich – only make sure to always serve it warm.
When I was a teen and lived in a tiny city called Laufen (somewhere in Switzerland), there was only one Pizzeria we used to go. The most delicious thing, and also the cheapest one as we couldn't afford much with our pocket money, was hot pizza bread filled with French dressing. It was one of my favorite things to eat out. Still, today, when I am making homemade pita bread, I love to fill it with my homemade French dressing and think back to this time. I know, a very weird thing to eat, but please try it once and you will know what I mean.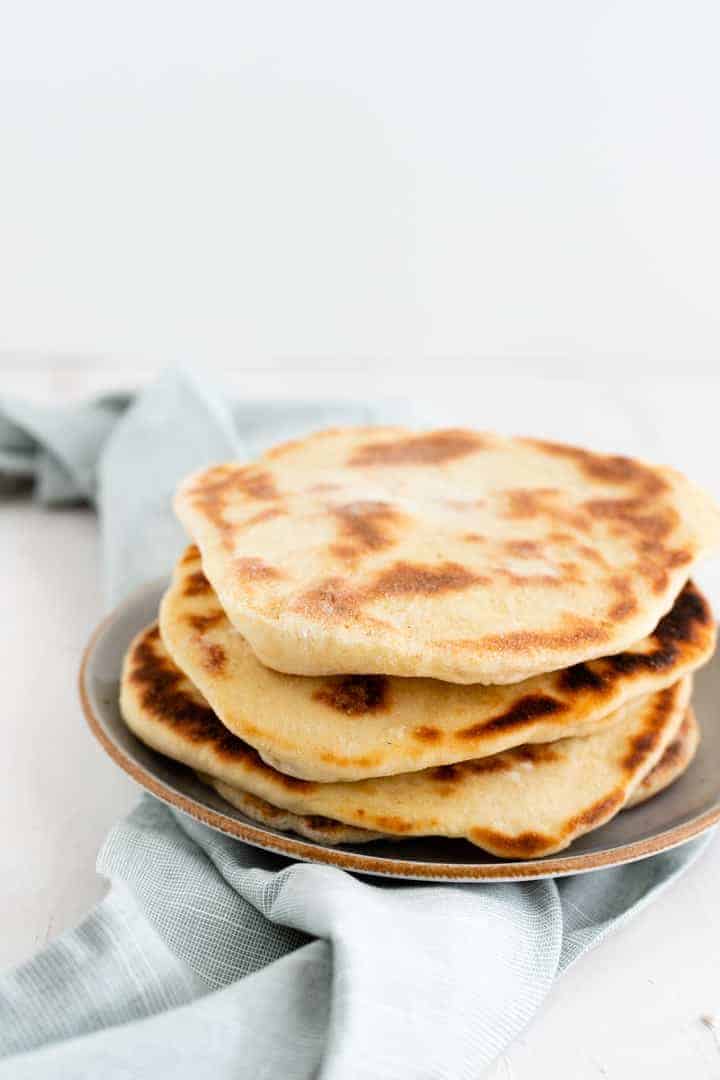 This recipe is simple, and you don't need to be a bread expert to make it. One thing which I want to teach you is, give your pita bread time while forming it, and let it rest before you cook it. Your dough will be more elastic and easier to form, plus it's more likely that he will puff up just perfectly.
Form your dough into pita bread:
If you are in a hurry, it's possible to roll out your dough balls very thin and cook them directly. Just don't expect them to puff up so nicely.
Homemade Pita Bread
Homemade pita bread is best served warm and enjoyed as a side dish or filled and end eaten as pita pockets.
Ingredients
20

g

(

20

g

)

fresh yeast

alternative: 7g dried yeast

1

tbsp

(

1

tbsp

)

sugar

150

ml

(

0.6

cups

)

water

lukewarm

300

g

(

2.5

cups

)

pastry flour

type 405

2

tbsp

(

2

tbsp

)

olive oil

2

tsp

(

2

tsp

)

sea salt
Instructions
Mix the yeast, sugar, and half of the water into the bowl of your kitchen machine. Let it sit for a few minutes until foaming.

Add the flour, rest of the water, and olive oil. Knead at low speed until combined into a dough (~2 mins).

Add the salt and knead for 5 minutes, speed level one, until you have a smooth dough. Cover with a damp kitchen towel and let it rise for one hour at room temperature.

Place the dough on a well-floured working surface and divide into six even pieces. Using a kitchen scale for this step helps you.

Form them into balls and flatten them with the ball of your hand. Let them rest for 10 minutes. Roll them out to about 15 cm using a rolling pin. Let them rest for another 10 minutes. Always cover with the damp kitchen towel to prevent the dough from drying out.

Heat up a non-stick frying pan until very hot (but not smoking). Add some oil, then one dough and cook on each side for about 1-2 minutes until brown. Repeat this step with the remaining dough.

Serve immediately or cover with a kitchen towel to keep them warm.
Notes
Store the pita bread in a plastic bag for up to two days. Reheat them in a pan or microwave before serving. 
The dough appreciates the relaxing time when rolling out. It also helps to make it puff up during cooking. If you are in a hurry, roll it out and cook it without the 2x10 minutes resting time. It still tastes wonderful, but might not puff up.
It's possible to prepare the dough ahead of time. Therefore, refrigerate the dough after the one hour rising time in a bowl covered with a damp kitchen towel or plastic wrap. Store it in your fridge for up to one day.
Nutrition
Nutrition Facts
Homemade Pita Bread
Amount Per Serving
Calories 222
Calories from Fat 45
% Daily Value*
Fat 5g8%
Sodium 778mg34%
Potassium 201mg6%
Carbohydrates 38g13%
Protein 6g12%
Calcium 17mg2%
Iron 1.9mg11%
* Percent Daily Values are based on a 2000 calorie diet.