*This post may contain affiliate links.
Crunchy oven roasted chickpeas marinated with olive oil and a blend of delicious spices! The best healthy snack, salad topping, or wrap filling ever!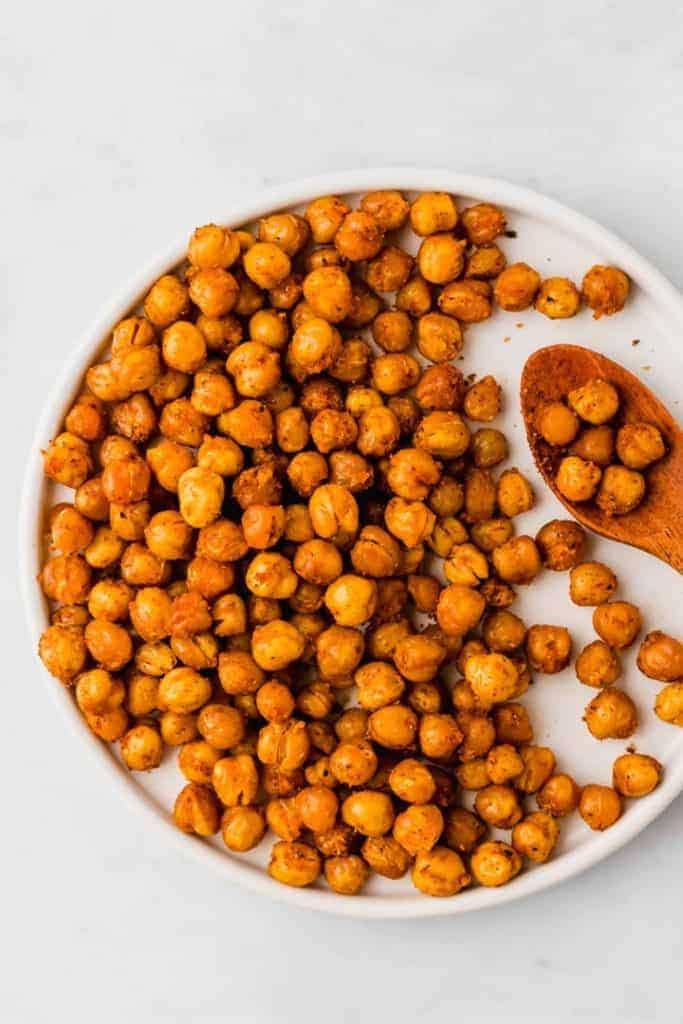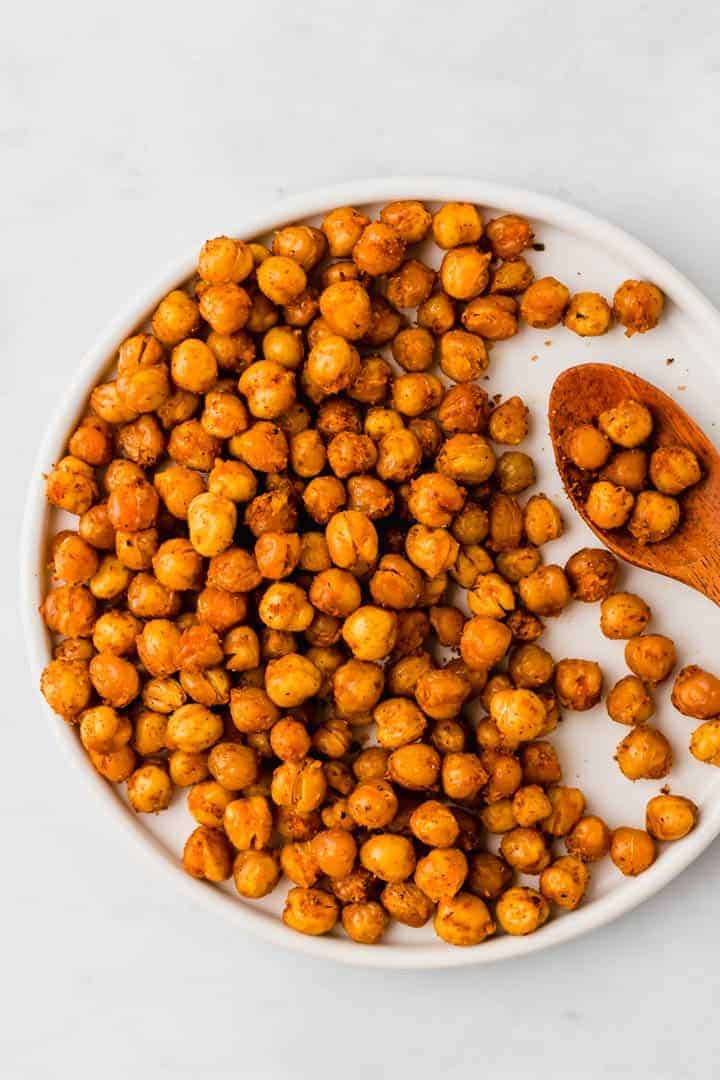 Is there anything better than enjoying a little crunchy and salty snack and don't need to feel guilty about the calories or fat? Then these spiced roasted chickpeas are your solution.
They are:
Delicious
Extra Crunchy
Salty & Spicy
High in Fiber, Protein, and Nutrients
It's a simple recipe to make in only 30 minutes. Plus, they can be store for a few days.
I love to make oven roasted chickpeas as a healthy appetizer when I am having guest, as a TV snack, use it for my salad toppings or to make delicious healthy wraps with it.
They are very versatile and can be used to pimp up so many dishes.
Chickpeas are a great source of protein, especially when you are on a vegan diet. So why not make a batch of these to use it during the week? I am sure your kids will love this crunchy snack too!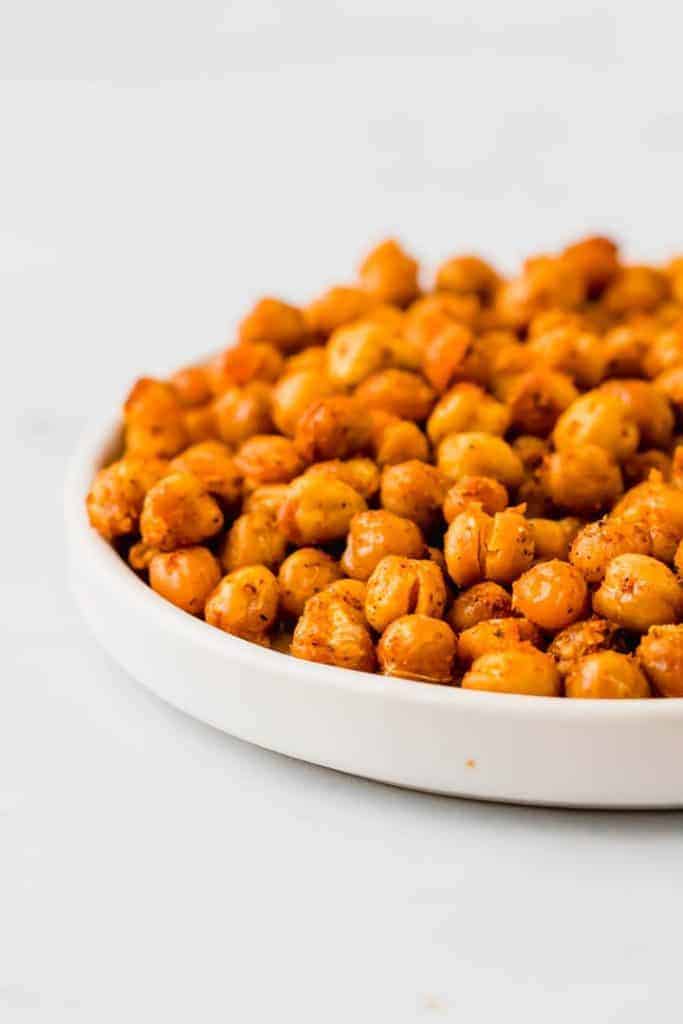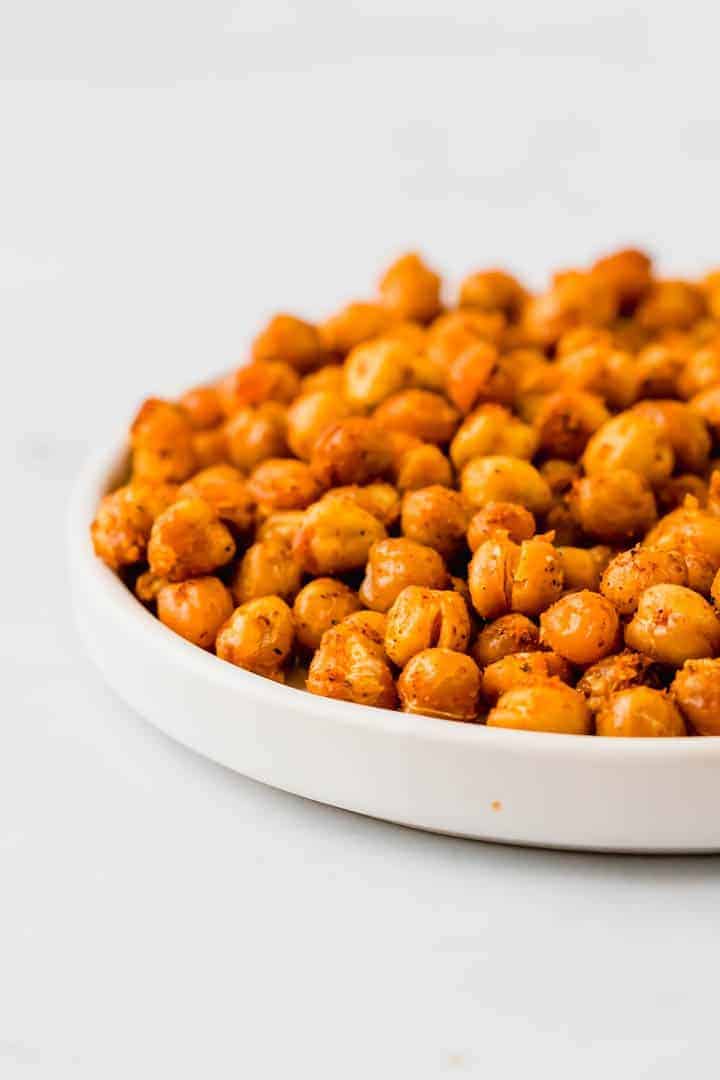 How to Roast Chickpeas
The easiest way is to use canned chickpeas. If you use dried ones, you need to cook them first according to the label, which often takes a lot of time.
You can peel the chickpeas if you prefer, but they are delicious too with the skin on and much easier to prepare. I didn't have the feeling that they are crunchier or more delicious if peeled, but I tested it for you.
What's important, is that you rinse them thoroughly.
Also, make sure that you are using a large enough baking sheet or baking dish. To make them crunchy, they need to fit in one layer and should not lay on each other during baking.
Some recipes call to dry the rinsed chickpeas using a kitchen towel or paper towel, but I think this step is obsolete and can be skipped.
*Don't throw away the auafaba, the water in which the chickpeas are stored. You can use it to make this delicious and healthy vegan chocolate mousse.
Roasted Chickpeas Recipe
Preheat the oven to 400 degrees F/200 degrees C.
Drain and rinse canned or cooked chickpeas.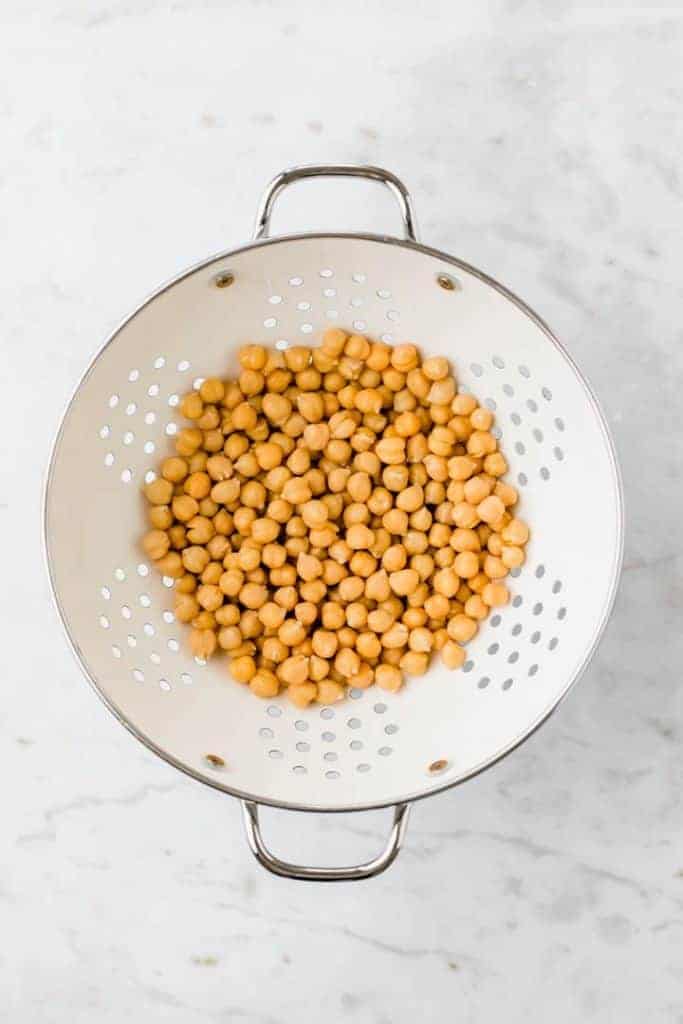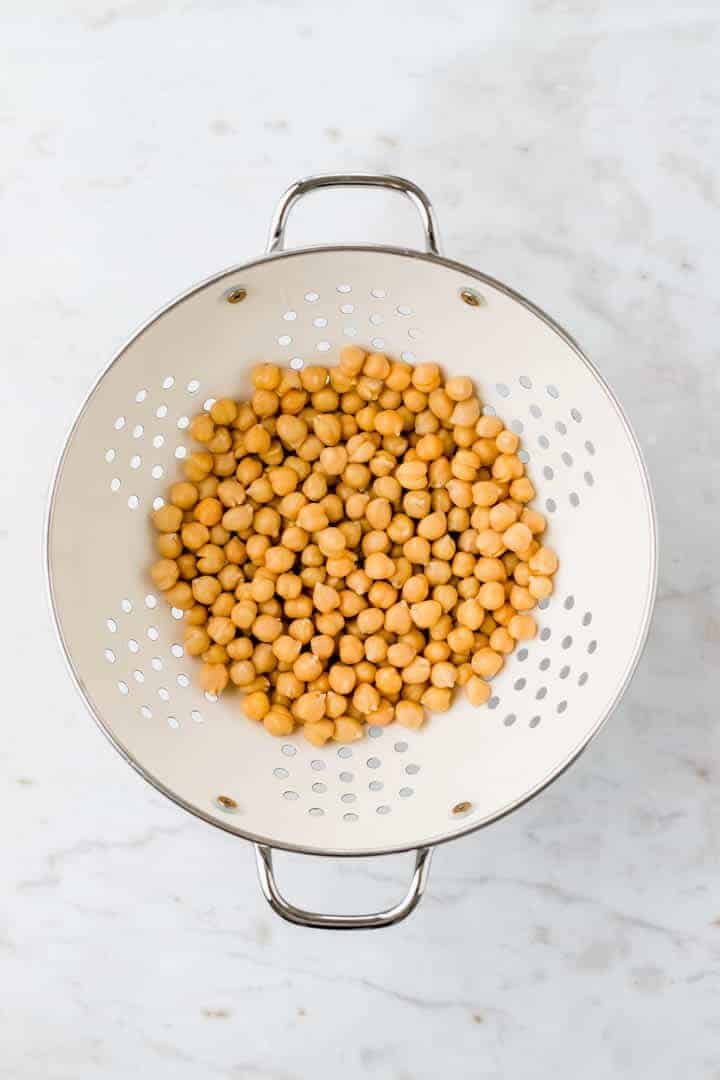 Place them on a large baking or pie dish. You can also use a parchment paper lined baking sheet.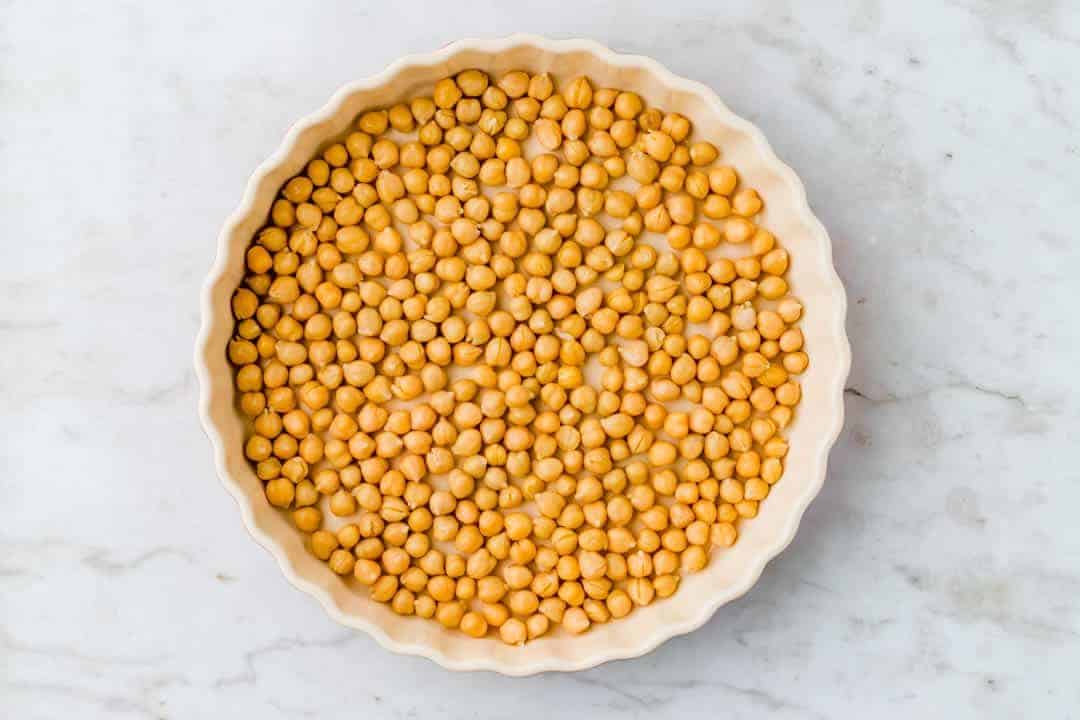 Bake them for 15 minutes in the preheated oven.
Mix the spices in a small bowl. Olive oil, sea salt, smoked paprika, ground cumin, and pepper. Adjust the seasonings according to your taste. → Add garlic powder, dried herbs, curry, etc.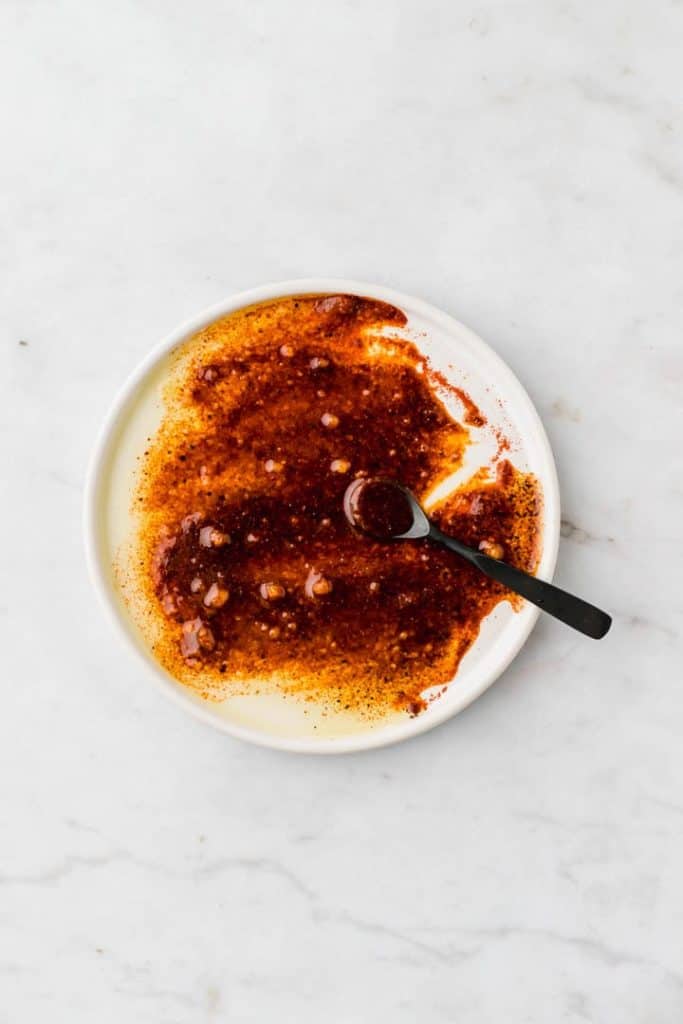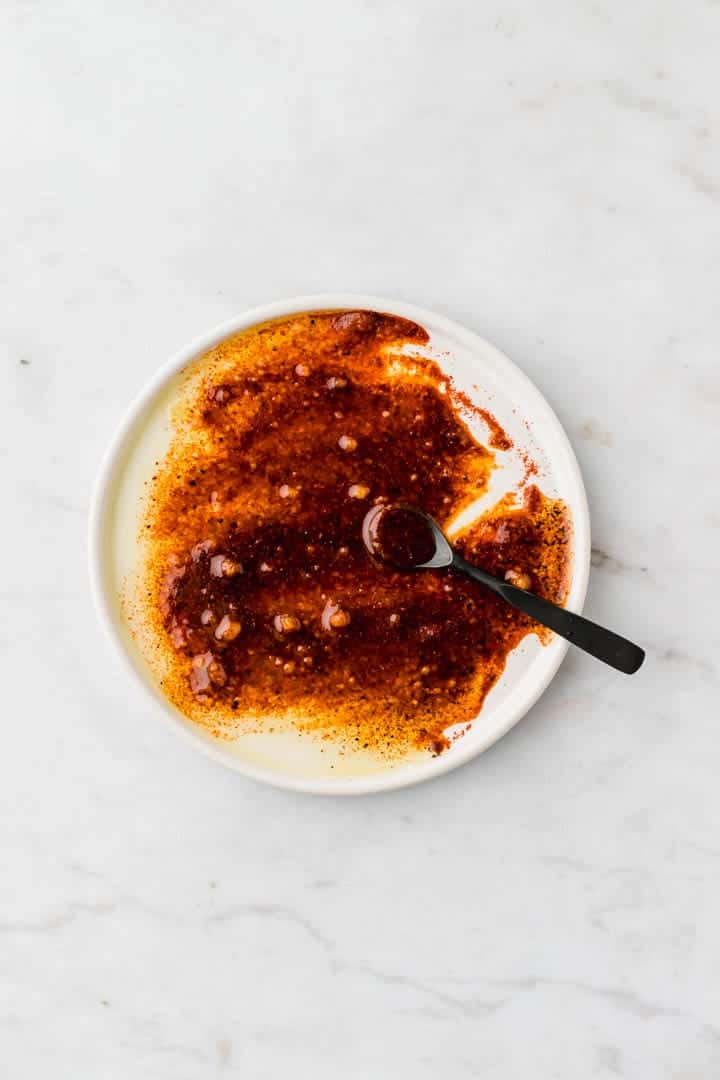 Take out the chickpeas, mix it with the spices, and bake for another 15 minutes.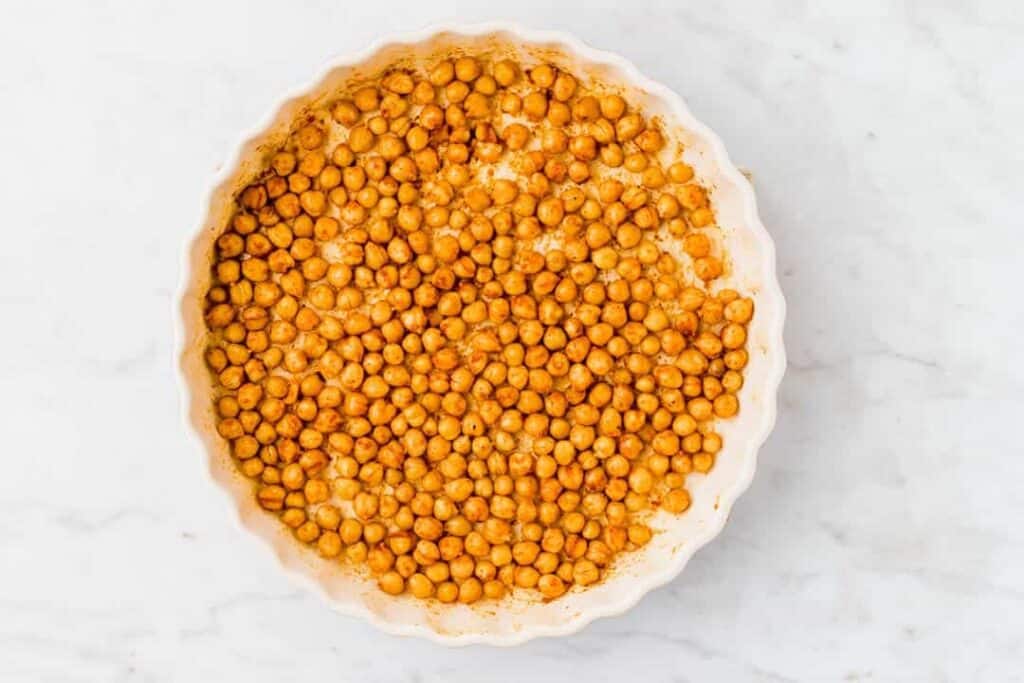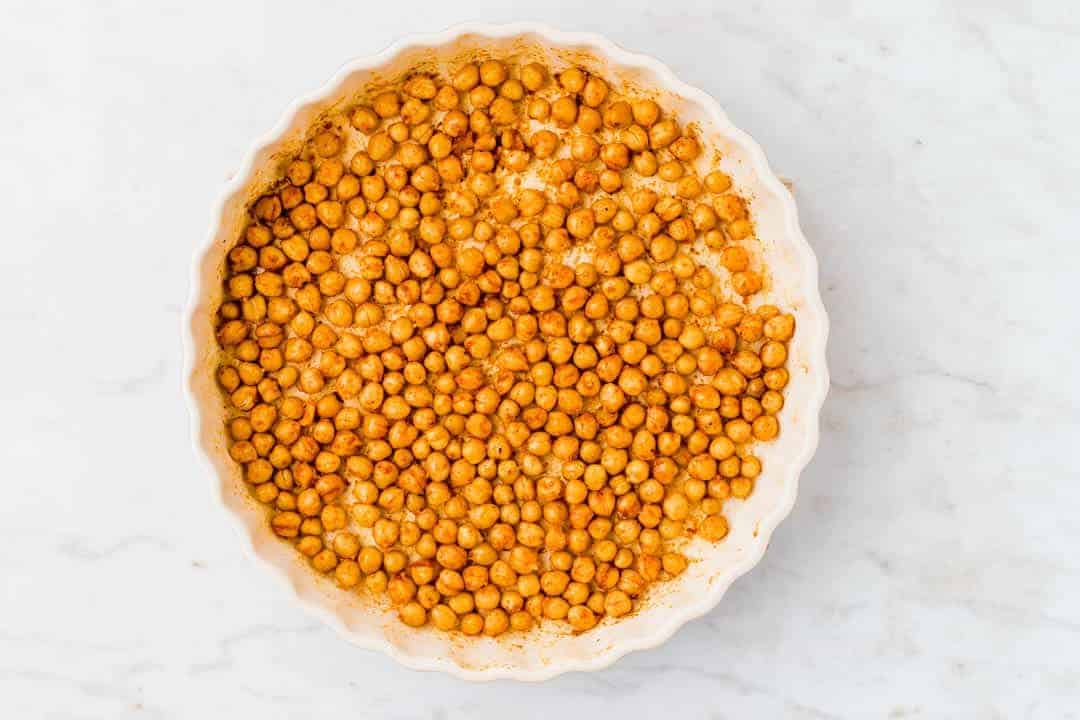 Let the baked chickpeas cool in the oven. Therefore, stick a wooden spoon between the oven door to keep it ajar until the oven is completely cold. This step takes about 1 hour and makes your chickpeas extra crispy. Skip this step if you are in a hurry.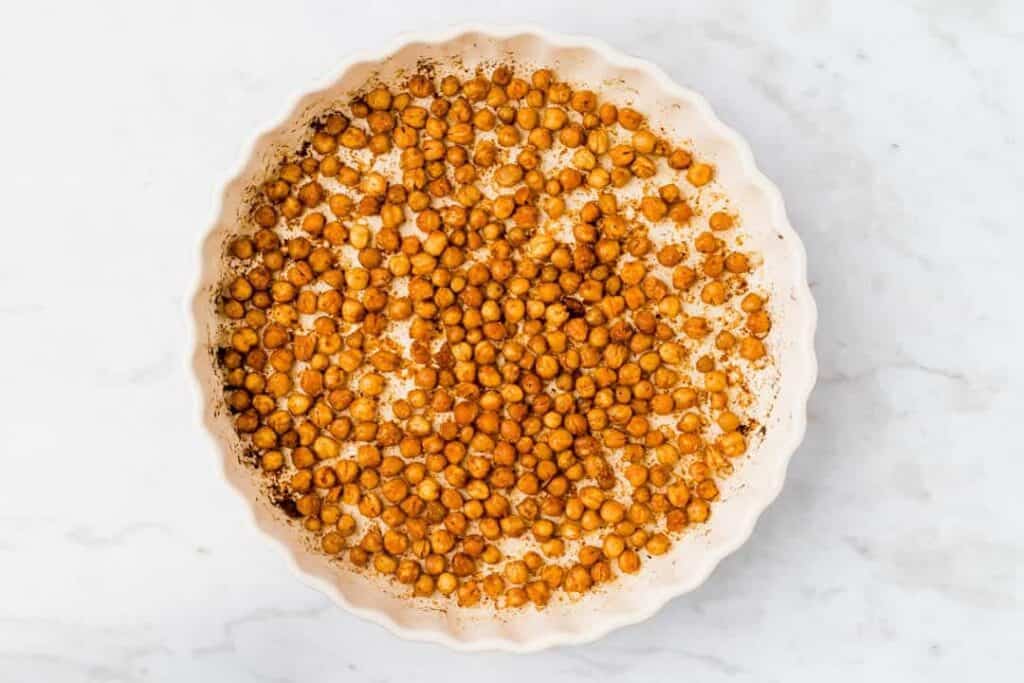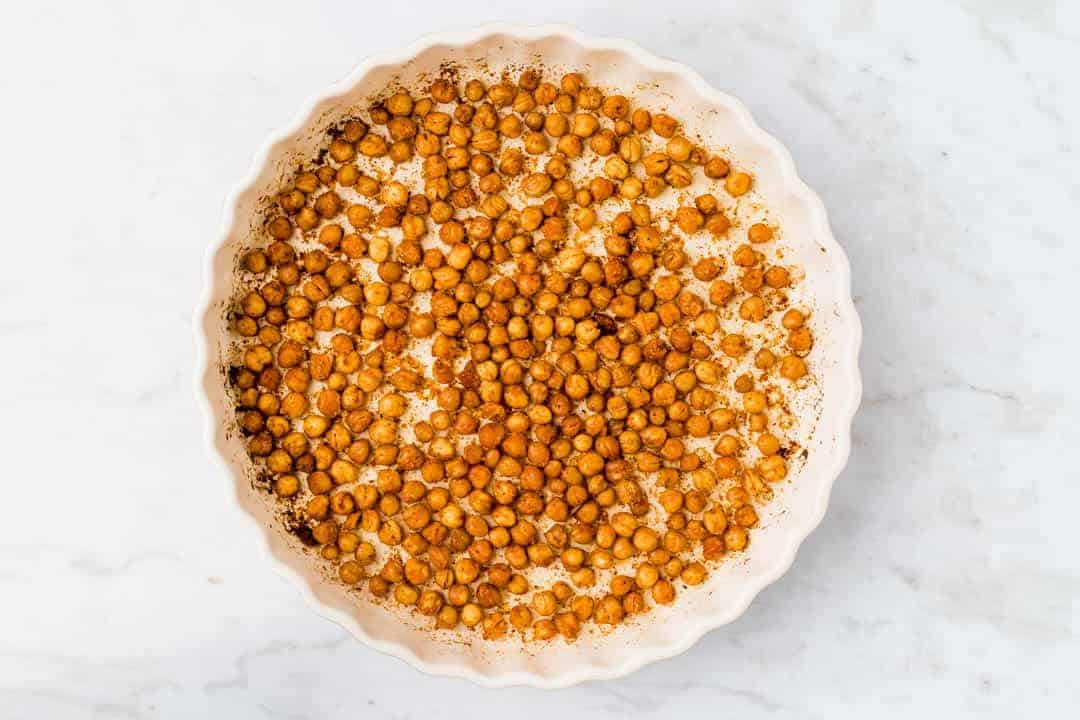 It's not necessary to stir the chickpeas during baking.
FAQ
How to store roasted chickpeas?
Store them in an airtight container in the fridge or at room temperature for up to two days.
Can I make them without oil?
No, the oil is essential for its taste and crispiness.
What can I use roasted chickpeas for?
As a snack, wrap filling, summer roll filling, salad, or soup topping.
Can I add the oil and spices at the beginning?
No, the spices would burn, and it wouldn't be edible anymore.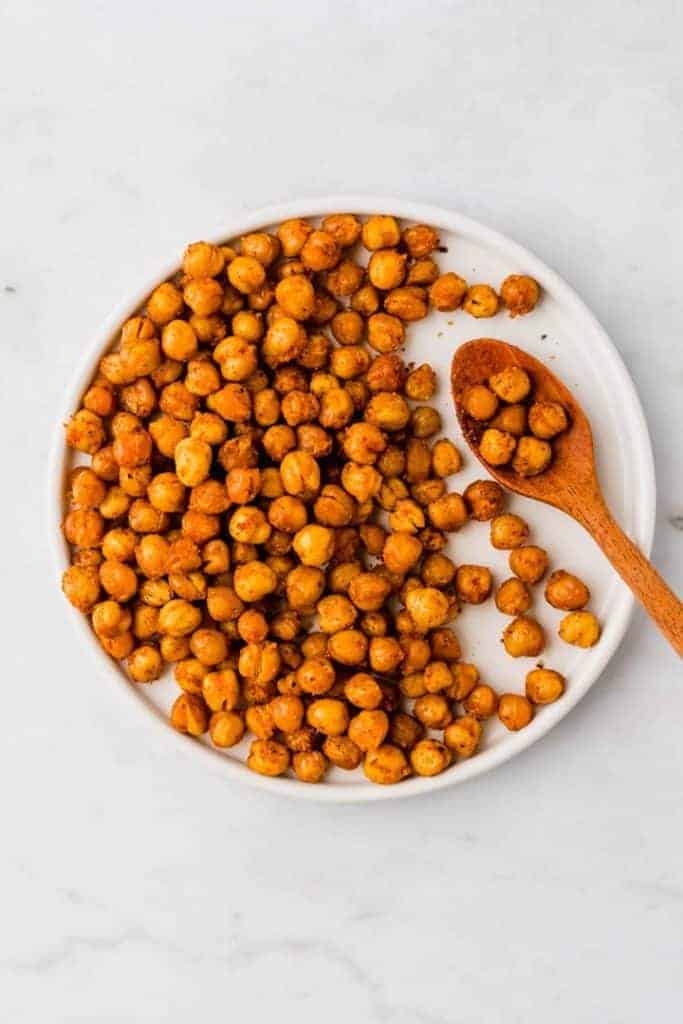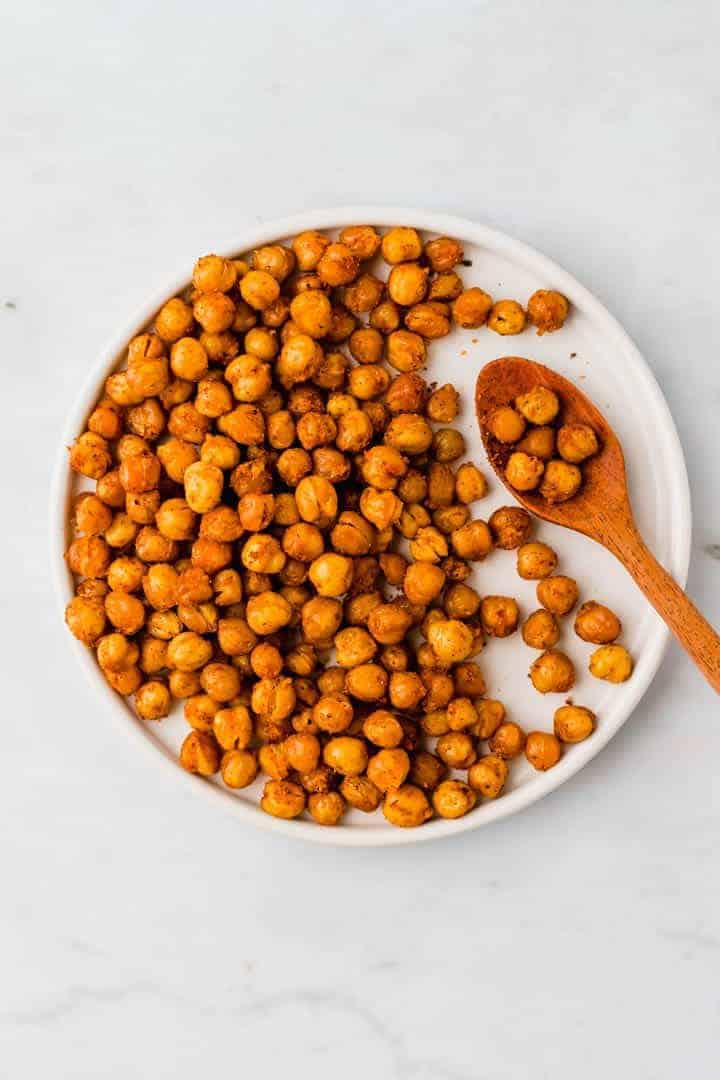 More Recipes You'll Love:
DID YOU TRY THIS RECIPE?
I would love it if you leave me a 5-star rating or comment. This way, I better get to know which recipes you like and can make more of them.
Please follow me on Facebook, Instagram, and Pinterest to see more tasty shiny food pictures! I would be thrilled to welcome you to my community!
📖 Recipe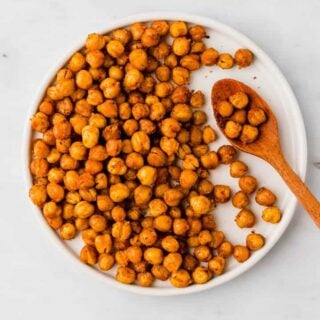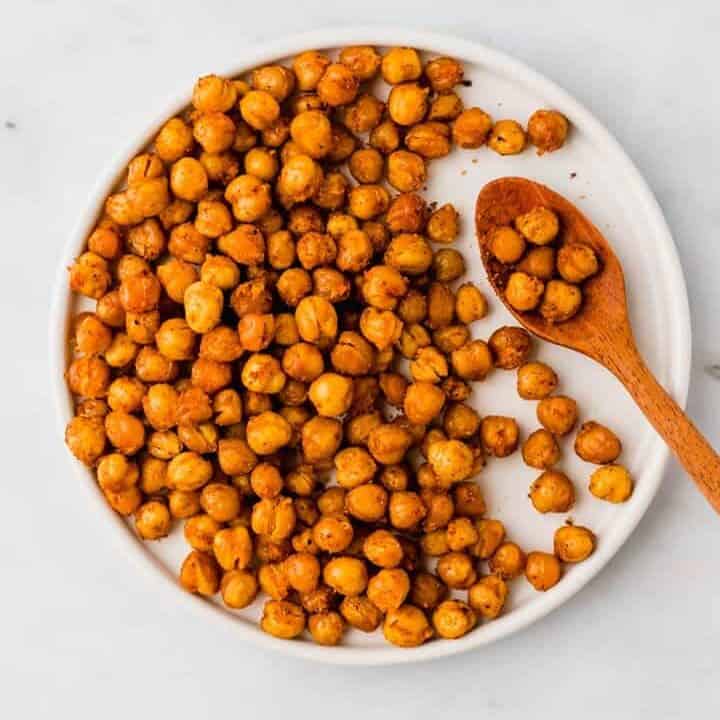 Oven Roasted Chickpeas
Crunchy oven roasted chickpeas marinated with olive oil and a blend of delicious spices! The best healthy snack, salad topping, or wrap filling ever!
Click on the stars to leave a vote!
Instructions
Preheat the oven to 400°F/200°C. Drain the chickpeas and rinse with cold water. Place them in a large baking dish or a with parchment paper lined baking tray and bake for 15 minutes. → Use a large enough dish so that the chickpeas have place in one single layer and don't stack on each other. This is important to make them crispy.

Take them out of the oven, mix with the olive oil and spices, and bake for another 15 minutes until golden and crispy.

Turn off the oven, open the door ajar (stick a wooden spoon between the door and oven), and let the chickpeas cool down in the oven. → Makes them crispier!
Notes
Serve them as a healthy snack, with salad, or in wraps.

Skip the cooling step if you are in a hurry.
Recommended Products
Nutrition
Calories:
34
kcal
|
Carbohydrates:
1
g
|
Protein:
1
g
|
Fat:
4
g
|
Saturated Fat:
1
g
|
Sodium:
582
mg
|
Potassium:
11
mg
|
Fiber:
1
g
|
Sugar:
1
g
|
Vitamin A:
245
IU
|
Iron:
0.3
mg
Did you make this recipe?
Let me know by leaving a recipe rating below, or by tagging @aline_made on Instagram. I love seeing your beautiful creations!