This iced vanilla latte topped with whipped cream and salted caramel sauce is the perfect way to drink your coffee on hot days.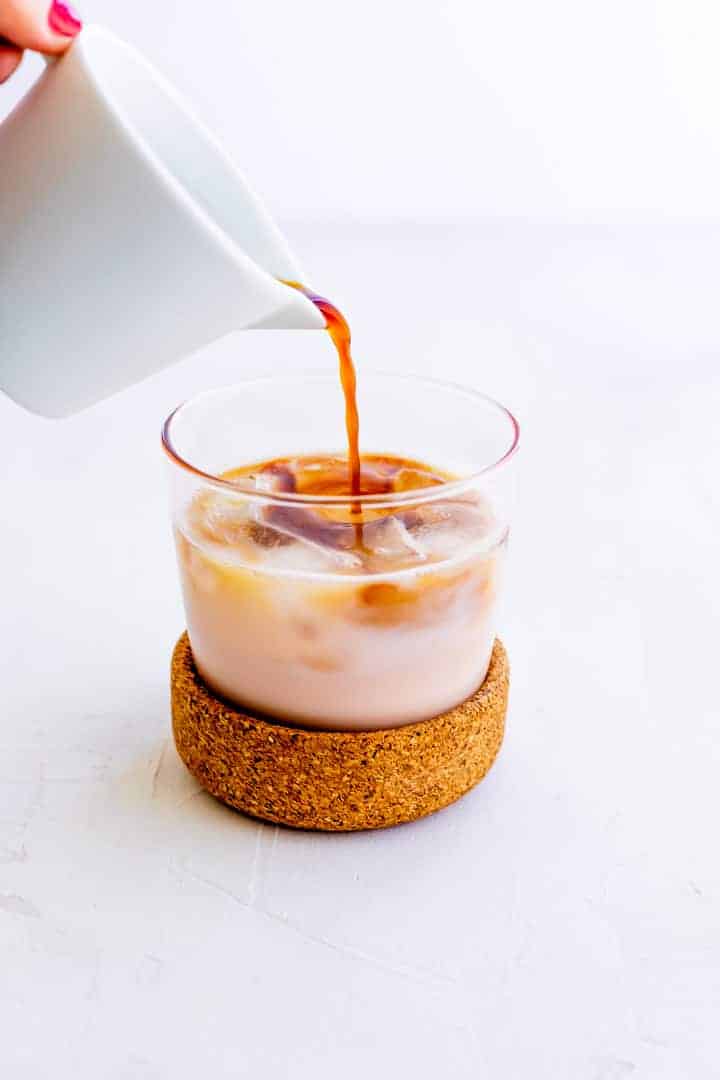 Iced Vanilla Latte Recipe With Soy Milk
For this vanilla latte recipe, you use vanilla soy milk instead of vanilla syrup, which makes it super simple and you don't need to buy a whole bottle of vanilla syrup which you are only going to use for one recipe and then place it back in your kitchen cupboard until you forget about it.
Philips Coffee Maker
I made the espresso shot with a fully automated coffee maker from Philips, which is just awesome. As I was able to test the model EP5365/10 from the series 5000 for one week in my home, I had to make sure to drink as much coffee as I can and try out all different functions. Let me tell you a bit more about this morning lifesaver. It's a fully automated coffee maker with an integrated milk frother. The only thing you have to do in the morning is to make sure to fill the water and coffee bean tank, pour your preferred milk into the milk frother and press the button. You can choose between coffee and espresso, or cappuccino and latte macchiato. As I drink my coffee always with milk, I truly love the cappuccino function. Perfect foamed milk with coffee. It works with cow milk or soy milk (I didn't test all the other plant-based milk types).
You can store the milk tank in your fridge if you don't use all the milk at once, but make sure to clean it every other day with hot water and once in a week with dish soap. Otherwise, the coffee maker is very easy to clean and comes with an aqua filter. If you considering to buy a fully automated coffee maker, I can highly recommend you the one from Philips. The only disadvantage is the size of it, in a little kitchen as mine it takes too much space. But I guess this is the deal you have to make with all fully automated coffee maker, despite the model or brand.
Coffee Workshop with Emi
Before testing the coffee maker, I was invited to a coffee workshop with some other Swiss bloggers, which was held by Emi Fukahori, the best barista in Switzerland. She taught us how to distinguish the five tastes: sweet, salty, bitter, sour, and umami. To be honest, it's quite a challenge, and the clue is that you have to taste it on different spots on your tongue. While you identify sweetness on the tip of your tongue, bitterness can only be tasted at the end of it. Furthermore, we had the chance first to smell and then drink various kind of coffee beans. Arabica and robusta from places around the world. As a result, I found out that arabica is my favorite kind of coffee. It was indeed an interesting workshop and inspired me to create a homemade vanilla latte recipe with delicious coffee.
Now, let's go and make this iced vanilla latte.
Iced Vanilla Latte
Iced vanilla latte topped with whipped cream and salted caramel sauce.
Print |
Pin |
Rate
Calories per serving
125
kcal
Instructions
Pour the vanilla soy milk in a glass and add the ice cubes.

Slowly, pour in one espresso shot. Be careful that you don't destroy the layers.
Nutrition per Serving
Calories:
125
kcal
|
Carbohydrates:
16
g
|
Protein:
4
g
|
Fat:
4
g
|
Saturated Fat:
1
g
|
Cholesterol:
4
mg
|
Sodium:
139
mg
|
Potassium:
211
mg
|
Sugar:
4
g
|
Vitamin A:
11.8
%
|
Vitamin C:
13.1
%
|
Calcium:
21
%
|
Iron:
4.1
%
*This post is written in collaboration with Philips