Quiche is a wonderful dish which you can prepare in advance. It's perfect if you have guests or to bring to a party. As this leek and cheese quiche has to cook about 30 minutes in the oven, you have now 30 minutes to clean all dishes, prepare the table and put a bit more powder on your skin ❤ Or trim your beard if you are a man ? It's also wonderful to bring to a party as an appetizer, you can cut this very cheesy leek and cheese quiche into small slices (at least 12) and eat as finger food on a napkin.
It's the best if you serve it warm when the cheese is still melted, but also does taste delicious served cold. What I like to do, if I do not eat the whole quiche at once, is put it back into the oven for a few minutes.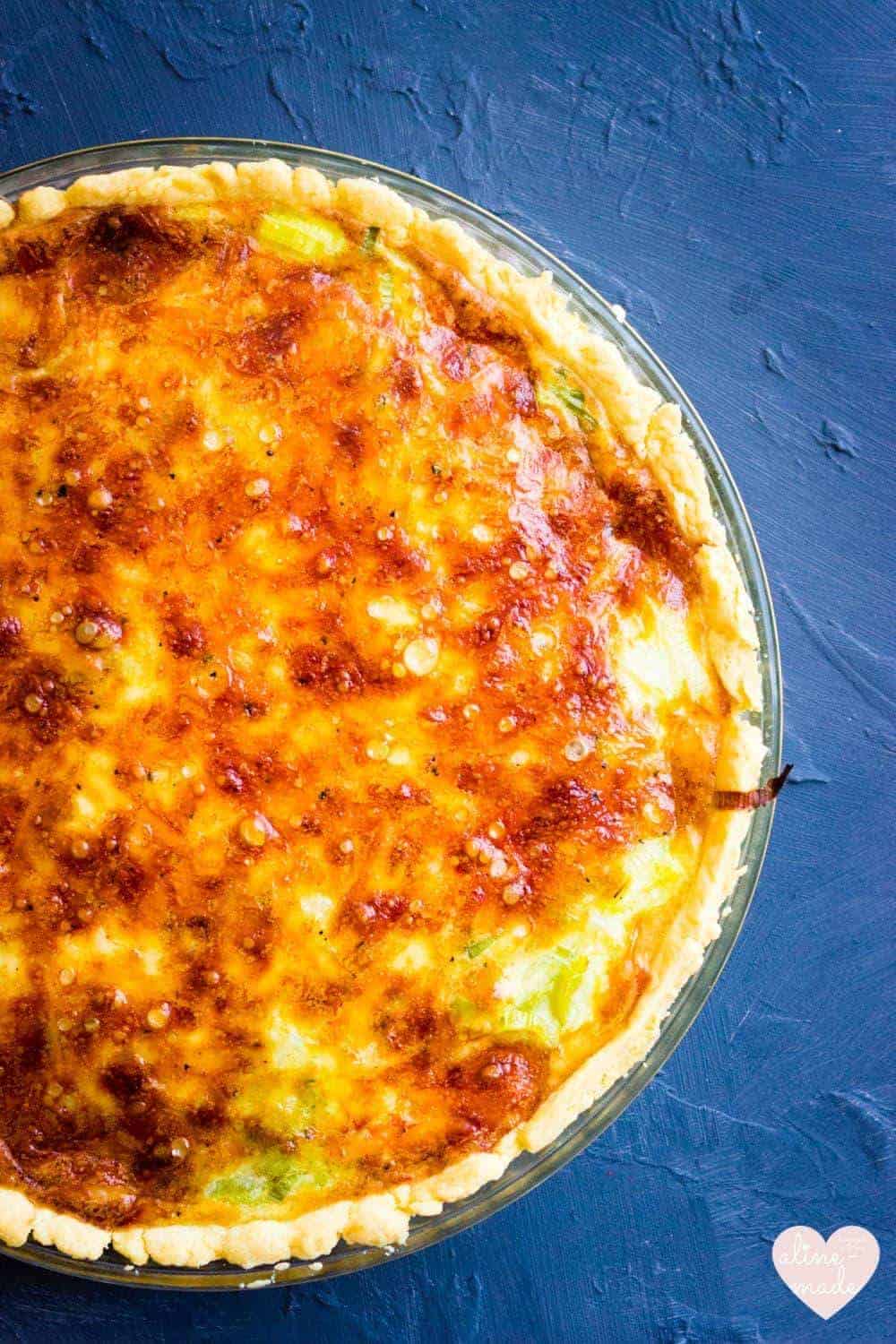 I always recommend to do your pastry by yourself, this way you know which ingredients you used and it does taste better if the pastry is homemade – your guests and your belly will thank you for that. BUT I know that not everybody is a huge admirer of standing in the kitchen and doing a pastry or simply do not want to take the time for it. That's fine. Then I recommend you to buy a short pastry. The recipe is for a 24cm large pie form, so make sure to buy one that fits this size or do not use the whole pastry, otherwise, you will end up with too much pastry and too less filling.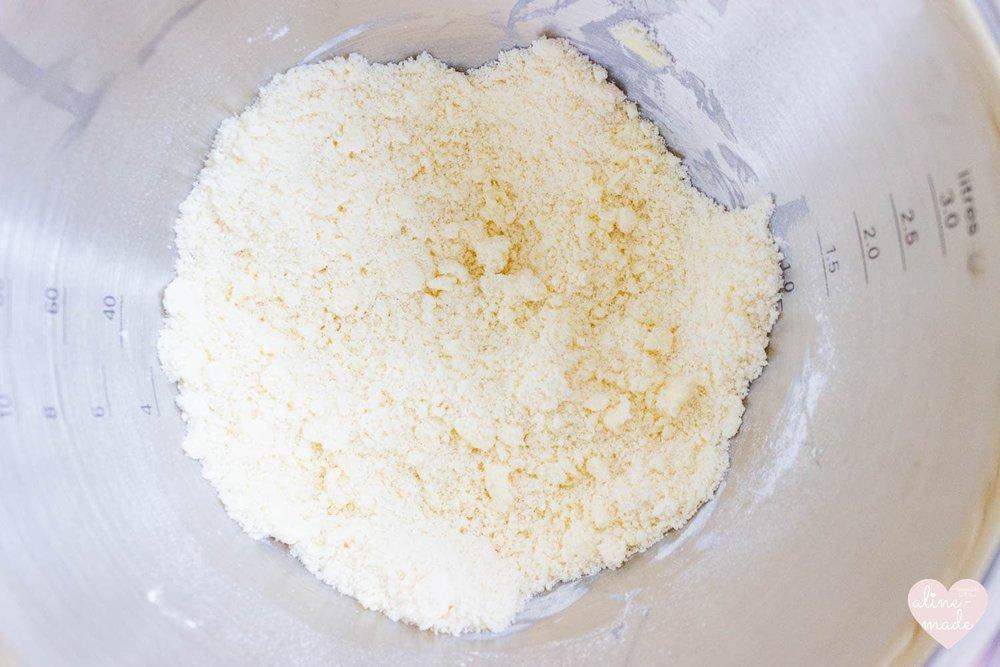 Pastry – Mix flour and butter until resembles fine breadcrumbs.

Leek – Slice in strings and steam for 20 minutes at 96° Celsius.
Now the Quiche is ready to put into the oven for 30 minutes.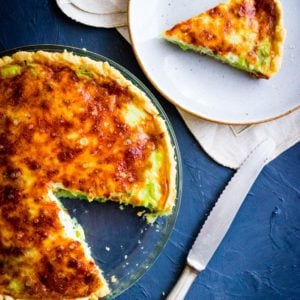 Leek and Cheese Quiche
This warm served leek and cheese quiche is made with a homemade pastry and perfect for a quick and delicious dinner. The pie form used for this recipe is one with a diameter of 24cm.
Ingredients
Quiche
250

g

(

2.8

cups

)

leek

cut into strips

200

g

(

0.9

cups

)

semi-hard cheese

grated

2

eggs

200

ml

(

0.8

cups

)

whipping cream

30% fat

salt

pepper & nutmeg
Instructions
To make the pastry, add all-purpose flour and the chopped cold butter in a kitchen machine. Mix at the lowest possible speed for about 2 minutes until the mixture resembles fine breadcrumbs. Add the beaten egg and mix just until it sticks together. Now, use your hands and form to a ball. Wrap it with plastic foil and let it chill for 30 minutes in your fridge.

Meanwhile, wash and cut the leek into thin strips. Steam them for 20 minutes at 96° Celsius. (If you don't have a steamer, cook them with some butter for about 5 minutes in a large pan, until they start to get soft).

Preheat oven to 200° C (conventional).

Grate the cheese and mix with the eggs, whipping cream, salt, pepper, and nutmeg.

Roll out the pastry. It should be slightly larger (+ 2cm) than your pie form (∅24cm). -> Advice: Hold your pie form on top of your pastry to check if it's rolled out enough. Then transform the pastry into your pie form and prick the base with a fork. The easiest way to do this is to roll it up on your rolling pin and roll it out again over the pie dish.

Place the leek on your pastry and pour the mixture of eggs, cheese, and whipped cream over it.

Bake for 30 minutes in the lower third of the preheated oven (200° C – conventional)  until your quiche is golden.
Nutrition
Nutrition Facts
Leek and Cheese Quiche
Amount Per Serving
Calories 802
Calories from Fat 531
% Daily Value*
Fat 59g91%
Cholesterol 297mg99%
Sodium 568mg25%
Potassium 292mg8%
Carbohydrates 45g15%
Protein 23g46%
Vitamin A 3080IU62%
Vitamin C 7.8mg9%
Calcium 461mg46%
Iron 4.3mg24%
* Percent Daily Values are based on a 2000 calorie diet.