*This post may contain affiliate links.
I dare to call this simple green salad recipe the best green salad in the world! It's my absolute favorite green salad recipe! Fresh, delicious, simple, easy, and ready in under 10 minutes!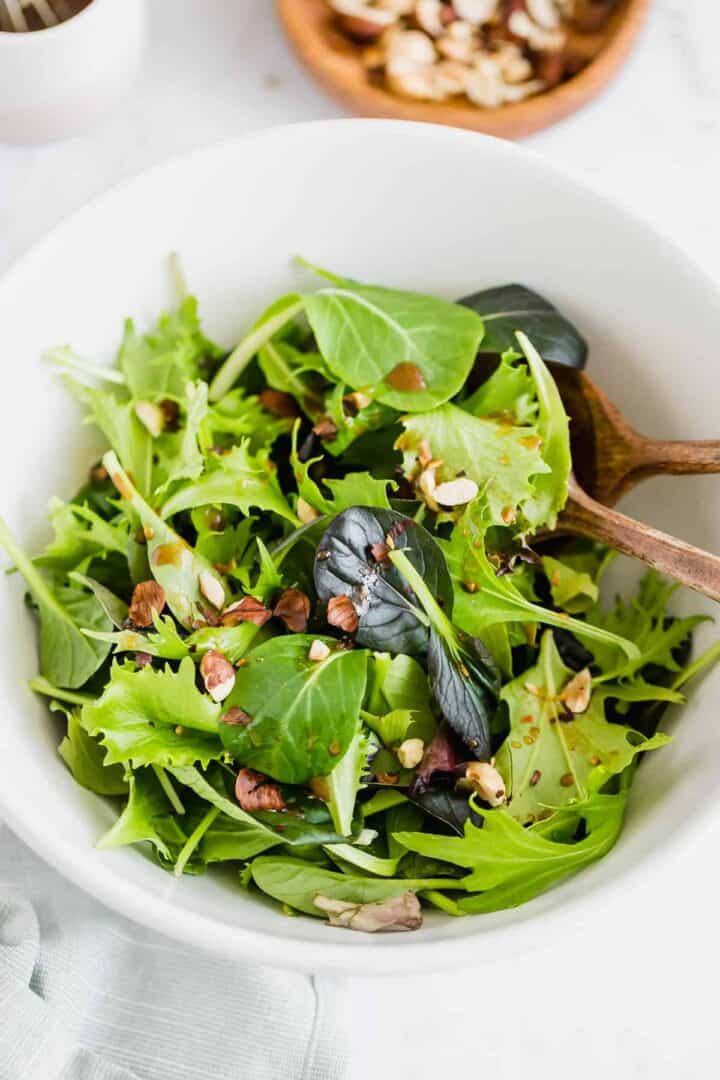 Anything But Boring
This salad recipe is a classic and served at least once every other day in my home! It goes so well as a starter, side salad, or a super light meal if you add some extra toppings and serve it along with some freshly baked bread.
You would think that nothing can go wrong when preparing green salad as it is one of the easiest things to do. Do people really need a recipe for green salad? I asked myself and came to the conclusion that, unfortunately, not everyone does master the art of preparing a fresh and delicious green salad!
No more storebought dressings! Adios Amigos! And no more half-heartedly prepared lettuce swimming in a bath of mediocre dressing!
Let me show you how to prepare the best green salad recipe in less than 10 minutes! My recipe is tasty, healthy, and a keeper!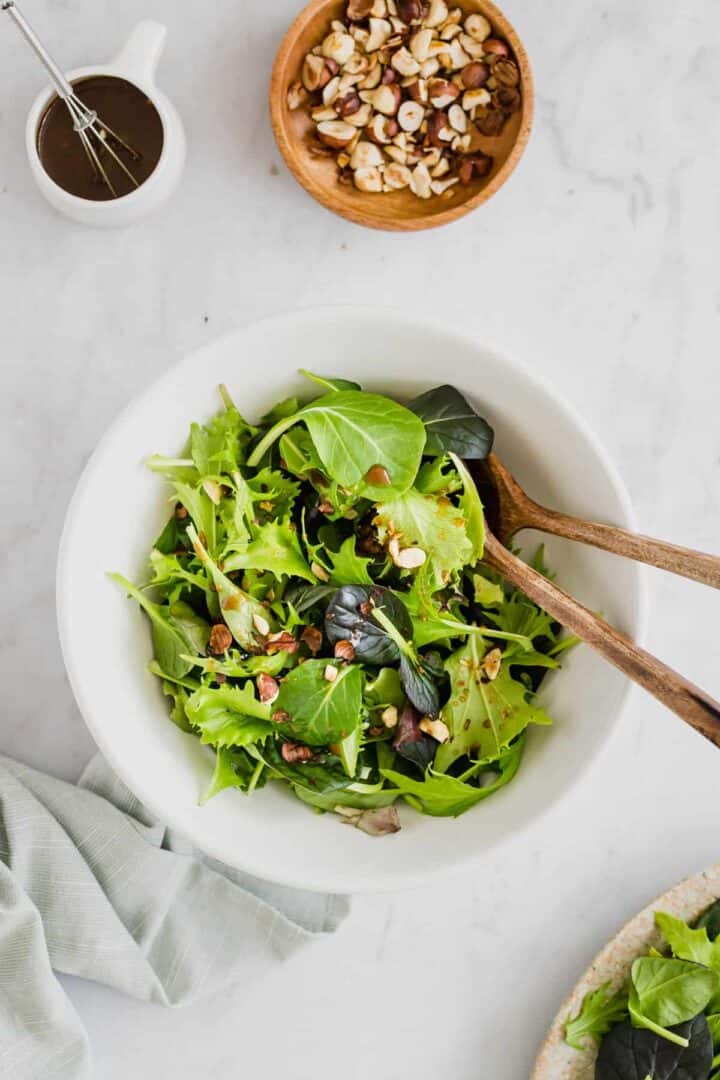 My Favorite Recipe
If you love to serve a salad along with your meals but don't want to spend too much time preparing it, this recipe is perfect for you.
I love to quickly prepare it as a side dish along with some pasta, grilled veggies, or any other savory meal. This salad only takes you a few extra minutes. Because it's so easy and utterly delicious, I serve it at least once a week!
With this recipe, you can bring a little piece of "Aline" into your home!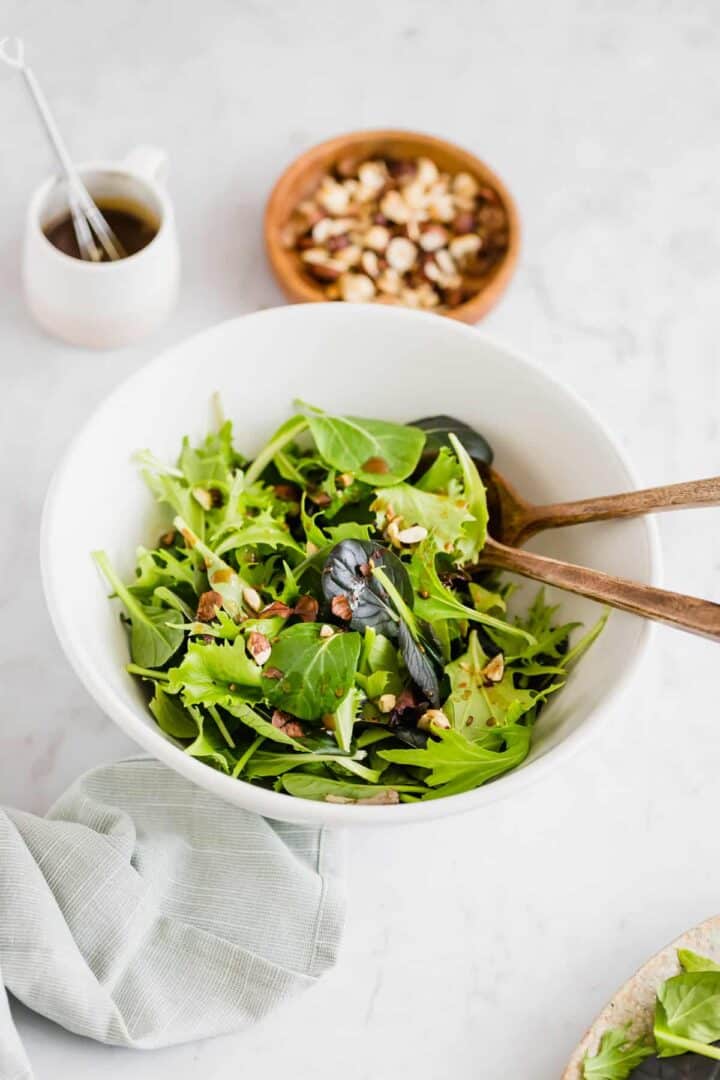 It is so fresh, crisp, and aromatic! Tossed with the perfect salad dressing and toasted hazelnuts make it a real treat every time you desire something healthy!
Green Salad Dressing
The main ingredients of the dressing are balsamic vinegar and olive oil. You can replace balsamic vinegar with white wine vinegar, red wine vinegar, or apple cider vinegar.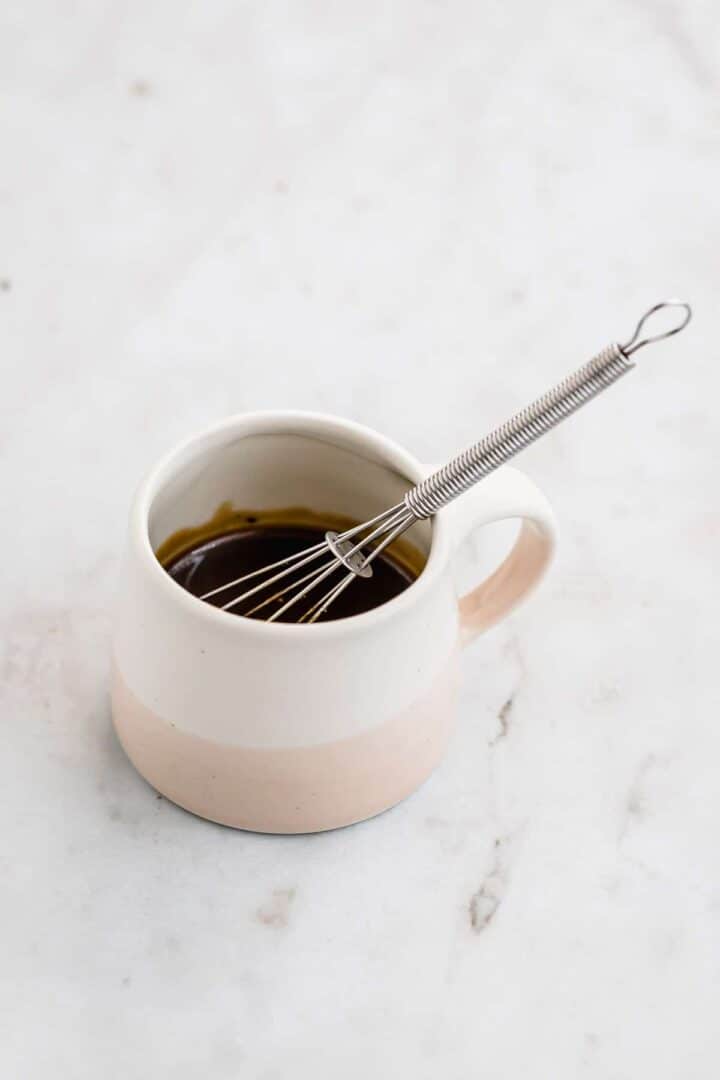 Most important is the ratio of olive oil to vinegar when preparing such a light dressing. You don't want it to be too sour or oily, this would literally spoil your salad.
Stick to this rule, always: 2 parts oil to 1 part vinegar.
My magic trick is to add some maple syrup, this makes the dressing a little softer and gives it a very subtle sweet note.
By the way, you can also use this green salad dressing recipe for other salads like pasta, greek or couscous salad.
Easy Green Salad Recipe Variations
Lettuce
I prefer to use a mixture of greens, preferably young salad, also known as mesclun. Young salad is much milder and softer.
But this is widely adjustable. You can use any kind of lettuce to make this recipe. I highly recommend using a mixture of butterhead lettuce, batavia lettuce, frisee, arugula, or loose-leaf lettuce.
I would not use kale salad, romaine lettuce, or iceberg salad. These lettuce variations are much thicker and are better accompanied by a creamy dressing such as this creamy French salad dressing.
Make sure to spin dry lettuce after washing it thoroughly with cold water. Wet lettuce dilutes the salad dressing and can seem bland.
Nuts
Toasted hazelnuts provide an aromatic crunch. Hazelnuts can be substituted with almonds, cashew nuts, pine nuts, sunflower seeds or a seed mix for salad.
Always toast nuts for a few minutes in a skillet! Toasting them draws the natural oils in the nuts to the surface and makes them even more flavorful!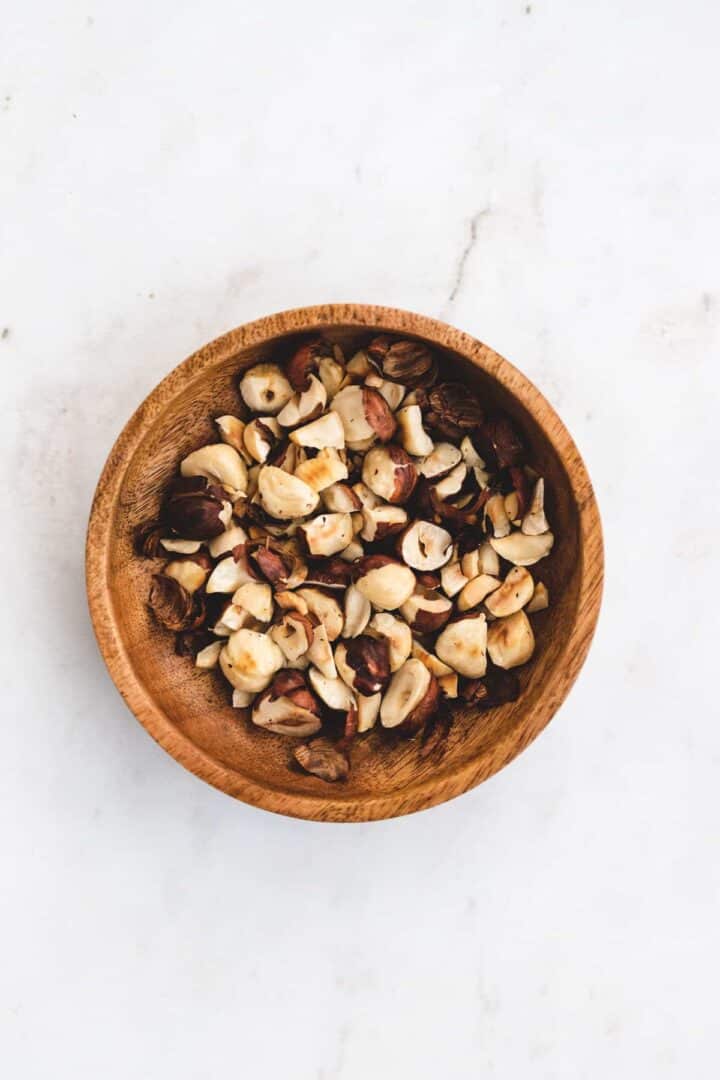 Toppings
Toppings are optional, but can add some variation to your salad. Cherry tomatoes, chopped white or red onions, olives, shredded carrots, dried cranberries, croutons, or roasted chickpeas are excellent to turn this simple salad into a light meal.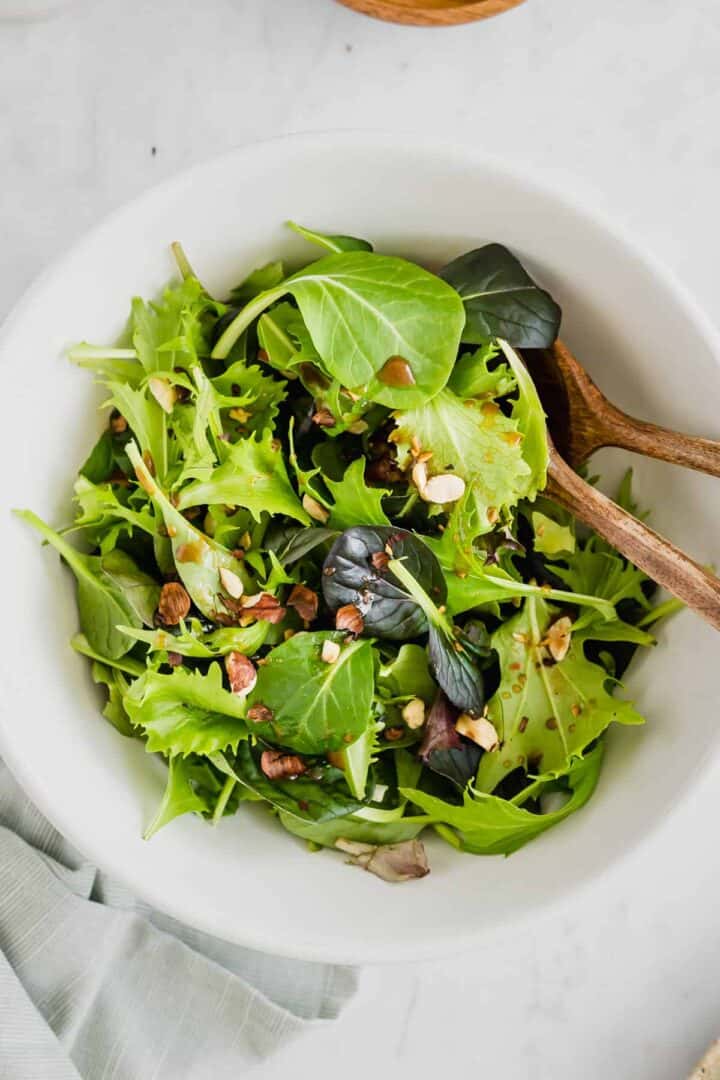 More Salad Recipes You Will Love:
Did You Try This Recipe?
I would love it if you leave me a 5-star rating or comment. This way, I better get to know which recipes you like and can make more of them.
Please follow me on Facebook, Instagram, and Pinterest to see more tasty shiny food pictures! I would be thrilled to welcome you to my community!
📖 Recipe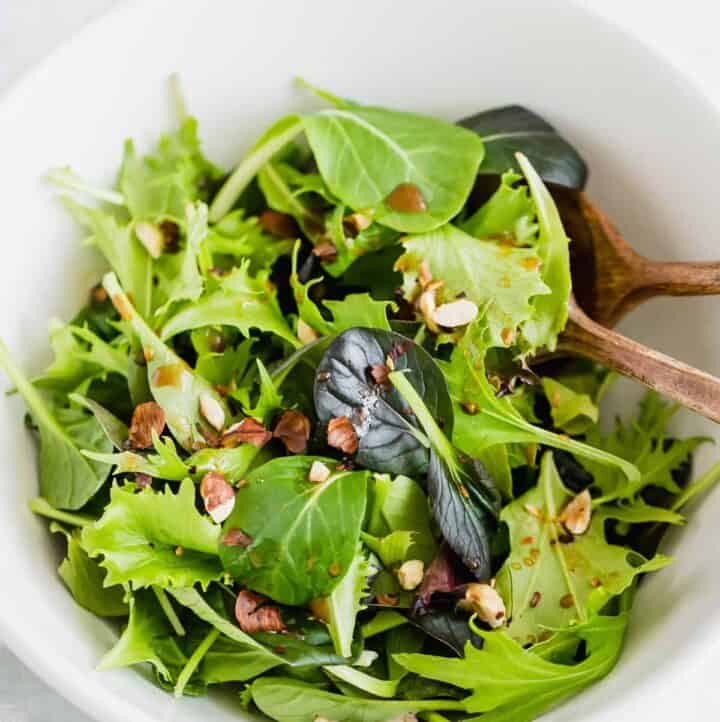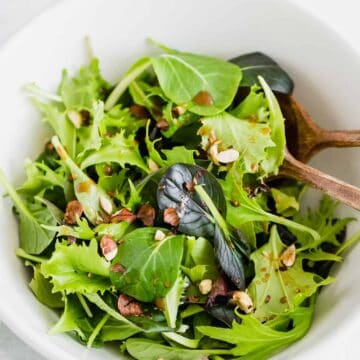 Simple Green Salad
I dare to call this simple green salad recipe the best green salad in the world! It's my absolute favorite green salad recipe! Fresh, delicious, simple, easy, and ready in under 10 minutes!
Click on the stars to leave a vote!
Instructions
Start by roughly chop and toast the hazelnuts in a skillet over medium heat.

Combine all dressing ingredients in a jar and shake or whisk them together in a small bowl.

Arrange the mixed greens and hazelnuts in a large bowl and toss with the dressing. Serve immediately.
Notes
Hazelnuts: Can be substituted with almonds, cashew nuts, or sunflower seeds.
Prepare in Advance: Can be prepared up to one day in advance. Store the salad and dressing separately in the refrigerator and combine right before serving.
Toppings: Add toppings of your choice such as tomatoes, onions, shredded carrots, or croutons.
Recommended Products
Nutrition
Calories:
240
kcal
|
Carbohydrates:
7
g
|
Protein:
3
g
|
Fat:
23
g
|
Saturated Fat:
3
g
|
Sodium:
320
mg
|
Potassium:
187
mg
|
Fiber:
1
g
|
Sugar:
3
g
|
Vitamin A:
564
IU
|
Vitamin C:
12
mg
|
Calcium:
24
mg
|
Iron:
1
mg
Did you make this recipe?
Let me know by leaving a recipe rating below, or by tagging @aline_made on Instagram. I love seeing your beautiful creations!