No-Knead Bread is an easy homemade bread made from scratch which you don't need to knead. Bake it in a Dutch oven for maximal crispiness.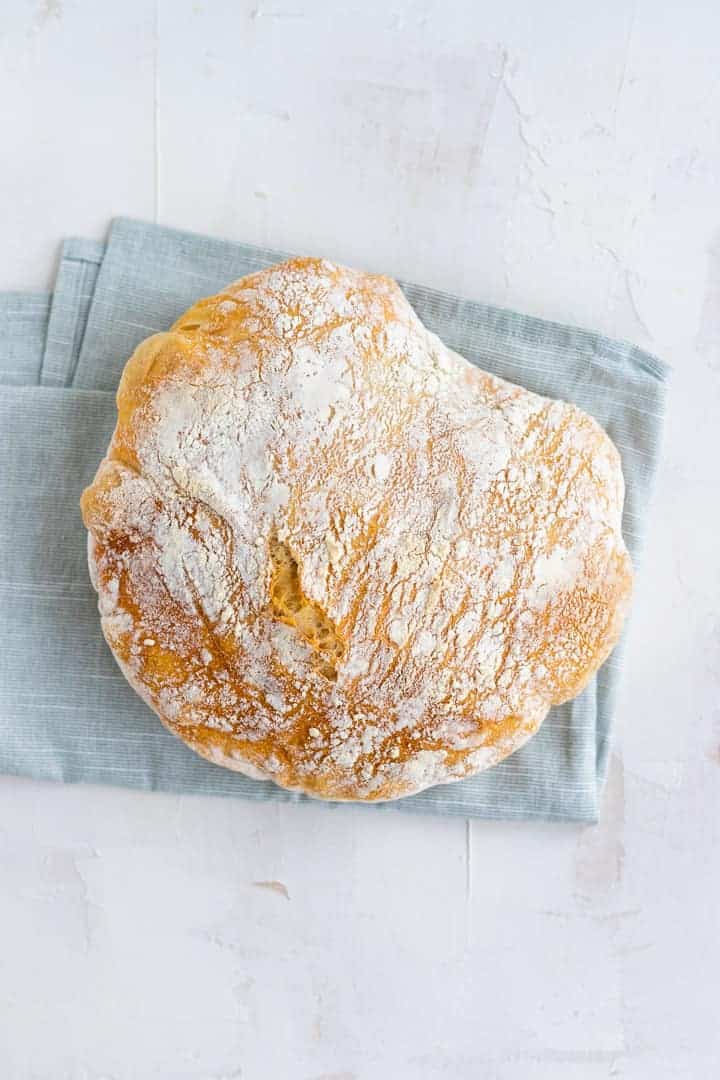 Famous Bread Recipe
Hopefully, this bread will surprise you as much as it surprised me. The crust is super crispy, thanks to the Dutch oven, and the inside is airy light and reminds of a ciabatta.
It is also known as the New York Times bread recipe by Jim Lahey. But to be honest, the original recipe didn't work out for me, it was too liquid, and I ended up with a too moist bread dough. Still, the invention is excellent, and I adapted the ingredients accordingly to make a delicious homemade bread recipe for you.
What's Special About This No Knead Bread Recipe?
No-Knead bread is, as the name already reveals, a bread which you don't need to knead and therefore made with minimal effort. You only need the four essential bread ingredients everybody knows: Flour, water, yeast, and salt.
Overnight Easy Homemade Bread Recipe
In order to work, this bread needs to rest at room temperature for at least 12 hours (in summer) and maximal 18 hours (in winter). Therefore, I highly suggest starting in the late evening and bake your bread the next morning. As the room temperature is higher in the summer, you should stick to 12 hours. In cold winter days, leave it to sit for up to 18 hours.
In the morning, the dough will be full with bubbles and quite wet. Don't get discouraged if you are not used to working with such wet doughs. Work on a well-floured surface and observe how the texture changes with each fold. Practice makes you better!
How To Make No-Knead Bread
Mix flour, salt, yeast, and water in a large bowl. Cover with a plastic wrap and let it rest at room temperature for 12 hours.
The next morning, your dough will be wet and full of bubbles.
Place your dough on a WELL floured surface.
Fold each side into the middle. Rest for 15 minutes.
Again, fold each side into the middle. Cover in a floured kitchen towel and let it rest for 2 hours. Did you see how the texture changed after two times of folding?
Sharing is Caring
Do you like my recipe? I would love if you could leave me a star rating. This way I better get to know which recipes you like and can make more of them ? Also, tag me on Instagram @aline_made or #alinemade – I will future all of your delicious food pictures on my account when you made my recipe!
No-Knead Bread
No-Knead Bread is a simple homemade bread made from scratch which you don't need to knead. Bake it in a Dutch oven for maximal crispiness.
Print |
Pin |
Rate
Resting Time
14
hrs
15
mins
Calories per serving
1280
kcal
Ingredients
350

g

all-purpose flour

280

ml

cold water

2

tsp

salt

0.5

tsp

instant yeast

more flour for dusting
Instructions
Mix the flour, salt, and instant yeast in a large bowl. Add the water and mix until just combined. Don't knead. Cover with a plastic wrap and leave it at room temperature for 12-18 hours. I suggest making this in the evening.

Your dough will be very sticky the next morning. Place it on a WELL floured working surface and fold each side into the middle. Cover with a plastic wrap for 15 minutes.

Again, fold each side of your dough into the middle and form it into a ball with your hands. Transfer it on a floured kitchen cotton towel – the prettier side on top – and cover the dough with the ends of the towel. Leave it to rest at room temperature for 2 hours.

After 1.5 hours, preheat your oven to 230°/445°F (conventional – not fan) and place a Dutch oven/cast iron pot in it. I used a Dutch oven with a diameter of 24cm/9.5inches, one size smaller or larger works excellent too.

Take the Dutch oven out of the oven, throw (seriously, you don't want to burn yourself) your dough into it, and bake it for 30 minutes with the lid closed. Take the lid off and bake for another 15 minutes.

Remove your bread from the pot and leave it to cool down for about 1 hour until slicing.
Aline's Suggestion
This recipe is adapted from the famous No-Knead Bread by Jim Lahey published in The New York Times.
The dough needs to rest anywhere between 12-18 hours. I suggest sticking to 12 hours in the summer and 18 hours in the winter.
As the dough is pretty wet, he may stick a bit to your towel. I am always working with a clean kitchen towel and wash it after one use and therefore don't care if there are some dough rests on it. If this bothers you, place a baking sheet in between so that the dough doesn't touch the towel. You can then bake it with or without the baking sheet.
Nutrition per Serving
Calories:
1280
kcal
|
Carbohydrates:
267
g
|
Protein:
36
g
|
Fat:
3
g
|
Sodium:
4672
mg
|
Potassium:
374
mg
|
Fiber:
9
g
|
Calcium:
5.3
%
|
Iron:
90.2
%