Mhhh I am always looking forward to the pumpkin spice latte at Starbucks – and make sure to order it with soy milk, in my opinion, that works the best for the perfect taste. To be honest, I don't often go to Starbucks in Switzerland, most of the time when I see it from inside is when I am visiting another country (as there is always free wifi – so glad for that – a big thank you to Starbucks!!!).
So why not just doing a pumpkin spice syrup by yourself? I looked up many recipes on Pinterest, there are great ones, but I wasn't 100% satisfied with the ingredients. Most of them containing as much sugar as the amount of pumpkin or even more, and I am not a big fan of too much sugar. As I am probably not the only one avoiding too much sugar, I did experiment a bit and created this excellent recipe. It has a lot of healthy pumpkin in it and the least amount of sugar needed to be syrup. If you do love sugar, you can still use my recipe and double the amount of sugar.
I would recommend you store the pumpkin spice syrup in the fridge and use it within one week – anyway it won't last that long 🙂
You will find the Pumpkin Spice Latte Recipe at the end of this post!
If you are done with the syrup – scroll down and finally do your Pumpkin Spice Latte.
Ingredients
1 espresso shot
100ml milk
2 tbsp pumpkin spice latte syrup (recipe see above)
---
Method
Mix one espresso shot with the pumpkin spice syrup in a mug.
Foam the milk in a milk frother* or alternative in a small pot.
Pour it over the coffee and decorate** your pumpkin spice latte with some additional syrup.
**It works the best if you pour a little bit of syrup on a teaspoon and draw the form you want on top of the milk foam.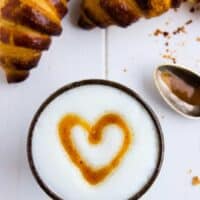 Calories per serving
48
kcal
Instructions
Place all ingredients in a pot and let it simmer for 5 minutes at medium heat.

Put it in a blender and blend it until smooth.

Pour the pumpkin spice syrup in a clean glass jar or bottle and let it cool down.

Store it in the fridge and use it within one week.
Nutrition per Serving
Serving:
6
Servings
|
Calories:
48
kcal
|
Carbohydrates:
12
g
|
Sodium:
2
mg
|
Sugar:
10
g
Did you try this recipe?
I would love if you leave me a 5-star rating or comment. Don't forget to mention @aline_made or tag #alinemade on Instagram!