*This post may contain affiliate links.
This vegan Parmesan recipe is for all cheese lovers who are looking for a vegan parmesan cheese alternative to top your pasta, salad, or grilled veggies.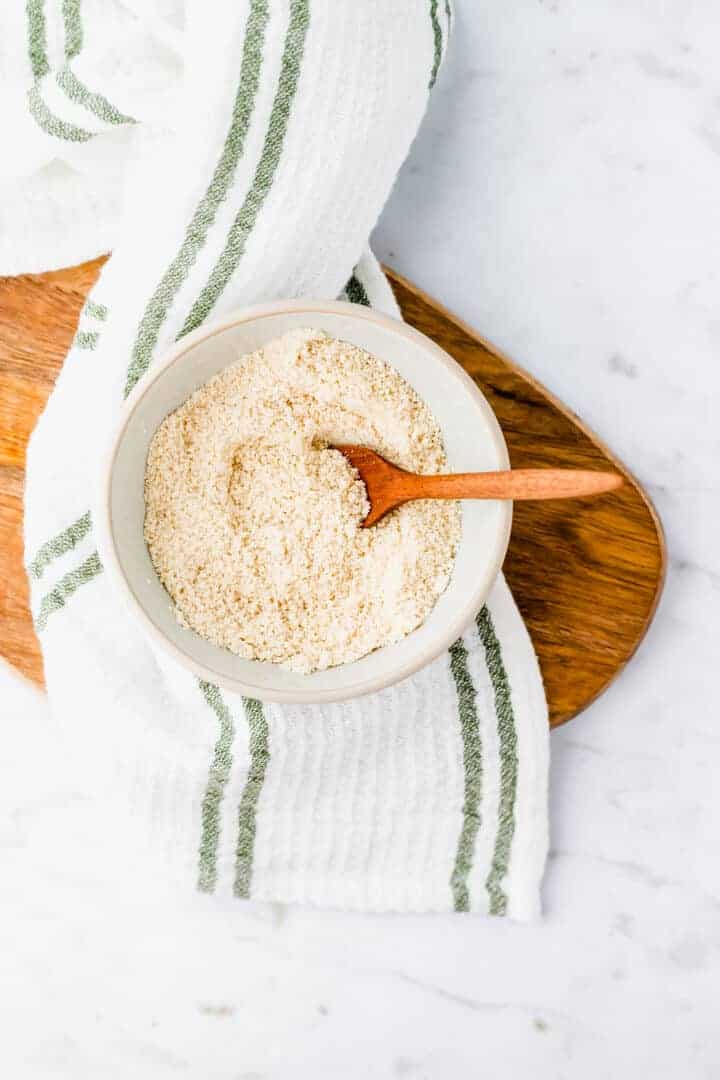 Are you looking for a plant-based cheese alternative to top your favorite pasta with? Then let me show you how to make vegan parmesan cheese with only a handful of ingredients at home. This recipe is so easy and quick to make!
Vegan Substitute for Parmesan Cheese
It doesn't matter if you are a vegan, vegetarian, or only want to eat fewer dairy products. This simple vegan cheese substitute is prepared in no time, looks exactly like grated cheese, and tastes very delicious on all kind of pasta. All you need is a bag of raw cashew nuts, nutritional yeast, salt, and garlic powder!
Unfortunately, there are not many "tasty" vegan alternatives to cheese you can buy yet. Especially in the grated cheese assortment, the emptiness prevails in the supermarket. Nevertheless, a decent plate of pasta doesn't taste the same without cheese.
But hey, I got you covered! This recipe is a must-try for all vegan pasta lovers.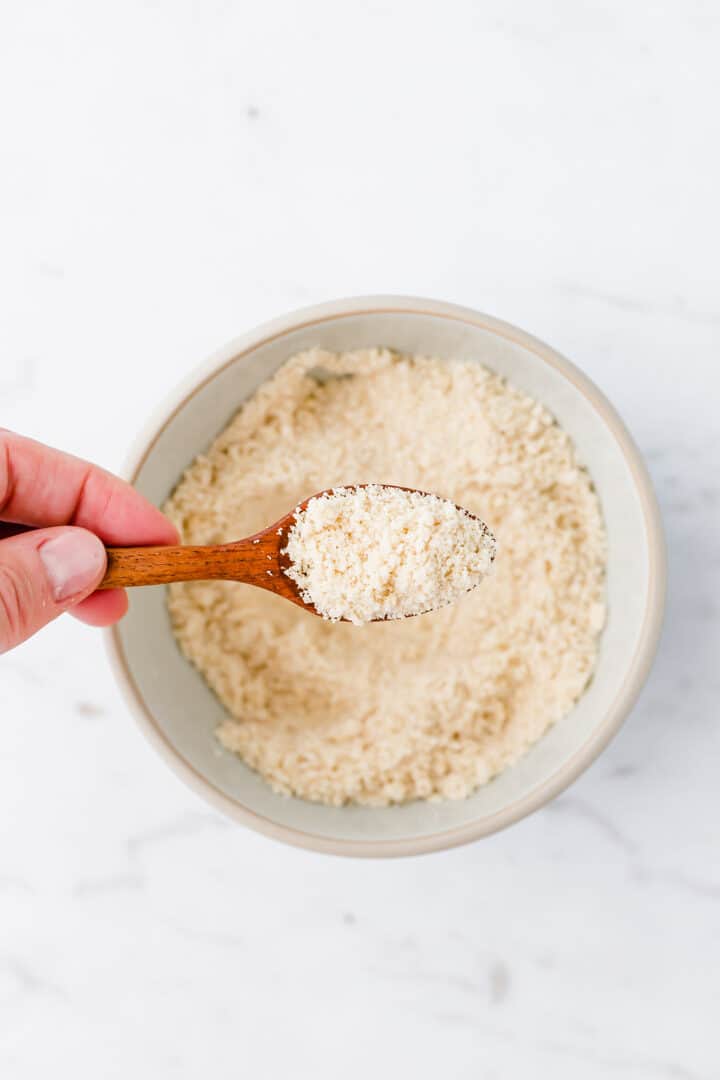 By the way, it's also delicious used as a topping on salad or grilled/baked vegetables. There are no limits, and it can be used the same way than its original. The only negative point is that it doesn't melt.
Parmesan Is Not Even Vegetarian
Did you know that Parmesan, strictly speaking, is not even vegetarian? If you are following a very strict vegetarian diet, it should not be on your shopping list. The reason for that is that calf stomach (called rennet) is used for its production, which is anything but vegetarian.
I don't mean this judging in any way, just wanted to give you a little background information about this Italian cheese. The same goes for Parmigiano and a lot of other cheese.
There are cheese varieties available which are made with microbial rennet and therefore vegetarian-friendly. Unfortunately, this information is usually not to find anywhere on the label. Some supermarkets have a list with all cheese products made with microbial rennet, check out their website, or ask them to provide you with this information.
Buying Vegan Parmesan
If you don't have the time to make your own cheese, there is always the option to buy it. Unfortunately, I didn't find THAT vegan parmesan cheese brand. There are a few options, and best is to try them out. You will quickly know whether you like them or not.
For example, Violife has the "Wedge Just Like Parmesan" in their product range. It is one piece of cheese (not grated), looks like parmesan cheese, and can be grated over your pasta. However, the taste, unfortunately, did not convince me personally. Since it is made with coconut oil, it has a rather intense coconut oil taste, which is, in my opinion, too intrusive on pasta.
Furthermore, there are dairy-free grated parmesan options to buy. But if you check the ingredient list, you come very fast to the conclusion that you can make it easily at home. Save the money and buy some cashew nuts instead with it!
If you found THE brand, please feel free to leave me a comment. I am thrilled to add it to the list!
Are you generally interested in vegan products? Then check out one of the following Facebook groups which I am also part of. There is always a heavy discussion going on about new plant-based products. Better to let others experiment it first if it's a fail…! (Psssst!).
Facebook groups to joins for vegans:
But hey, again, this is just a little educational round! Actually, we are here to show you how to make a vegan version of it at home! So, let's jump right into this vegan parmesan recipe!
Vegan Parmesan Cheese Recipe
Ingredients you need:
You can find the exact amount in the recipe card below.
Unsalted Cashew Nuts, or whole raw blanched almonds
Salt, for a salty taste
Garlic Powder, gives this cheese a tasty flavor
Optional: Add onion powder or dried herbs for extra flavor.
How To Make It:
Pulse until it becomes coarse powder.
Store your dairy-free parmesan in an airtight container in the refrigerator.
The cheese will stay fresh for a few weeks. But it probably won't last that long!
Other Vegan Basic Recipes
Try out one of the following vegan recipes if you like to make your own basic ingredients at home.
Did you try this recipe?
I would love it if you leave me a 5-star rating or comment. This way, I better get to know which recipes you like and can make more of them.
Please follow me on Facebook, Instagram, and Pinterest to see more tasty shiny food pictures! I would be thrilled to welcome you to my community!
📖 Recipe
Vegan Parmesan
This vegan Parmesan recipe is for all cheese lovers who are looking for a vegan parmesan cheese alternative to top your pasta, salad, or grilled veggies.
Click on the stars to leave a vote!
Instructions
Add all ingredients to a food processor and pulse until it becomes coarse powder.

Store in an airtight container in the refrigerator.
Notes
Keeps fresh for a few weeks.
Recommended Products
Nutrition
Calories:
52
kcal
|
Carbohydrates:
3
g
|
Protein:
2
g
|
Fat:
4
g
|
Saturated Fat:
1
g
|
Sodium:
292
mg
|
Potassium:
91
mg
|
Fiber:
1
g
|
Sugar:
1
g
|
Calcium:
3
mg
|
Iron:
0.6
mg
Did you make this recipe?
Let me know by leaving a recipe rating below, or by tagging @aline_made on Instagram. I love seeing your beautiful creations!