Braided bread is a very typical breakfast in Switzerland, which is eaten most of the time on the weekends. Its soft and fluffy dough consistency is a perfect base for homemade jam or Nutella. This braided Nutella bread with hazelnuts, or Nutella Zopf (how we call it in Switzerland), is the superlative version of it. Can you imagine, this soft and fluffy dough combined with Nutella and hazelnuts? The Nutella makes it super moist, and the hazelnuts are like the crunchy perfection.
Braided Nutella Bread with Hazelnuts (Nutella Zopf) – Moist and crunchy.
If you are a big fan of Weekend brunches, you have to try it and make it for your family or to bring along to a brunch with friends. The whole work has to be done the day before, it will rise overnight in the fridge, and then the next morning (Saturday or Sunday), you just have to put this braided Nutella bread with hazelnuts into the oven. You can even do this still in your pajama. Sounds amazing? Then let's do it now.
The best is to start the day before in the early afternoon, as the dough needs time to rise and also needs a bit of work in the evening to spread the Nutella on it and braid everything. So a Friday TV night would be perfect, during the commercial break, you can work on your dough.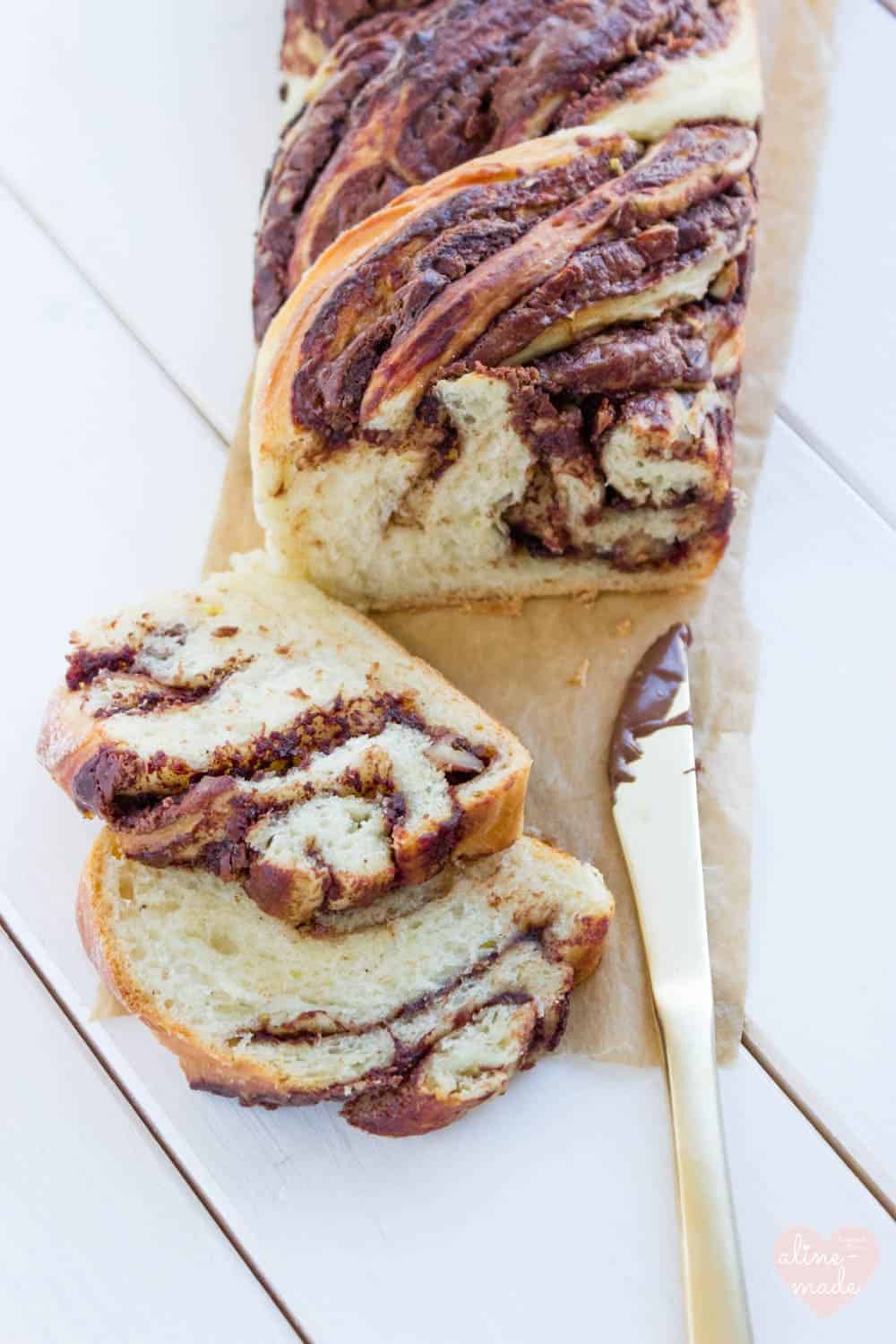 Calories per serving
765
kcal
Ingredients
Poolish
60

g

Zopf flour

,

90% all purpose flour & 10% spelt flour

60

g

milk

1

g

fresh yeast
Dough
240

g

Zopf flour

,

90% all purpose flour & 10% spelt flour

130

g

milk

,

room temperature

5

g

fresh yeast

6

g

salt

0.5

lemon

,

only zest

50

g

butter

,

room temperature

35

g

caster sugar

1

package bourbon vanilla sugar

,

1 package ~ 8g
Nutella Spread
200

g

Nutella

40

g

hazelnuts
Instructions
To make the poolish, mix the zopf flour, milk and fresh yeast in a bowl or big glass jar. I use a 500ml Weck glass jar for it. Close it with the lid or a plastic wrap and leave it to sit at room temperature for 5 hours. Your poolish will rise to at least double the size, so make sure to use a jar which is big enough.

After 4 hours, take out the milk and butter from the fridge and let it warm to room temperature (1 hour is a suitable time).

Add the poolish, zopf flour, milk, fresh yeast, salt and lemon zest to your kitchen machine and knead at the lowest possible speed for 5 minutes.

Turn the speed level one up and knead for another 5 minutes.

Add the butter, piece by piece, until well combined with the dough. This will take you about 5-10 minutes.

Add the sugar and bourbon vanilla sugar and mix for another 5 minutes until the sugar is combined with the dough.

Cover the bowl with a damp kitchen towel and let it rise for 2 hours at room temperature.

Meanwhile, roast the hazelnuts for 5 minutes over medium heat and chop them either in a food processor or with a knife. Set aside.

After 2 hours, your dough should have doubled in its size. Place it on a well-floured working surface and roll into a square (25cm x 40cm).

Spread it with the Nutella and sprinkle the chopped roasted hazelnuts over.

Scroll the dough, from the shorter side, into a long roll. Cut the long roll lengthways down the middle in half. Then place one end over the other, the inside part with the Nutella has to be on top. Continue to twist it until you have a nice braided loaf.

Line a loaf pan with baking paper and transfer your braised Nutella loaf carefully into it. Cover with a damp kitchen towel and leave it in your fridge overnight. Your dough will now slowly rise overnight.

The next morning, preheat your oven to 190°C/350°F (conventional). It will take up to one hour till your entire oven reaches this temperature.

Bake your Nutella Zopf for 35 minutes and let it cool down on a rack.
Aline's Suggestion
Never add the whole liquid (milk or water) from beginning to your dough. Always keep 10% left and add it carefully step by step while kneading your dough. It depends on the quality and ingredients of your flour, how much liquidity it can take up. For example, on this recipe, 130g milk might be enough for flour A, but flour B needs 135g. If you don't have the feeling for it, better add less than too much liquidity to your dough, once added, you cannot take it out again 🙂
Nutrition per Serving
Calories:
765
kcal
|
Carbohydrates:
102
g
|
Protein:
13
g
|
Fat:
33
g
|
Saturated Fat:
22
g
|
Cholesterol:
31
mg
|
Sodium:
713
mg
|
Potassium:
433
mg
|
Fiber:
6
g
|
Sugar:
39
g
|
Vitamin A:
7.8
%
|
Vitamin C:
9.4
%
|
Calcium:
13.5
%
|
Iron:
34.6
%