Honestly, I hate this time of the year. It's cold, you don't see the sun for decades, and there are so many bacterias and viruses out there which are just waiting to attack you.
With this apple and ginger flu shot, you are prepared to go through a winter without the flu. Drink one every morning, and your body is ready to fight back. The ginger not only boosts your immune system, but it also contains antibacterial effects.
This easy recipe for a homemade apple and ginger flu shot can be done on the weekend when you have a little bit more time. Stored in your fridge, you can drink it throughout the whole week. One glass every morning is enough to make your immune system stronger.
This recipe requires a blender, for those of you who do not have one at home and cannot afford to buy one, I would suggest you this alternative version of this ginger and apple flu shot recipe. Replace the apple and water with 200ml storebought apple juice, add the lemon juice, ground turmeric, and grated ginger. It's the easier way to do it, and no blender is needed. To grate your ginger, I would recommend you use the Zester from Microplane, one of my favorite kitchen tool. I found out about this zester on a food blogger event in Germany when one of the chefs cooked for us and used it. It's absolutely fantastic and has an affordable price. Not only great to grind ginger, but also to grate lemon zest or parmesan. Trust me; once you own it, you love it.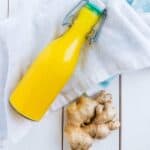 Apple & Ginger Flu Shot
With this apple and ginger flu shot, you are prepared to go through a winter with no flu. Vegan and only 5 ingredients needed.
Ingredients
1

apple

1

lemon

only juice

30

g

ginger

~ 1 inch

1

tsp

turmeric powder

200

ml

water
Method
Peel one apple, remove the core and cut into quarters.

Peel the ginger and cut into small slices.

Squeeze all the juice out of one lemon.

Add all ingredients to a blender and mix for about 2 minutes or until smooth and creamy.

Pour your apple & ginger flu juice into a glass bottle and store it in your fridge for up to 5 days.
Aline's Suggestion
Drink one glass of it every morning.
Nutrition Facts
Apple & Ginger Flu Shot
Amount Per Serving
Calories 31
% Daily Value*
Sodium 3mg 0%
Potassium 104mg 3%
Total Carbohydrates 8g 3%
* Percent Daily Values are based on a 2000 calorie diet.