Read in:

Deutsch
Pesto Rosso, also known as sun-dried tomato pesto, is one of the most flavorful pesto variations and tastes delicious with pasta or fresh bread.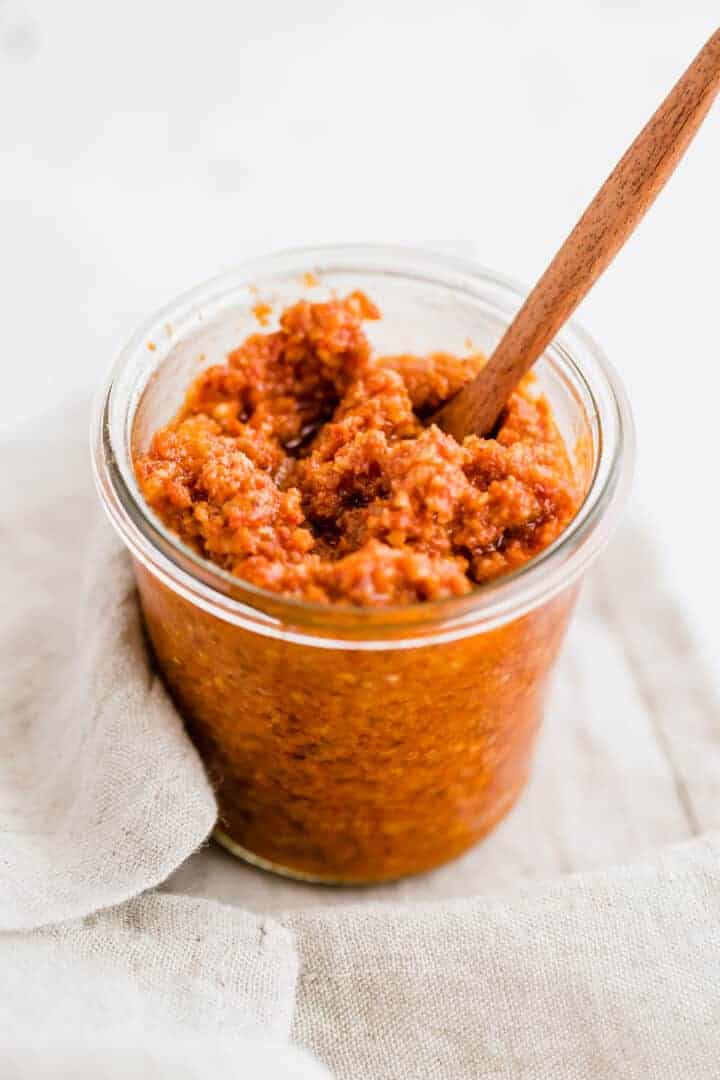 What is Pesto Rosso?
It's an Italian pesto variation made with sun-dried tomatoes and roasted almonds. Sun-dried tomatoes have a very intense and rich flavor and are an excellent substitute to the typical basil leaves used in the traditional green basil pesto.
You can not only add red pesto as a sauce to your pasta, but also enjoy it as a spread on fresh bread, veggies, or pizza.
My favorite way to enjoy it though is as a sun-dried tomato pesto pasta with freshly cooked rigatoni or penne!
Homemade vs Store Bought
If you ask me, not one single store-bought pesto rosso beats the homemade version!
It's always best made fresh. You can choose the very best products to make the very best pesto. I often see that pestos from the grocery stores don't contain olive oil but rather sunflower oil or any other cheaper oil which, unfortunately, lacks taste.
Furthermore, you can decide how chunky you like it! In my opinion, sun-dried tomato pesto is best when there are still some chunks of sun-dried tomatoes and nuts in it! Much better than smooth like puree!
Last but not least, most store-bought pestos contain parmesan cheese and are therefore not vegan-friendly! This pesto is so full of flavor and adding cheese or nutritional yeast is just not necessary.
Aline's Secret For The Best Pesto Rosso
Number 1: Make sure to use sun-dried tomatoes packed in olive oil and not the dry ones. These are so soft and rich in flavor! Also, so easy to pulse in your food processor.
Number 2: Use the oil in which the sun-dried tomatoes are packed in instead of olive oil. Why? Try the oil and you know! As the tomatoes are packed in there for a fair amount of time, the oil has become sun-dried tomato oil which rich and sweet tomato notes! It makes a huge difference. Plus, it's the best way to use it up! No waste!
Number 3: Use toasted almonds instead of pine nuts! Pesto Rosso with almonds is so much better than with pine nuts as you might be used from traditional green pesto! It's the perfect combination and turns this recipe into a great recipe! Toasted hazelnuts are also an option you can go for!
Sun Dried Tomato Pesto Recipe
→ Check out the recipe video! You can see how to make this sun-dried tomato pesto in less than a minute!
The exact quantities and everything else you need to know for the recipe can be found in the recipe card below.
Roast almonds in a skillet for 5 minutes over medium heat until fragrant and golden brown. → Toasting them gives them so much flavor!
Add sun-dried tomatoes, roasted almonds, oil, balsamic vinegar, garlic, sugar, salt, and pepper in a food processor.
Blend until you have a pesto which is mostly smooth but still has little chunks (pictures below). ➝ If you like your pesto chunky, only pulse a few times. If you want it super smooth, blend for a longer time and add more oil if needed.
You can store it up to one week in your fridge.
Tips & Variations for Tomato Pesto
Substitute the almonds with pine nuts or hazelnuts.
Add fresh basil.
The pesto keeps fresh for one week in the fridge. To extend this, fill up the jar with olive oil to fully cover the pesto (after every use).
More Pesto Recipes You Will Love:
Did You Try This Recipe?
I would love it if you leave me a 5-star rating or comment. This way, I better get to know which recipes you like and can make more of them.
Please follow me on Facebook, Instagram, and Pinterest to see more tasty shiny food pictures! I would be thrilled to welcome you to my community!
📖 Recipe
Pesto Rosso
Pesto Rosso, also known as sun-dried tomato pesto, is one of the most flavorful pesto variations and tastes delicious with pasta or fresh bread.
Click on the stars to leave a vote!
Instructions
Toast the almonds for for a few minutes in a skillet over medium heat.

Add all ingredients into a food processor (an immersion blender works too) and blend until you have a chunky pesto. Blend more if you like it smooth, or less if you like chunky pesto!

Store the sun-dried tomato pesto for up to a week in your fridge.
Notes
Using the oil, in which the sun-dried tomatoes are packed in, adds extra flavor to your pesto. Plus, it's an excellent way to use it up. ➝ You can mix it with olive oil if there isn't enough oil in the jar.
Recommended Products
Nutrition
Nutrition Facts
Pesto Rosso
Amount Per Serving
Calories 112
Calories from Fat 72
% Daily Value*
Fat 8g12%
Sodium 243mg11%
Potassium 370mg11%
Carbohydrates 8g3%
Protein 3g6%
Vitamin A 235IU5%
Vitamin C 19mg23%
Calcium 42mg4%
Iron 0.9mg5%
* Percent Daily Values are based on a 2000 calorie diet.