*This post may contain affiliate links.
These grilled cauliflower steaks are your number one grilled veggies once you tried them! Easy to make, super delicious, and healthy.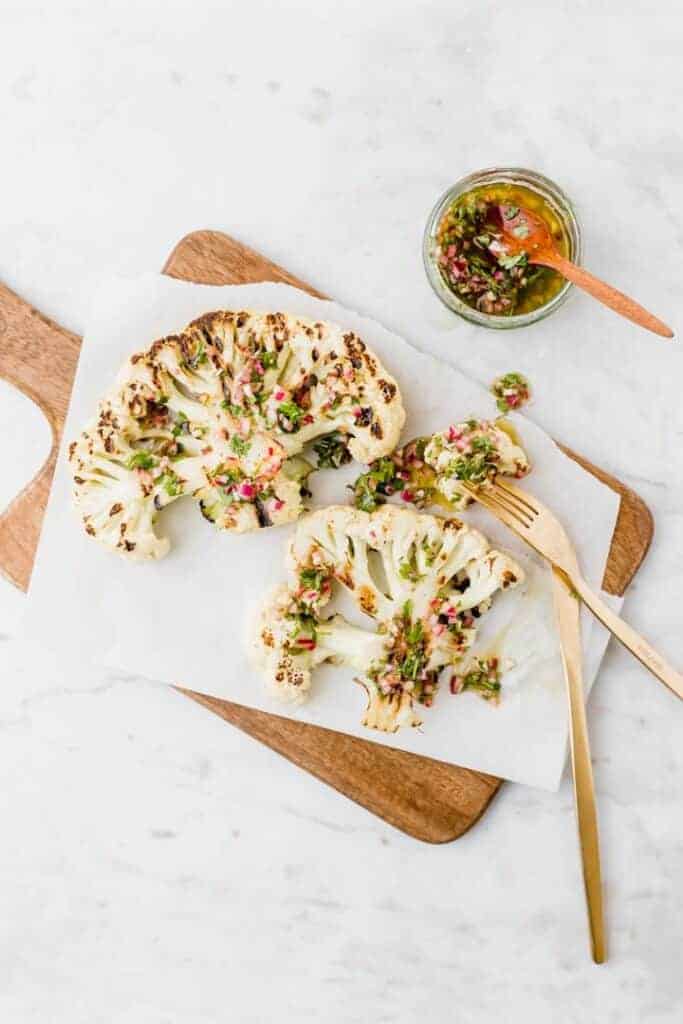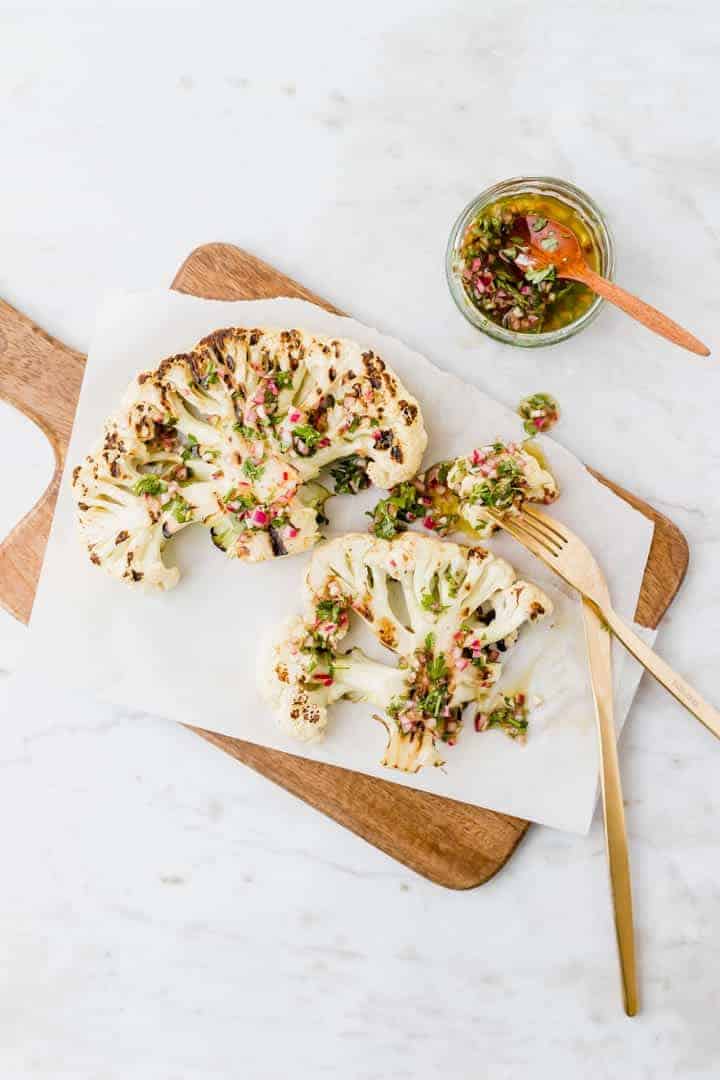 Cauliflowers steaks on the grill is a real thing – and it's damn delicious! Whether you are on a plant-based diet and don't know what to place on the grill or want to upper your BBQ party game with veggies, this recipe is your go-to for the summer!
When I made those steaks for the first time, I was surprised by two things:
Grilled Cauliflower Steaks do taste insanely delicious. It's not comparable to baked or sauteed cauliflower, as they develop a unique smoky flavor during the grilling process.
How little steaks you can make out of one cauliflower head: precisely two! That's a surprisingly low number, which disappointed me a little. I thought that you might feel the same disappointment and came up with a plan B on how to use the rest of the cauliflower head for grilling some delicious cauliflower skewers. Details are below.
But let me tell you, those steaks qualify for one of the best vegan grilled veggies ever!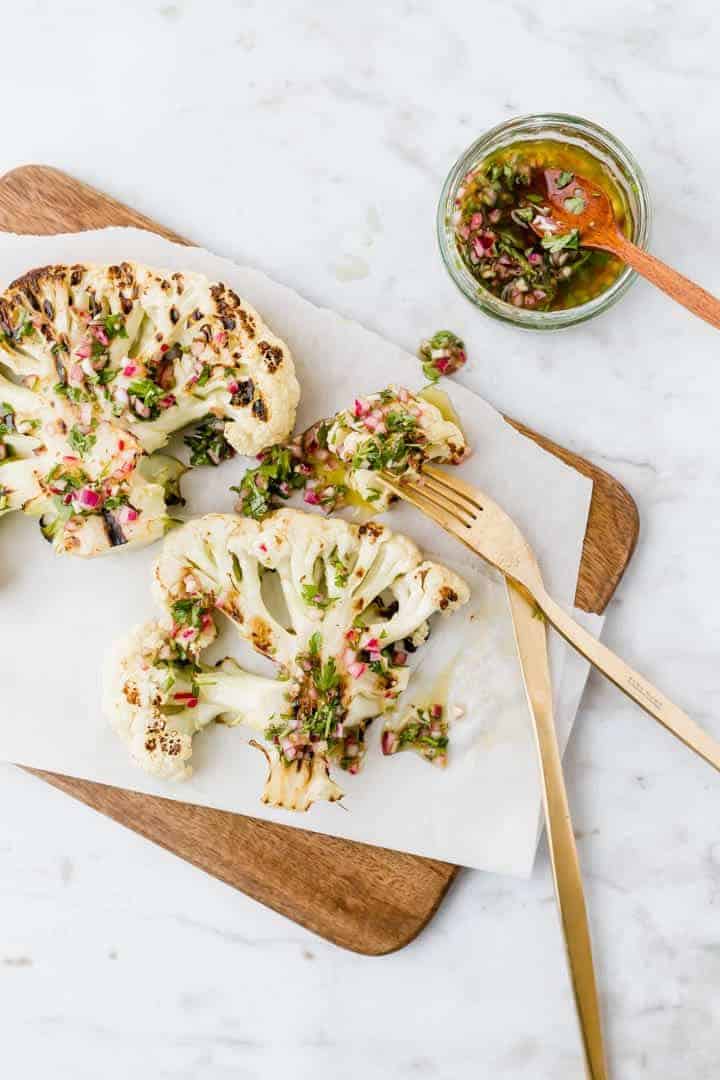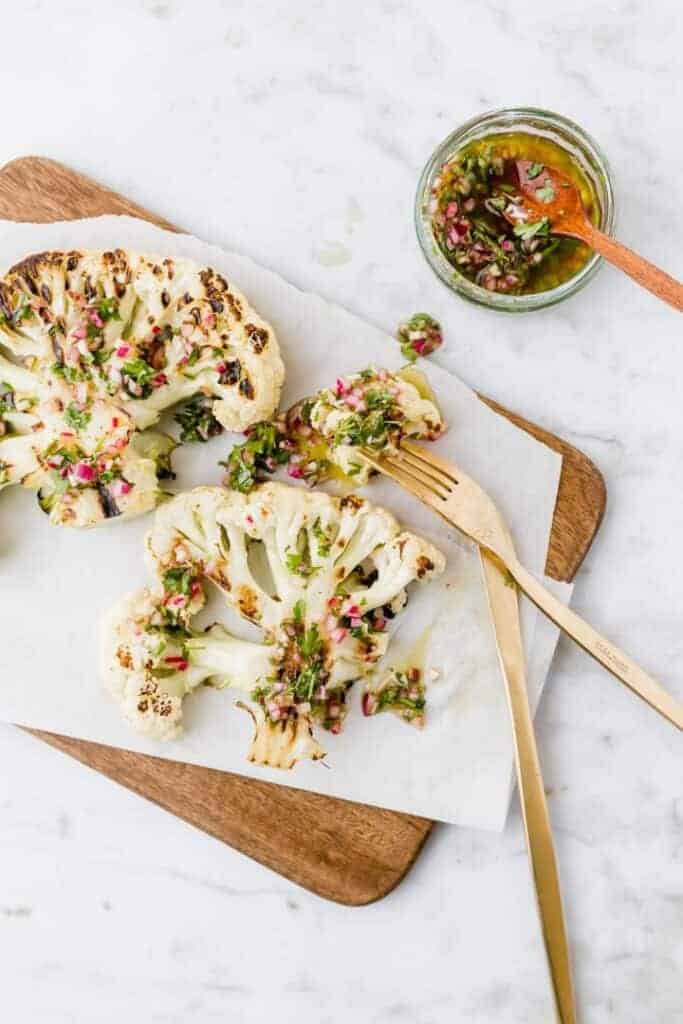 How To Make Cauliflower Steaks
The recipe is quite straightforward, and besides a grill, you only need a head of cauliflower and some oil. I prefer to use olive oil, but sunflower or canola oil works great too.
Once cut and on the grill, it's an easy game.
How To Cut Cauliflower Steaks
Here comes the only difficulty in this recipe.
As mentioned above, you only get two nice steaks out of each cauliflower head. The stem isn't intact enough on the outer part of the cauliflower, that's why you can only use the middle part to cut steaks.
To my surprise, I figured that the stem of smaller cauliflower heads is stronger and more compact than the one of larger heads. So try to find a small cauliflower head when shopping.
Carefully remove the outer leaves of the cauliflower, but don't harm the stem.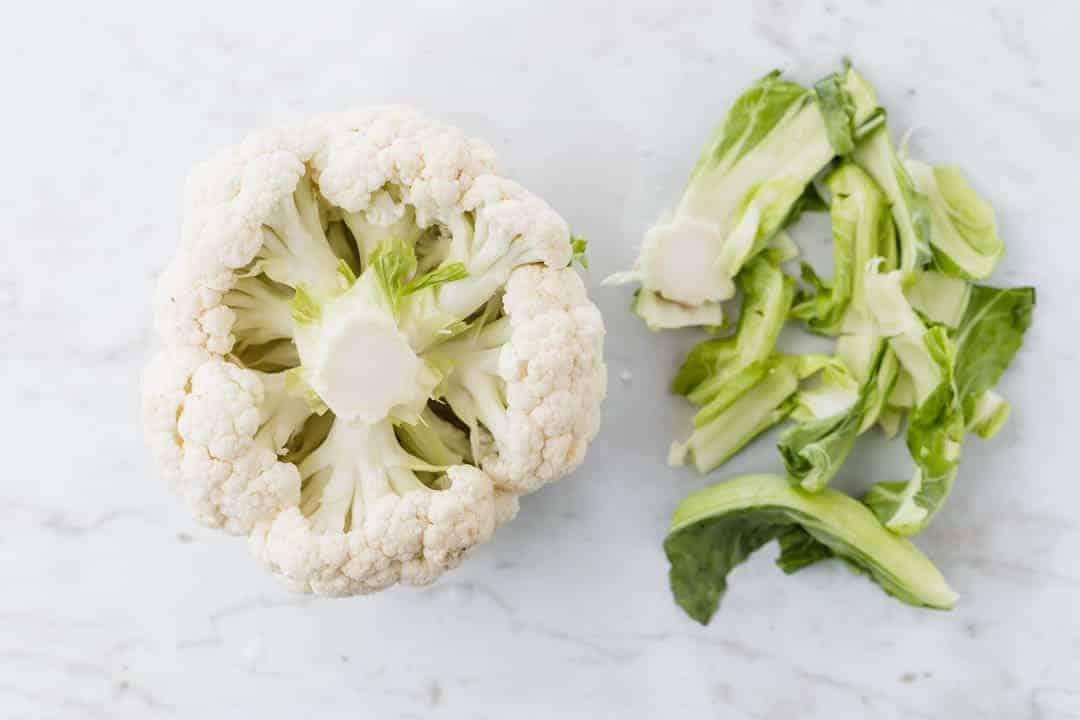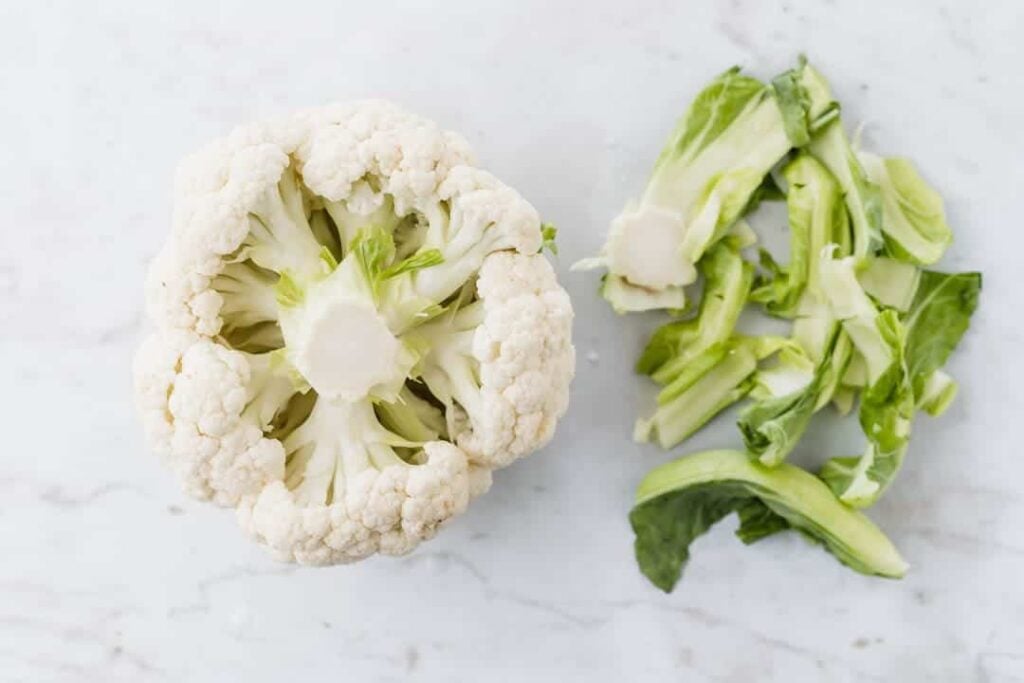 Place on a cutting board, use a sharp knife (preferably a serrated knife) and cut the cauliflower lengthwise through the center.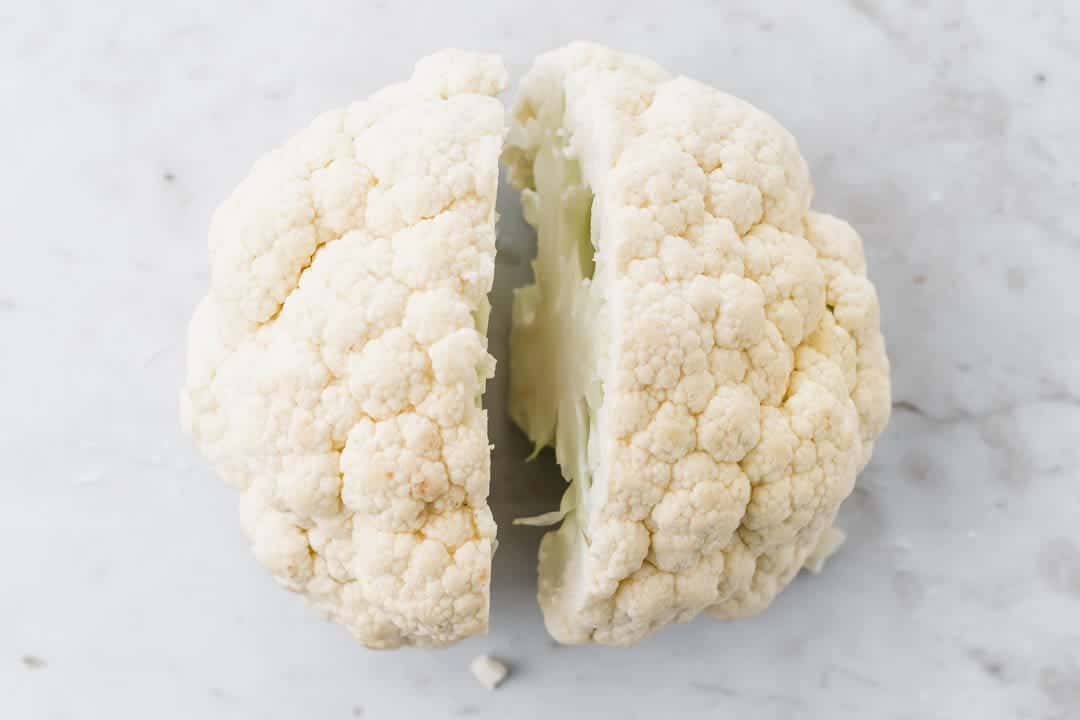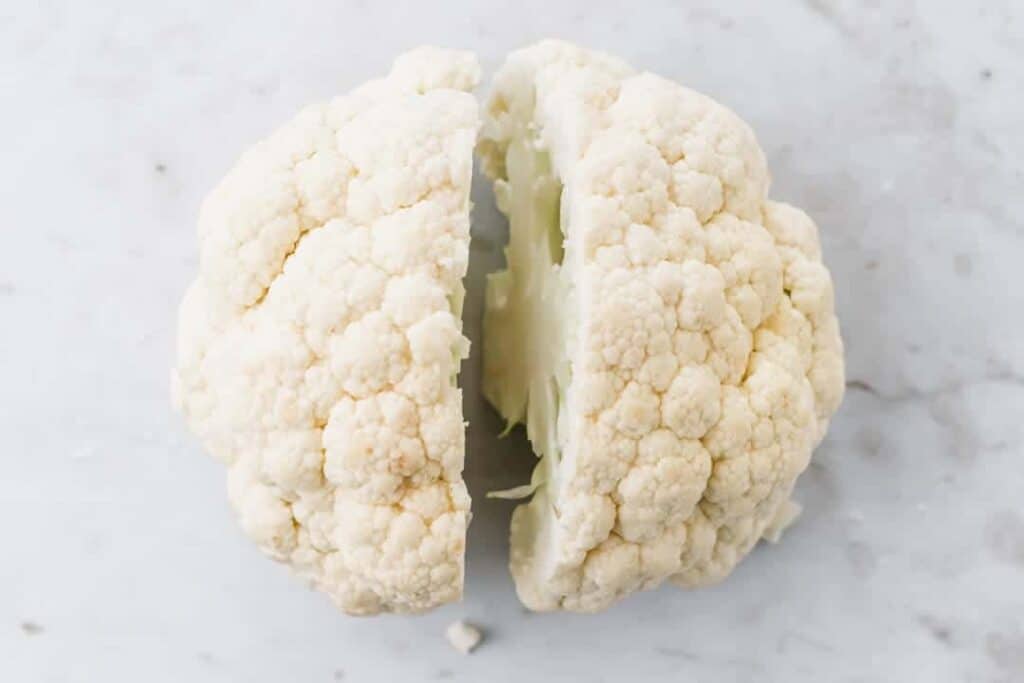 Cut 1-inch/2cm thick slices of each half.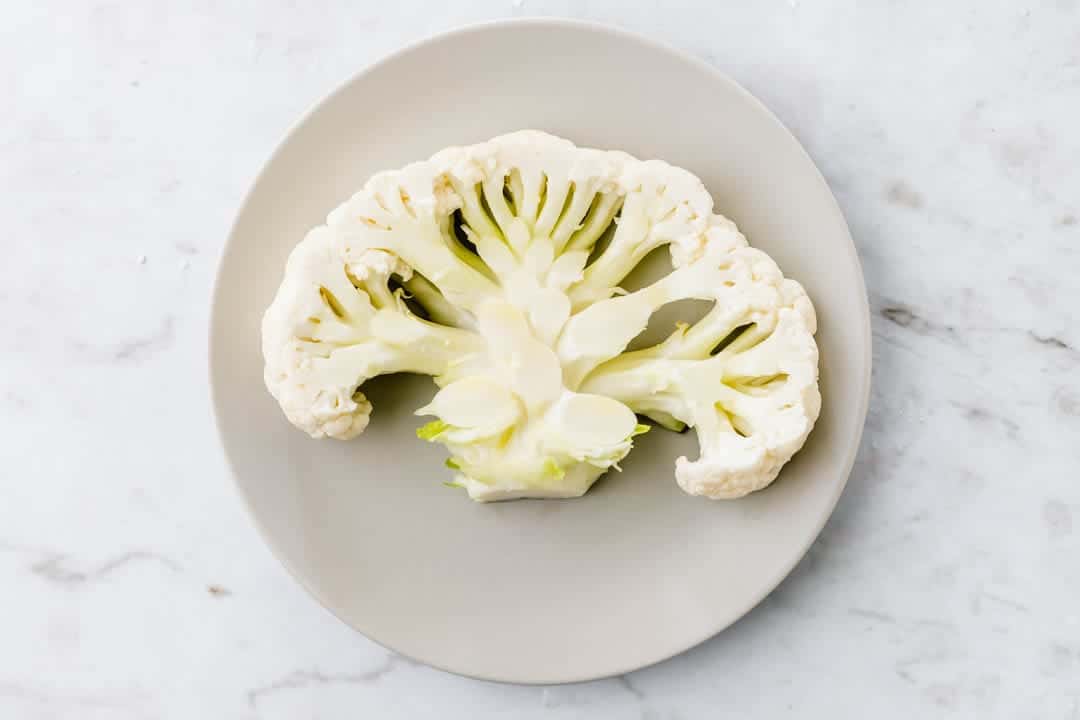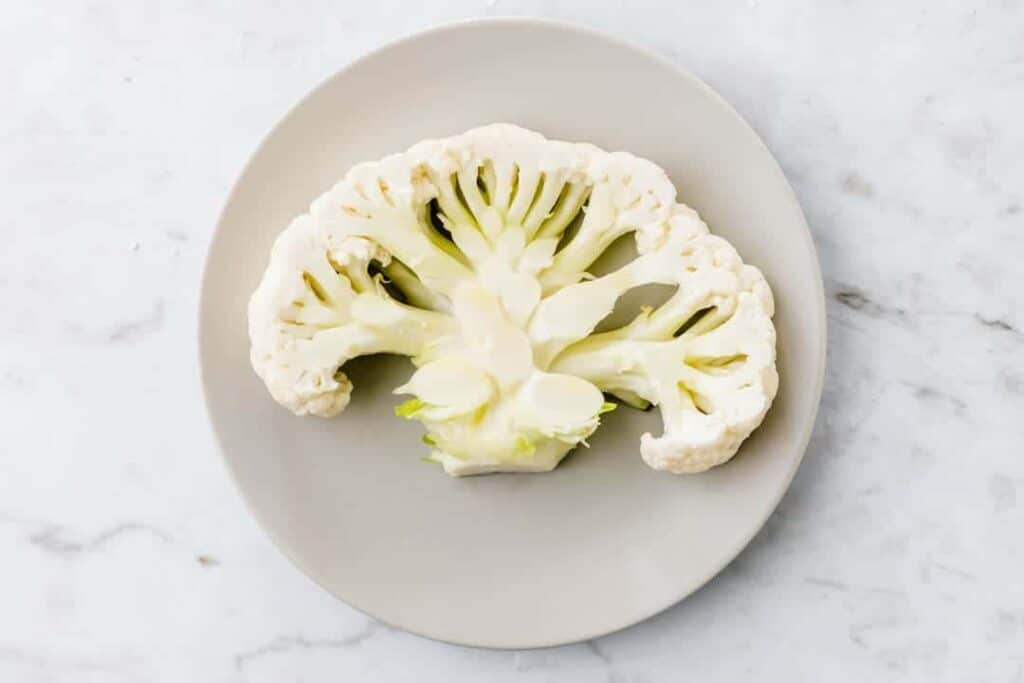 You will end up with a lot of remaining cauliflower. Don't despair, here comes the solution: Use the leftovers to make cauliflower skewers.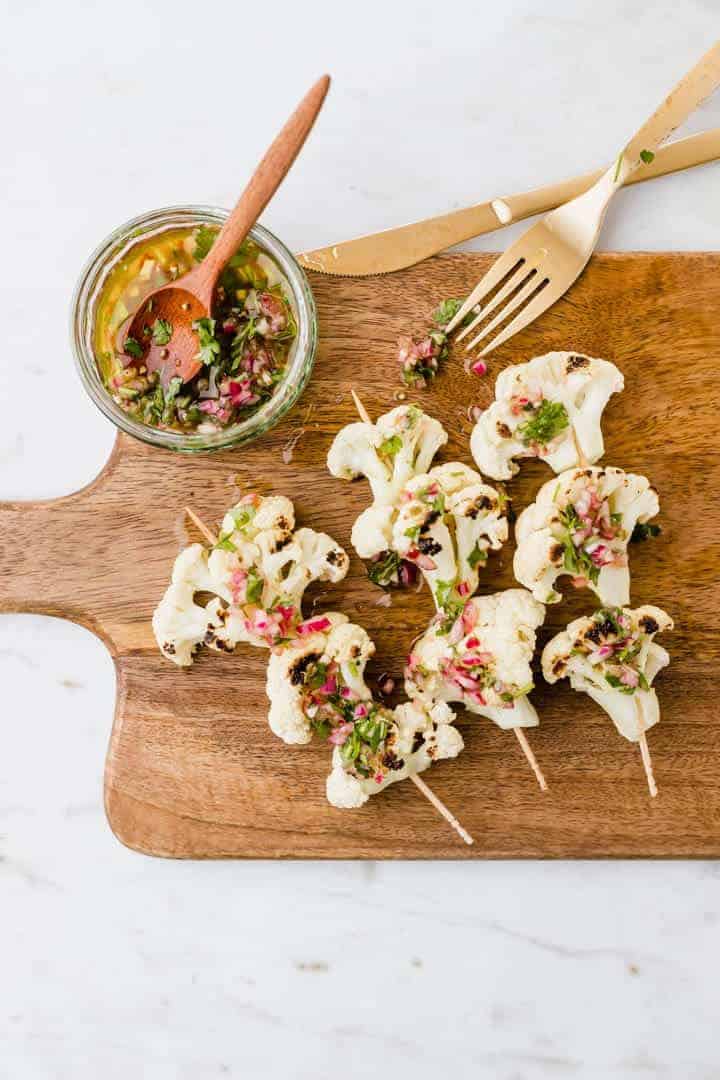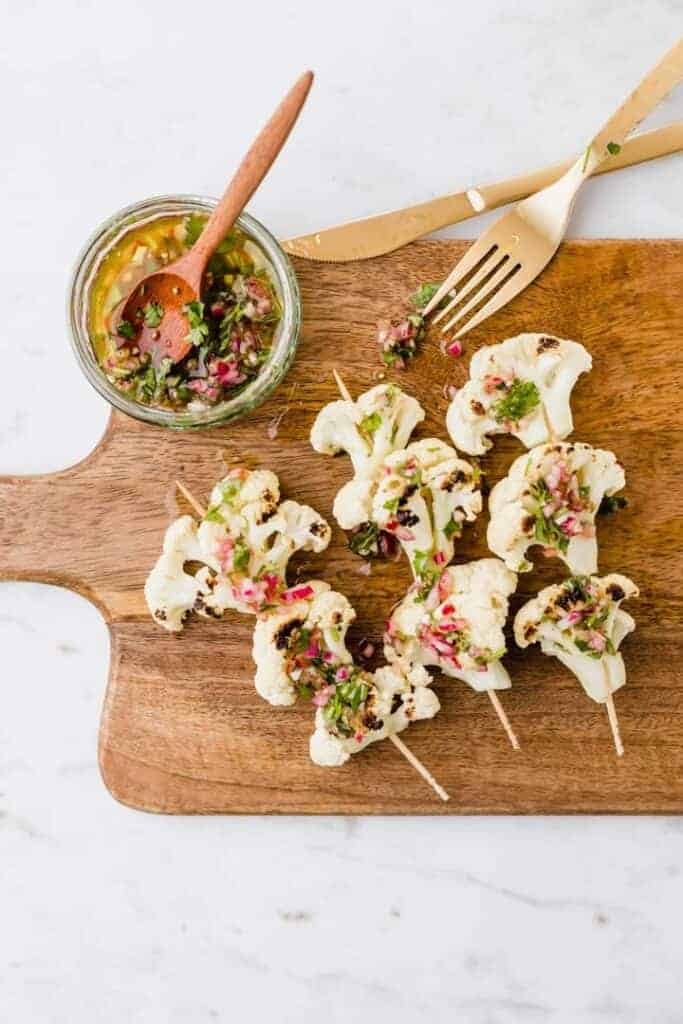 Cut the leftovers into little florets.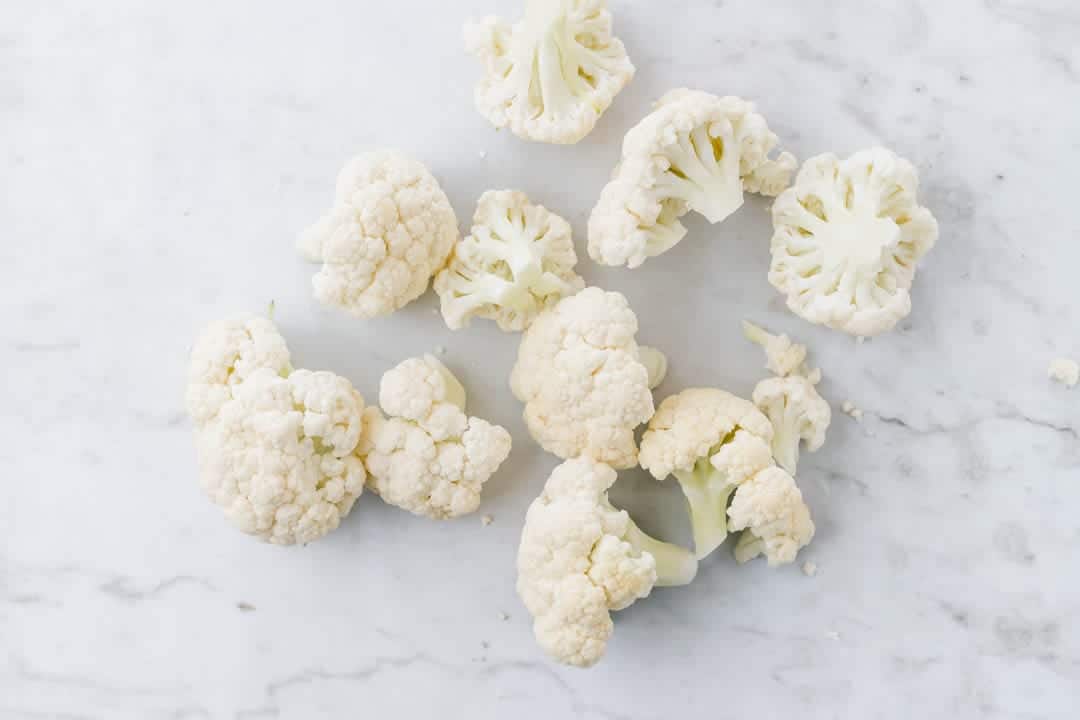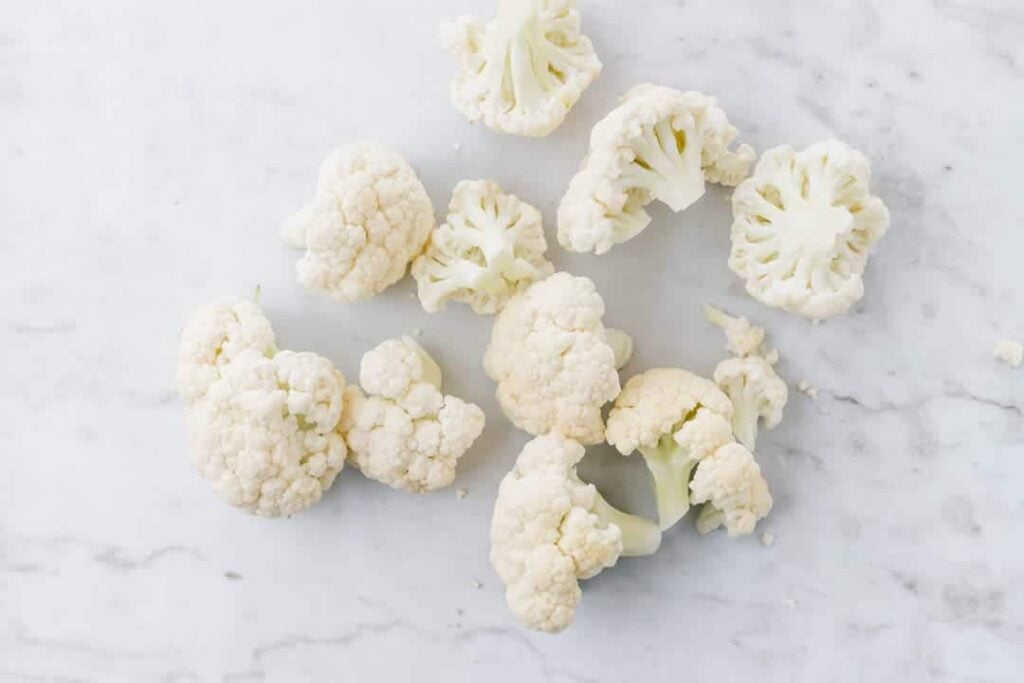 Add them onto skewers and prepare the same way than the steaks.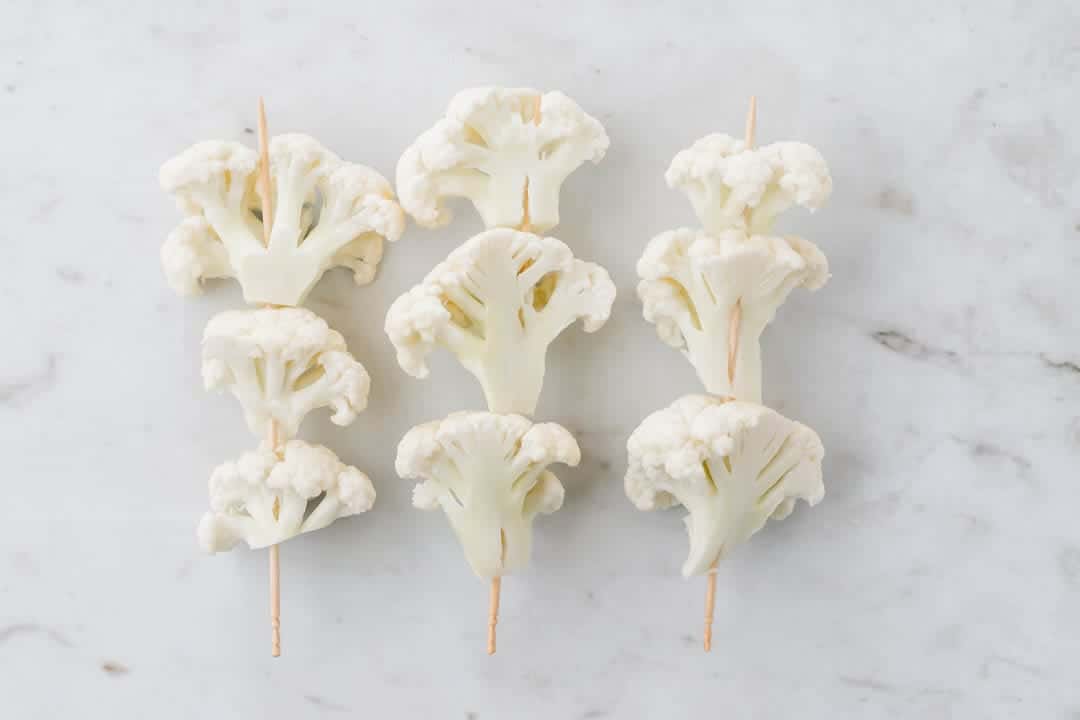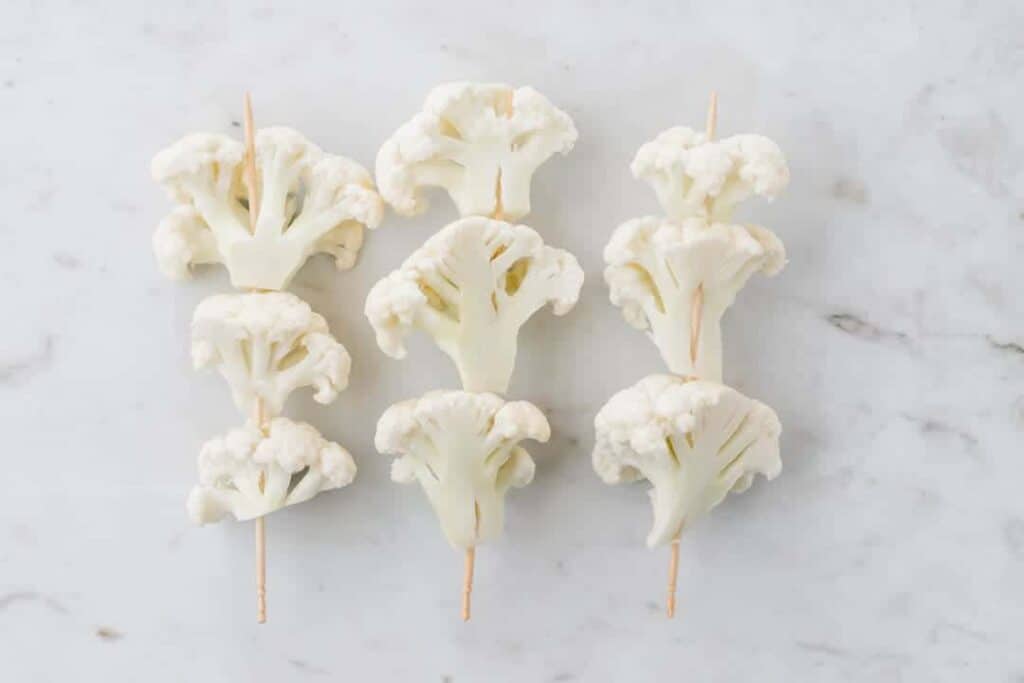 Other recipes you can make with the leftovers are:
Cauliflower Steak Marinade
Those steaks do taste mouthwatering only marinated with olive oil. But if you prefer a spicy taste, feel free to try out any of those marinade ideas:
Spices such as salt, black pepper, ground red pepper, or garlic powder.
Dried or fresh herbs
Mustard, lemon juice, grated garlic
By the way, it's easiest to marinade the cauliflower using a pastry brush.
Cauliflower Steak Recipe
Heat a gas grill or charcoal grill to medium. If you don't have a grill, use a grill pan instead (cast iron ones are my favorite).
Cut the cauliflower according to the guidance above into thick steaks.
Brush them with olive oil.
Place the steaks directly on the grill, cook for 5-10 minutes, flip the cauliflower steaks or skewers, and cook the other side until you have nicely roasted cauliflower steaks.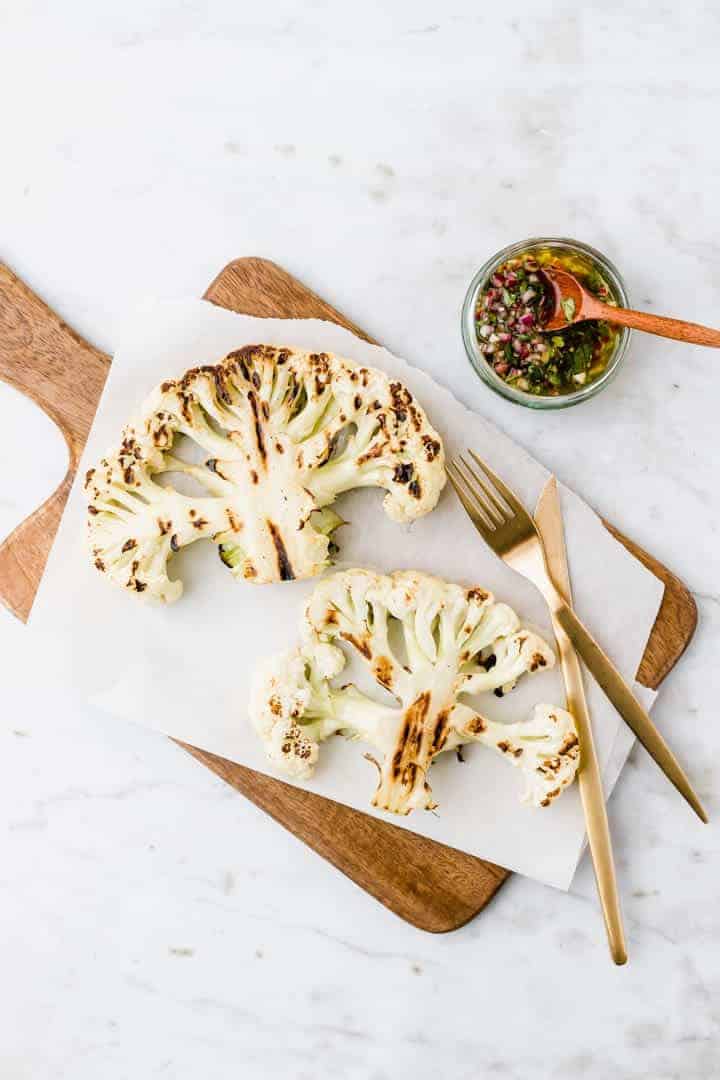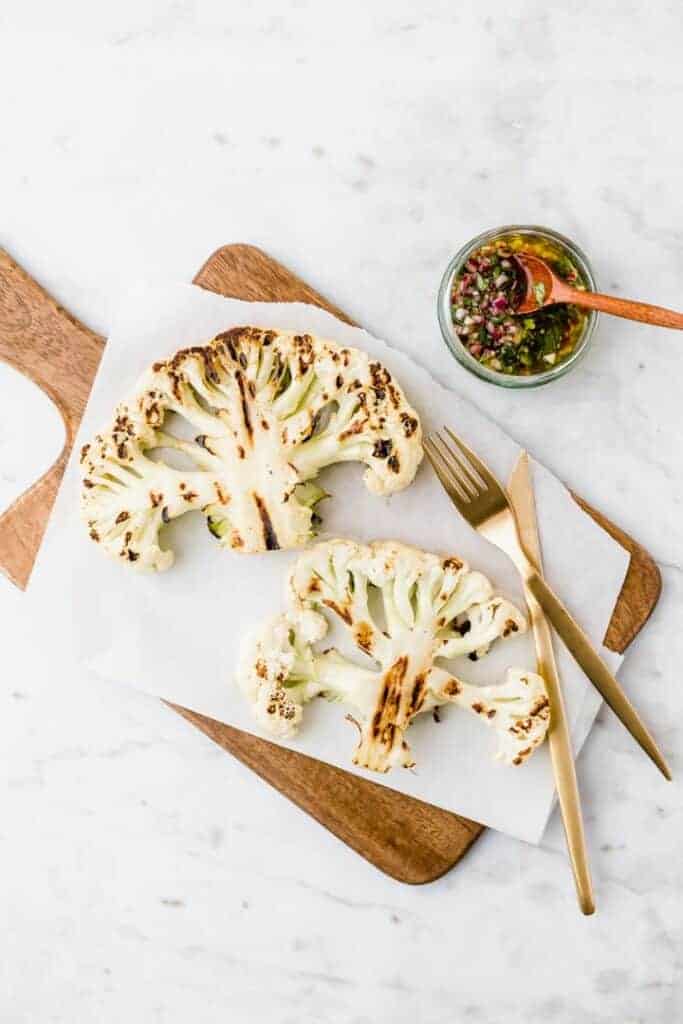 What To Serve With Cauliflower Steaks
Those steaks are a perfectly grilled "meat" alternative for every BBQ, but can also be served as a side dish. I love to serve them with homemade salad, fresh bread, or other grilled veggies.
Here are some recipe ideas to serve with: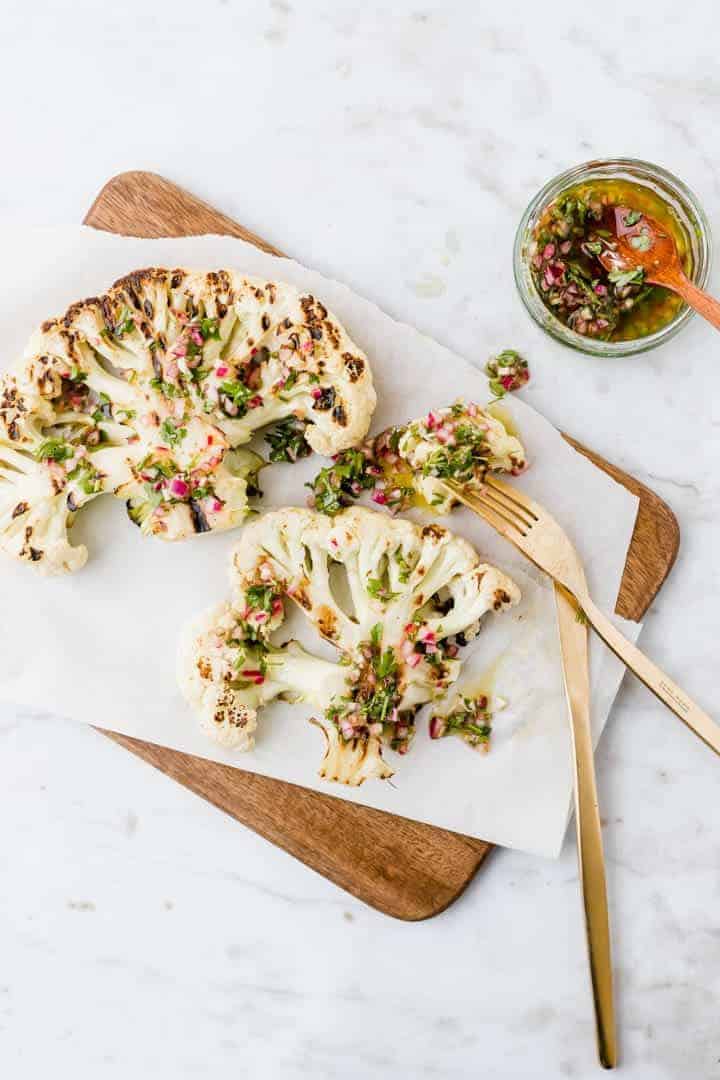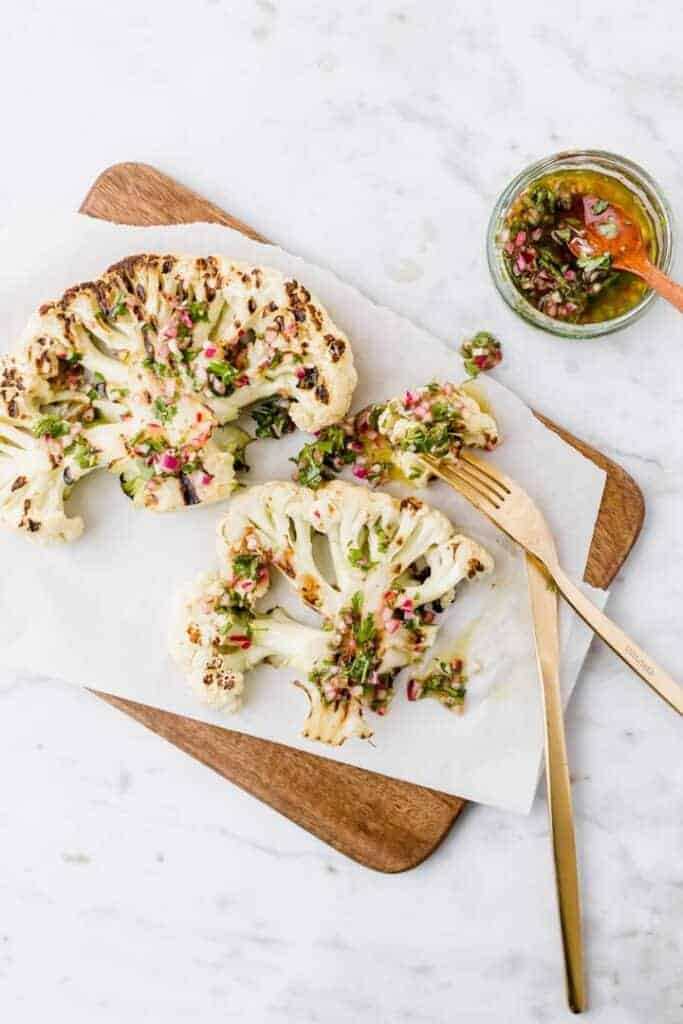 DID YOU TRY THIS RECIPE?
I would love it if you leave me a 5-star rating or comment. This way, I better get to know which recipes you like and can make more of them.
Please follow me on Facebook, Instagram, and Pinterest to see more tasty shiny food pictures! I would be thrilled to welcome you to my community!
📖 Recipe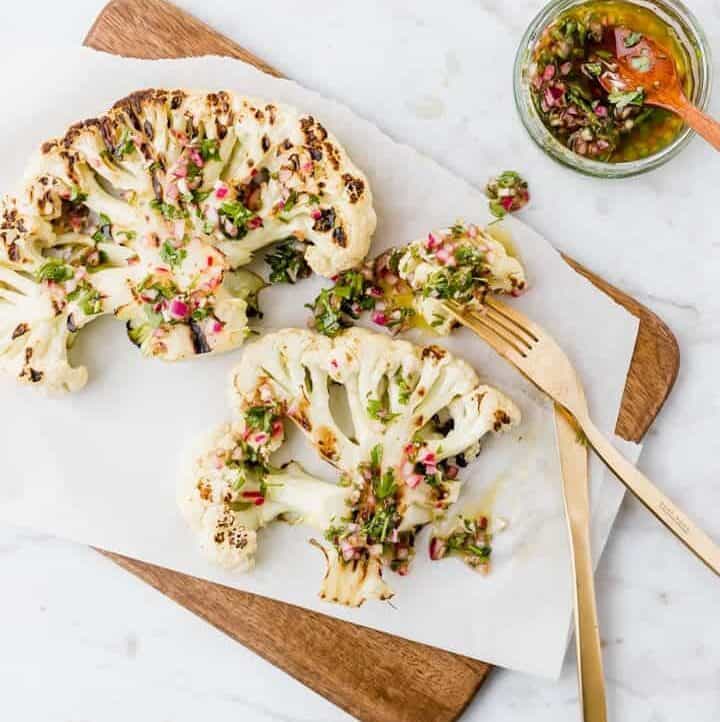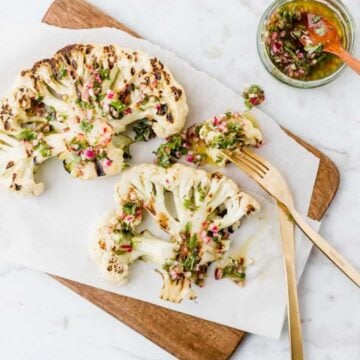 Grilled Cauliflower Steak
These grilled cauliflower steaks are your number one grilled veggies once you tried them! Easy to make, super delicious, and healthy.
Click on the stars to leave a vote!
Ingredients
1

head

cauliflower

1

tbsp

olive oil

or sunflower, canola oil
Instructions
Heat the grill or a grill pan to medium.

Carefully remove the green leaves from the cauliflower without harming the stem. Cut the cauliflower in half lengthwise through the center. Then, cut a 1-inch/2cm thick steak from each half of the cauliflower. Unfortunately, that's all you get from one head of cauliflower. You can try to cut one more steak from each half, or make cauliflower skewers with the rest of the florets.

Cauliflower Skewers: Cut the rest of the cauliflower head into florets and add them to skewers.

Brush the cauliflower steaks (and skewers if you made some) with olive oil.

Grill each side of the steaks (and skewers) for 5-10 minutes. Serve with chimichurri sauce or season with salt and pepper.
Nutrition
Calories:
134
kcal
|
Carbohydrates:
14
g
|
Protein:
6
g
|
Fat:
8
g
|
Saturated Fat:
1
g
|
Sodium:
86
mg
|
Potassium:
860
mg
|
Fiber:
6
g
|
Sugar:
5
g
|
Vitamin C:
138.6
mg
|
Calcium:
63
mg
|
Iron:
1.2
mg
Did you make this recipe?
Let me know by leaving a recipe rating below, or by tagging @aline_made on Instagram. I love seeing your beautiful creations!