*This post may contain affiliate links.
Have you ever tried making Vegan Tuna before? Turns out it's SUPER easy! It tastes delicious as a vegan tuna salad, as a filling for vegan tuna sandwiches, or simply with fresh bread. Read on to follow me through the steps of making this simple, nostalgic meal!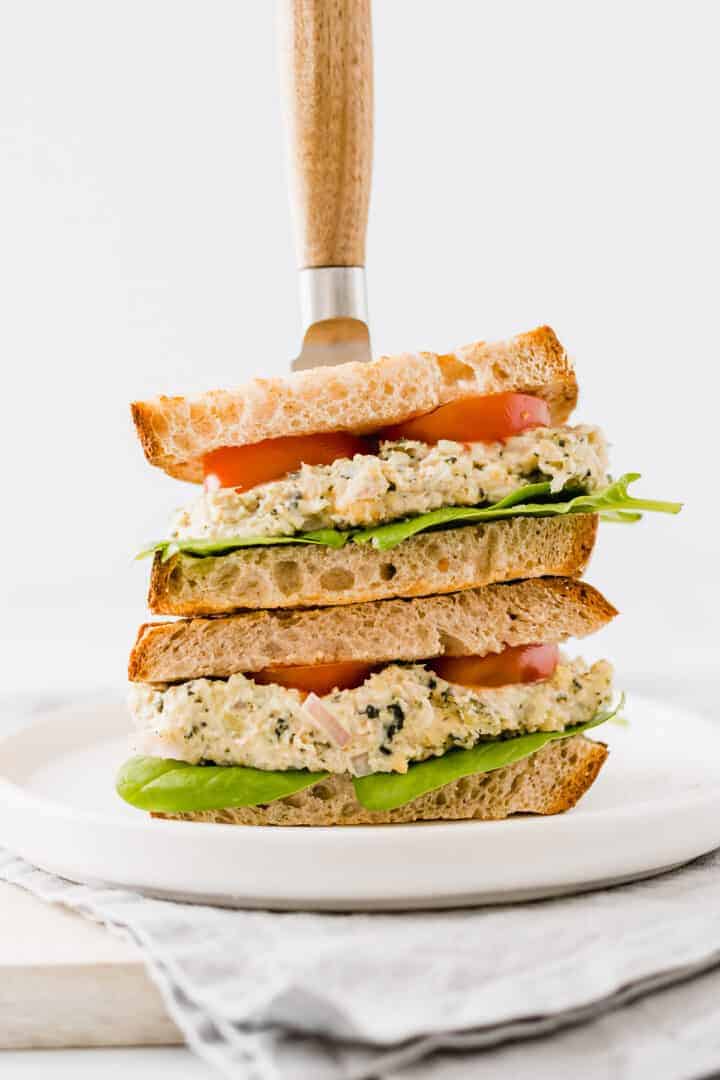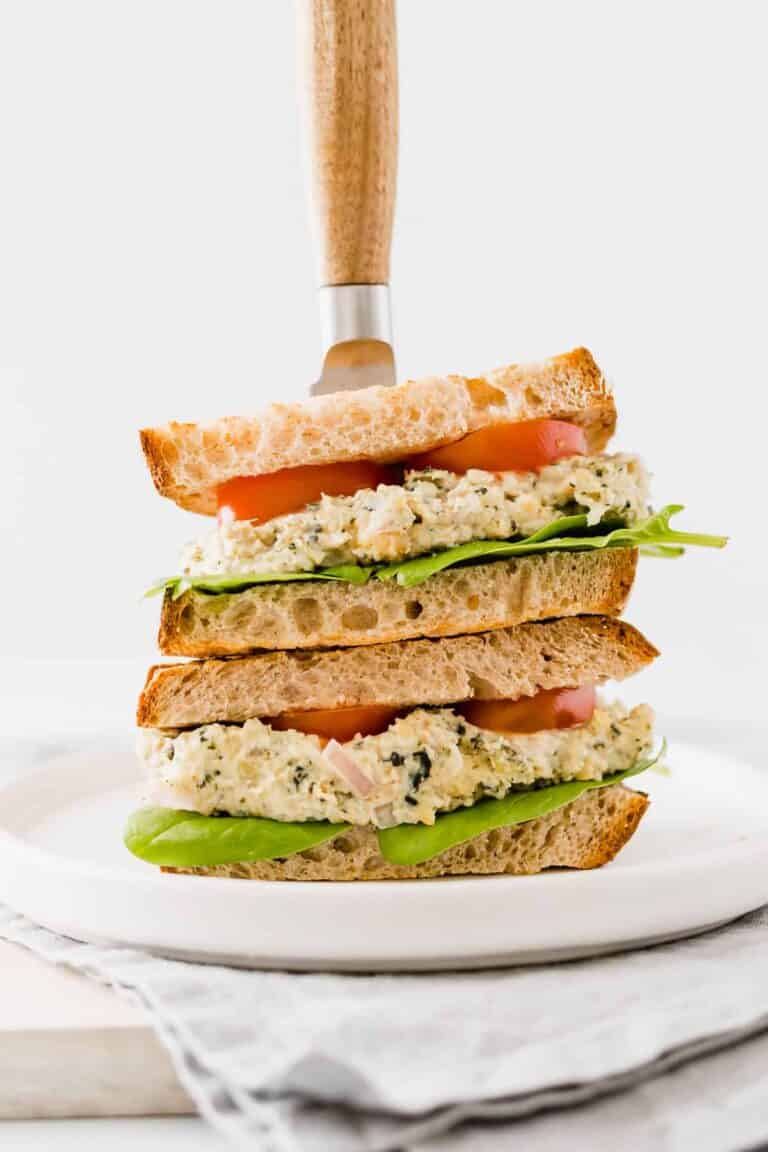 Vegan Tuna – Huh?
Sounds a bit like an oxymoron, and yes, everybody does a double take the first time they see those words together, but guys, I. AM. SOLD! And so will you be. How does it work? I hear you!
Chickpeas and Nori (seaweed) are the answer!
Nori, the tasty and nutritious algae leaf of the sea (usually wrapped around sushi, yum!), takes care of the fishy taste, but keeping it fish-free.
The protein-packed heartiness comes from the chickpeas, which are whipped together with some spices and the Nori into a delightful and healthy vegan tuna alternative.
You will not miss the original with this recipe! It tastes like real tuna!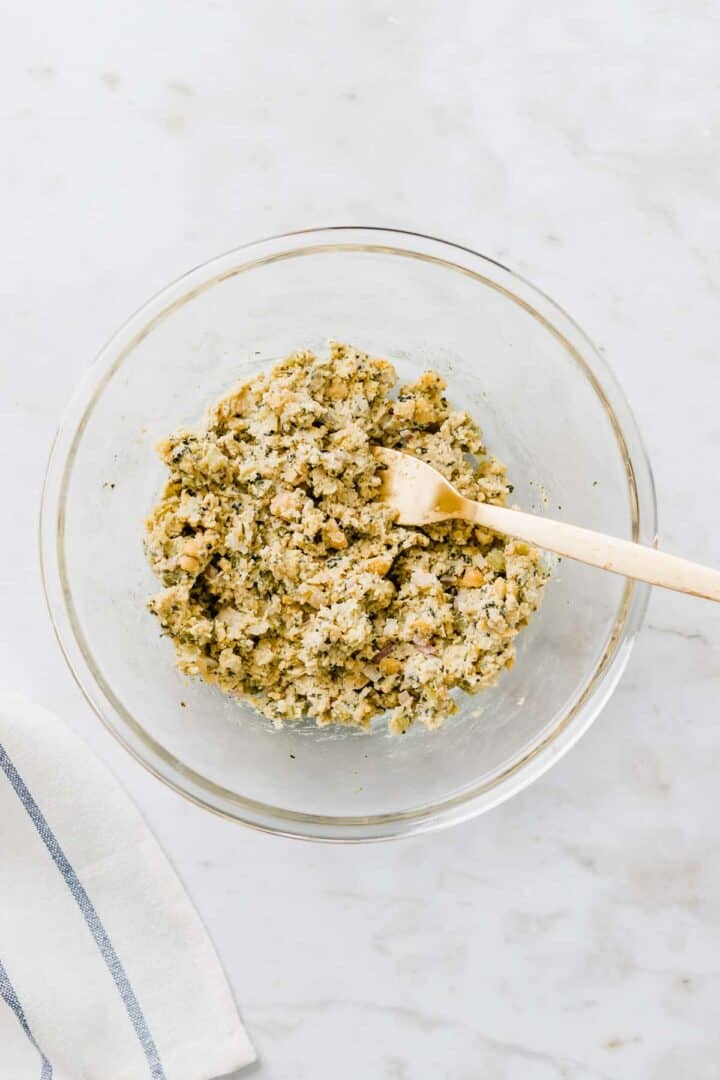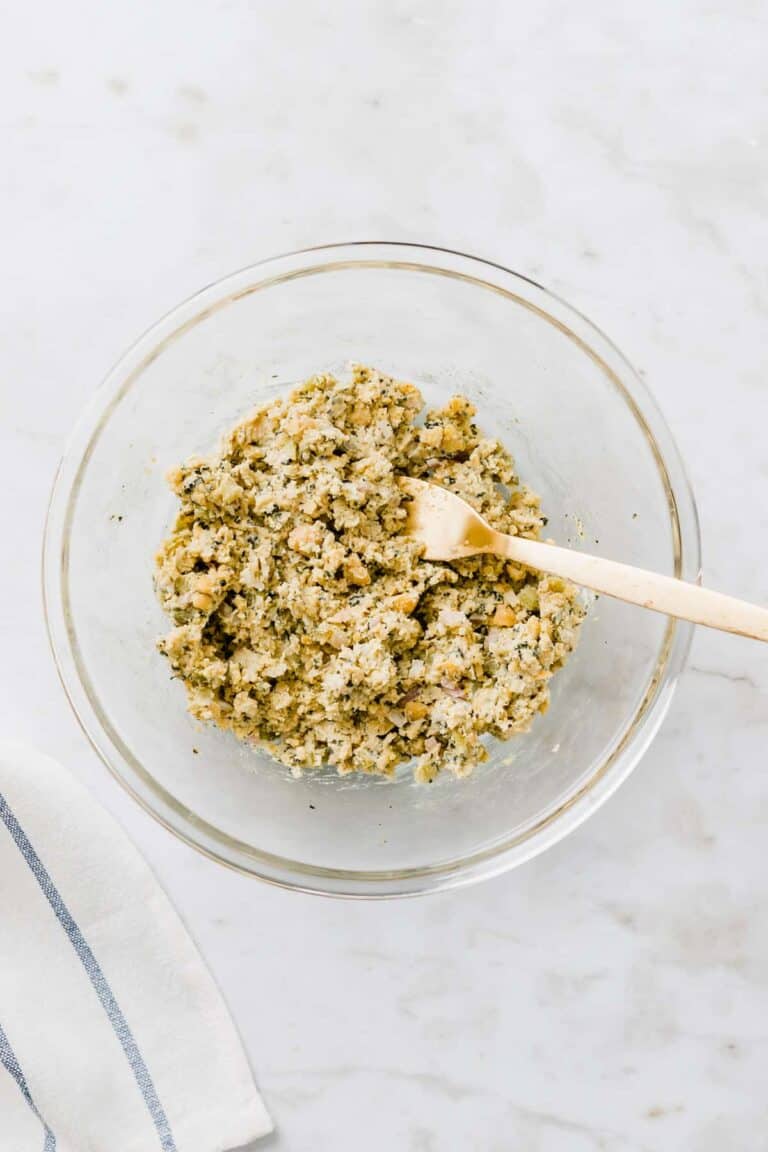 What Can I Use Vegan Tuna In?
SO MANY THINGS! Vegan chickpea tuna is super versatile and an excellent addition to every plant-based diet.
Try it as a vegan tuna sandwich filling, tuna salad over greens, vegan sushi filling (yes, please!), as a pizza topping, or simply with fresh bread.
Vegan Tuna Sandwich
This filling makes the best vegan tuna sandwiches!
Absolutely packed with a slightly fishy, juicy flavor and protein to keep you full, they are great for a work lunch, a quick snack, to take hiking, or can even be pre-made and served as a quick dinner.
These sandwiches are best made with fresh or toasted sliced of bread, salad, and tomatoes. The "tuna filling" is super tasty, but you can add a little more vegan mayo to take it up a level and make it even creamier if you'd like!
Vegan Chickpea Tuna Salad
Try this vegan tuna recipe as a salad, served over greens or even by itself.
For the sandwiches I like the ingredients to be well blended, but for the "tuna salad" I like it a little chunkier, so don't blend it quite as long in the food processor.
How To Make This Vegan Tuna Recipe
→ Check out the recipe video. See how to make this vegan tuna in less than a minute!
This recipe is super easy and quick to make! This step-by-step guide will help you along the way – definitely recommended if you're a new cook!
The exact quantities and everything else you need to know for the recipe can be found in the recipe card below.
Main ingredients for Vegan Tuna:
Canned or cooked chickpeas
Nori → For the fishiness
Vegan Mayo → Provides a creamy flavor
Tahini → Gives it an earthy, nutty taste
Lemon juice (or vinegar)
Mustard
Shallots or Red Onion
Relish, Cornichons, or Pickles
Here's how to make it:
Tear the Nori leaf into small pieces and mix with the food processor until finely chopped. Alternatively, you can also cut the Nori leaf very finely with a knife.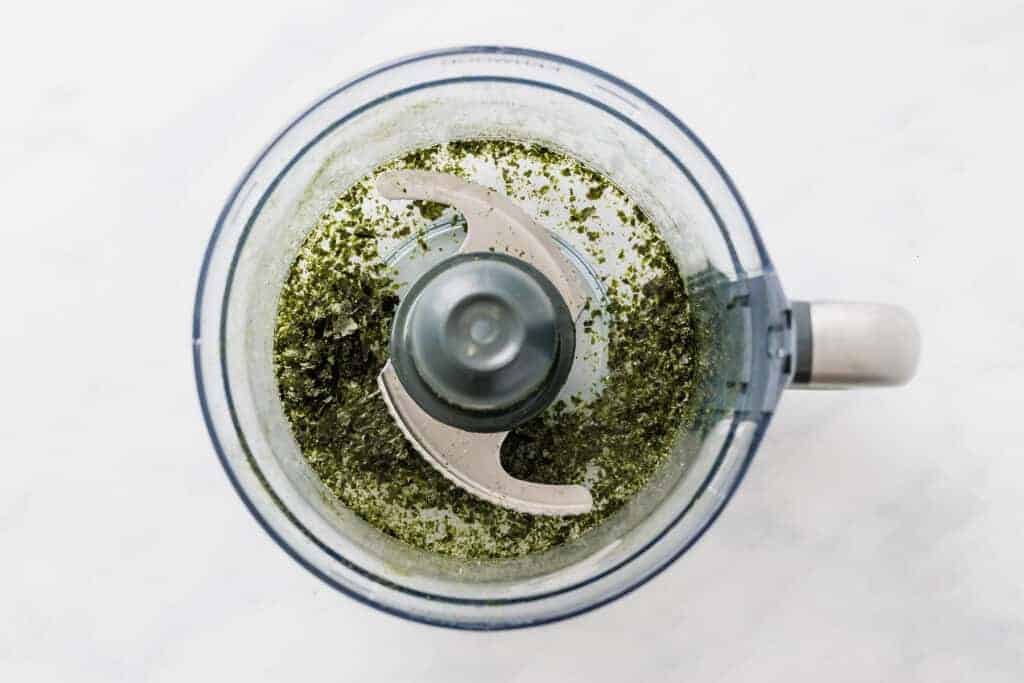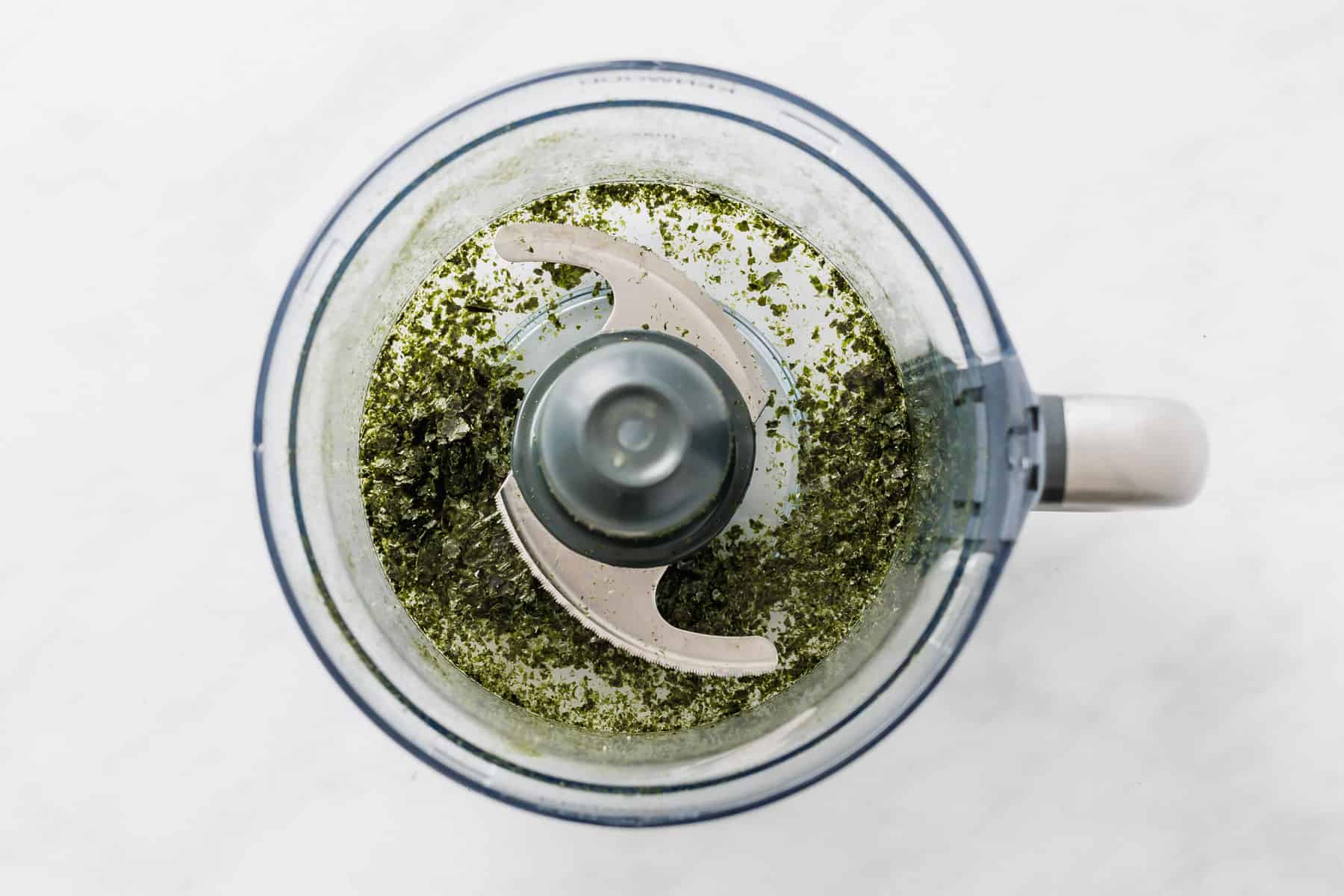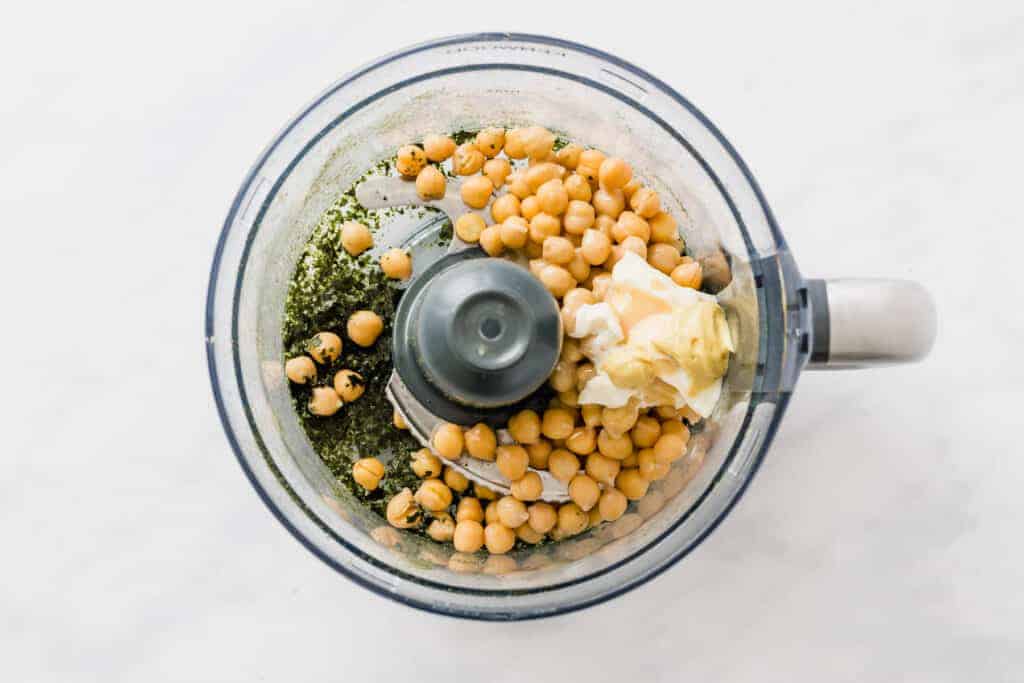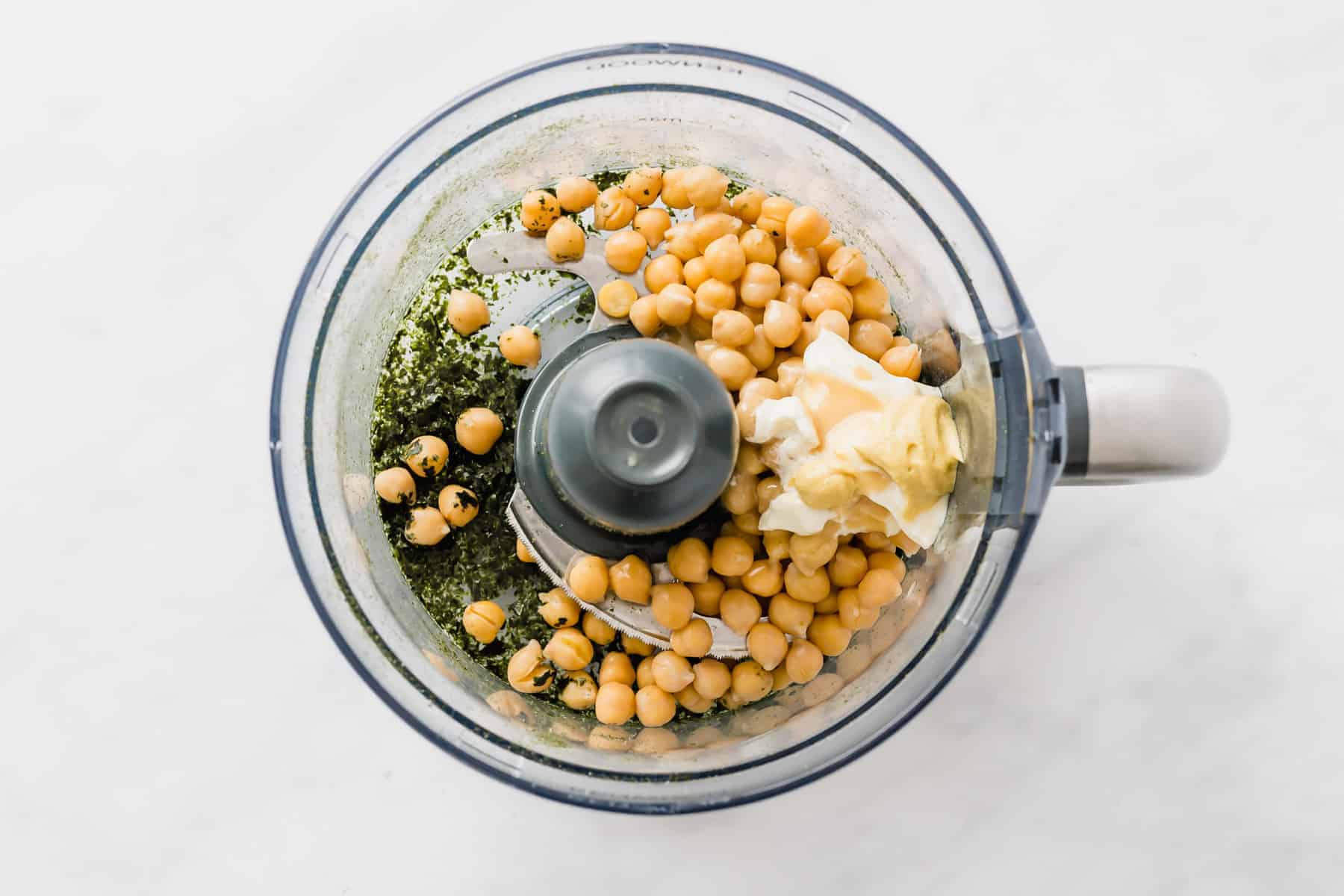 Blend until the vegan tuna salad has reached the desired consistency. Don't blend for too long, the chickpeas should still be slightly crunchy and not too mushy (see photos). You can also mash the chickpeas with a fork.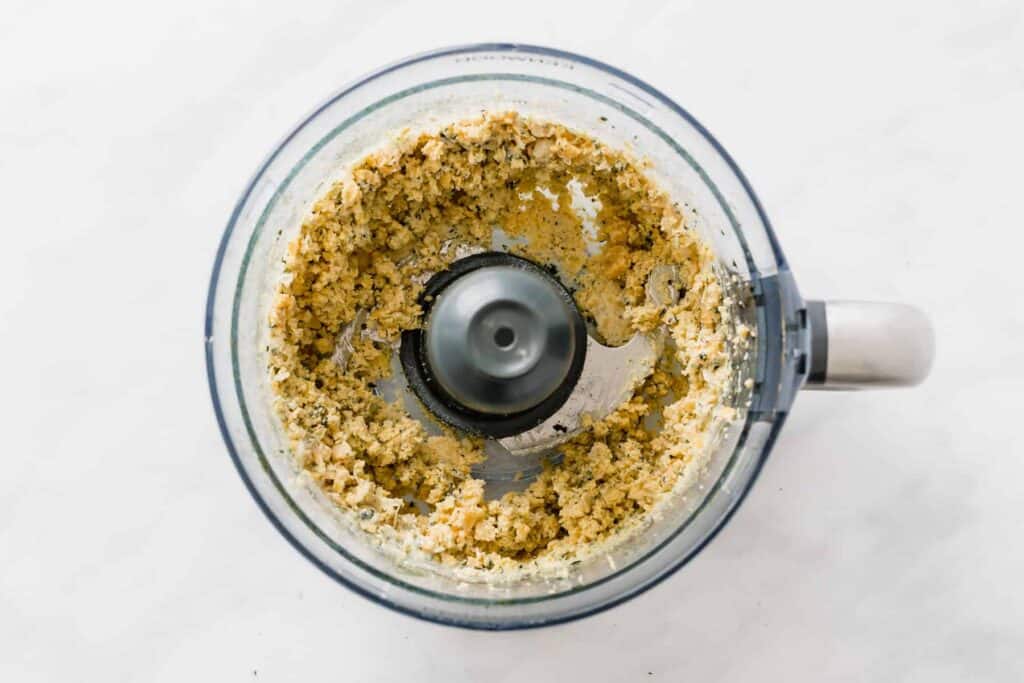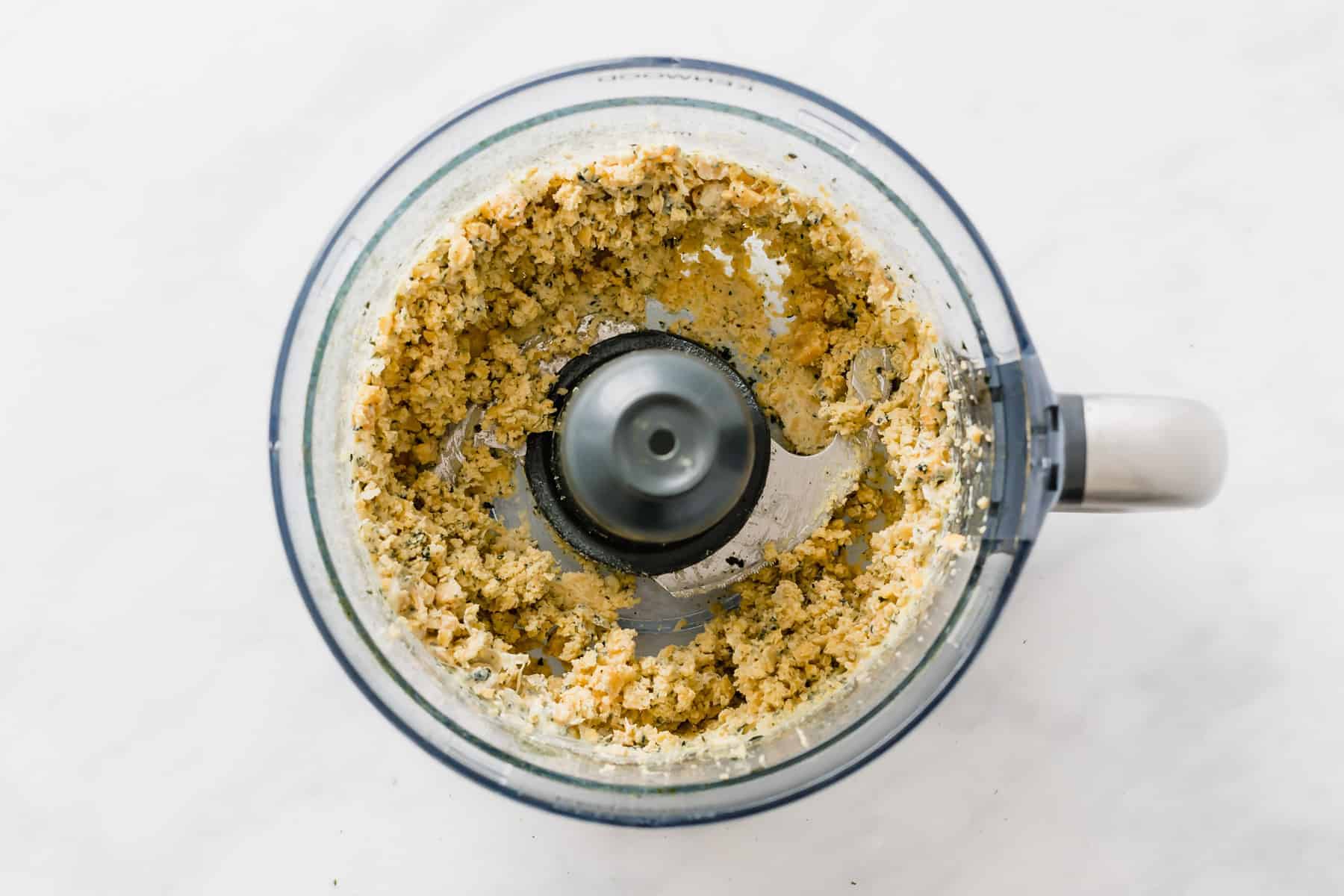 Place in a bowl and mix with the chopped shallots and pickles.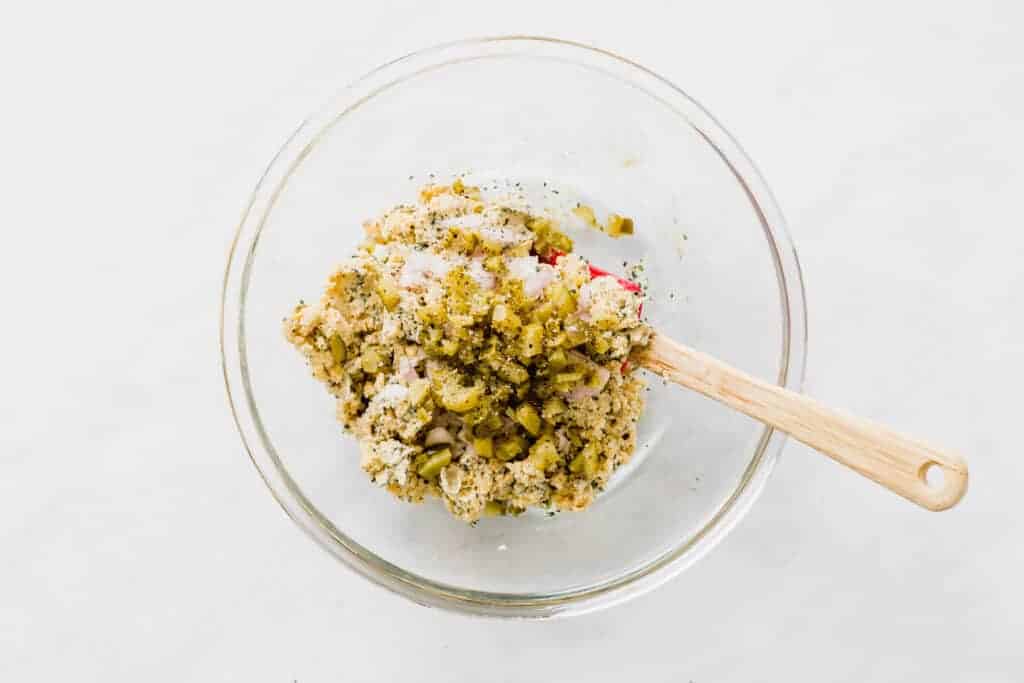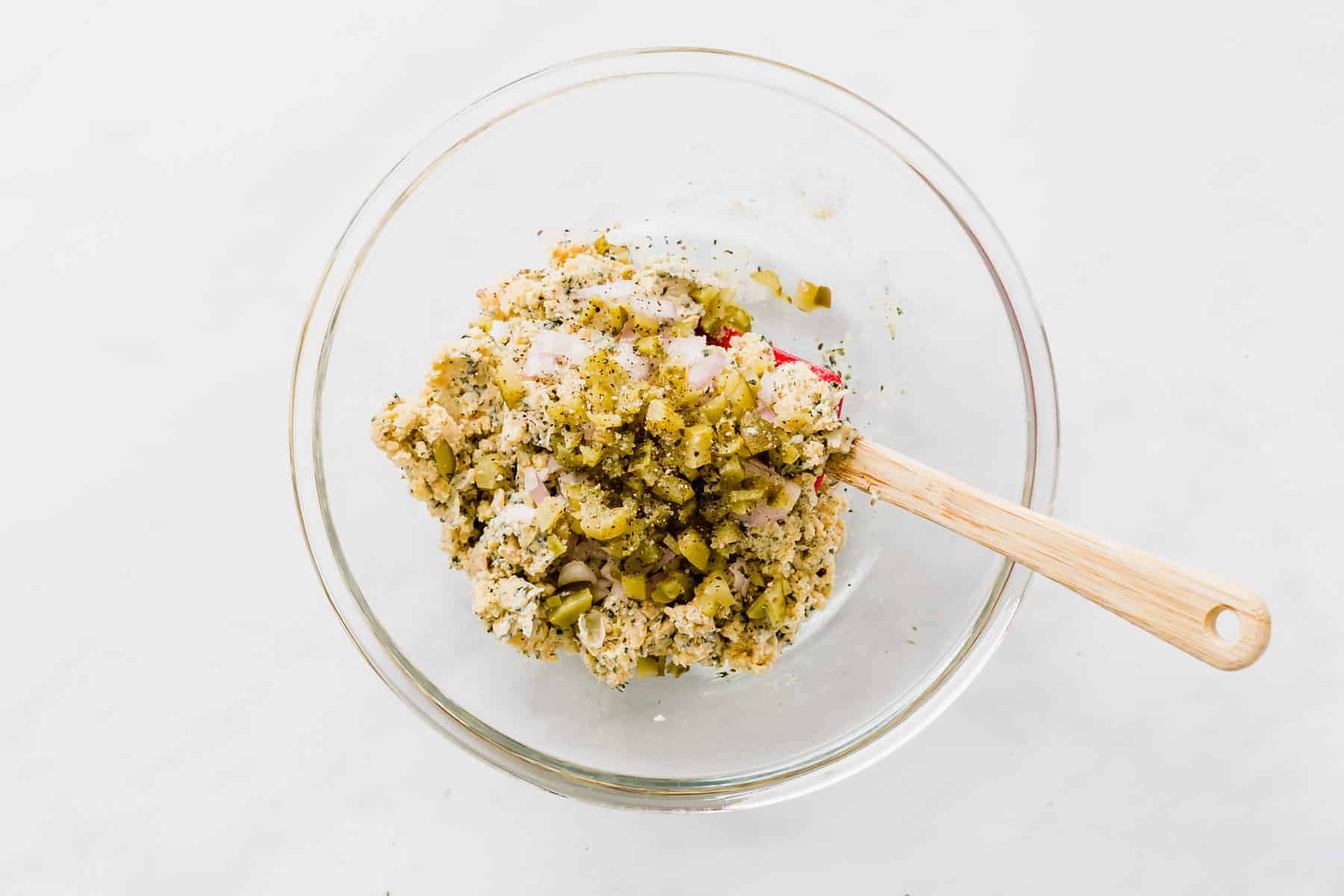 Season to taste with salt and pepper.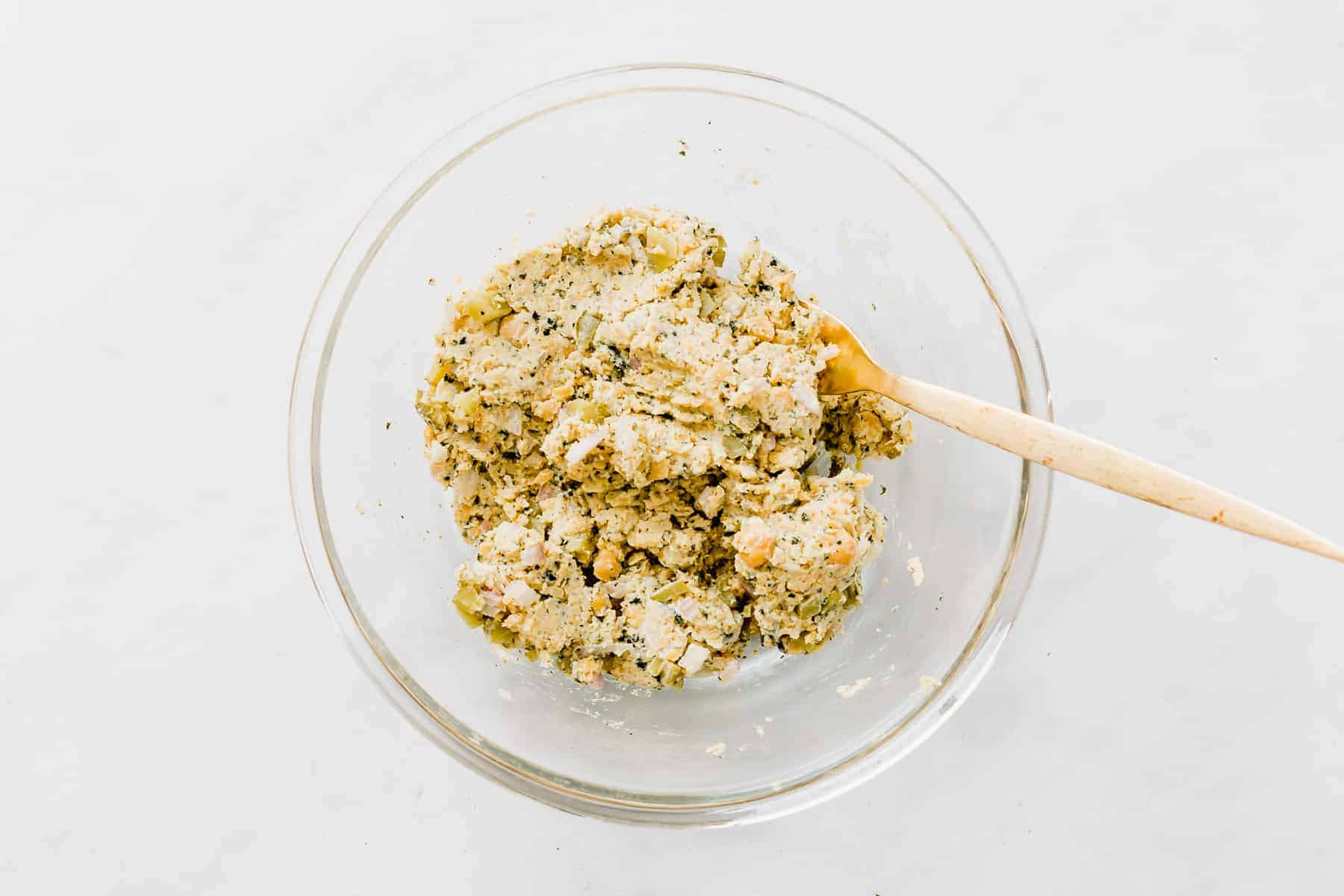 This recipe tastes amazing as "tuna salad" with fresh bread, as sushi filling, or as a vegan tuna sandwich. You decide!
Recipe Variations
Tahini: Can be replaced by oil, mayo, or almond butter.
Celery: Add some chopped celery sticks.
Mayo: Use more mayo if you like tuna salad very creamy.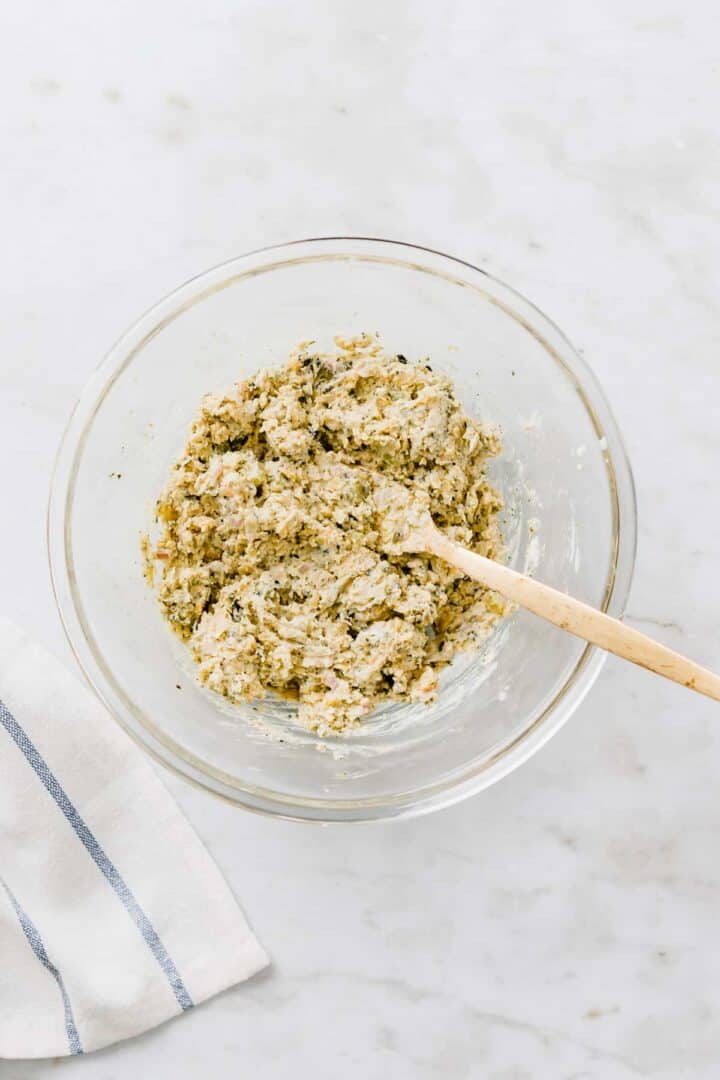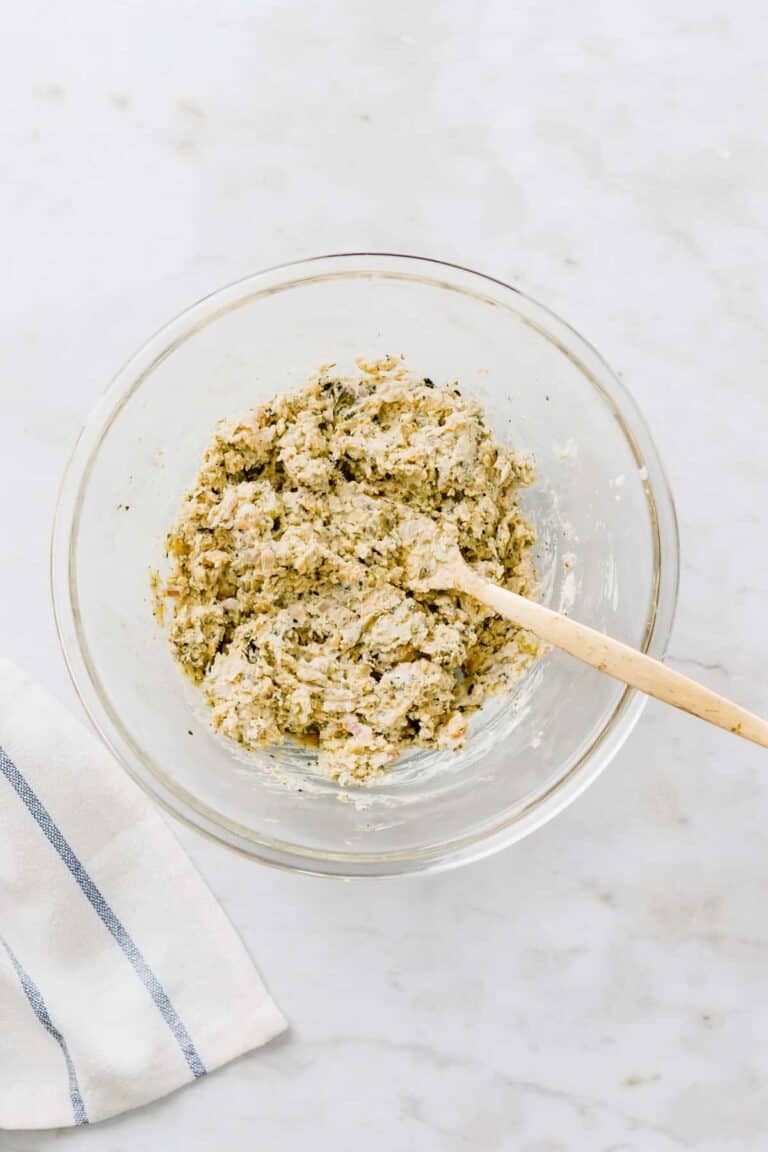 Recipe FAQ
How long can I keep vegan tuna and how do I store it? This dish will stay fresh for 3-4 days, stored in an airtight container in the refrigerator.
Is there an alternative for Nori? No, Nori is irreplaceable for the fishy taste. Nori is just the seaweed you find around sushi, and is completely vegan.
Where can I buy Nori? You can find it in Asian supermarkets or at the Sushi/Asian isle in bigger commercial supermarkets.
More Vegan Recipes You Will Love:
Did You Try This Recipe?
I would love it if you leave me a 5-star rating or comment. This way, I better get to know which recipes you like and can make more of them.
Please follow me on Facebook, Instagram, and Pinterest to see more tasty, shiny food pictures! I would be thrilled to welcome you to my community!
📖 Recipe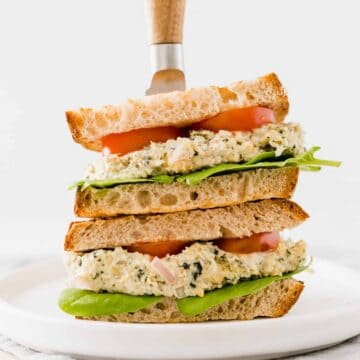 Vegan Tuna
Have you ever tried making Vegan Tuna before? Turns out it's SUPER easy! It tastes delicious as a vegan tuna salad, as a filling for vegan tuna sandwiches, or simply with fresh bread.
Click on the stars to leave a vote!
Ingredients
½

sheet

nori

1

cup

(

160

g

)

canned or cooked chickpeas

drained and rinsed

1

tbsp

vegan mayo

or more to taste

1

tbsp

tahini

can be substituted with canola or olive oil

½

tbsp

lemon juice

1

tsp

dijon mustard

or regular mustard

salt & pepper to taste

1

small

shallot

peeled & minced

2

tbsp

relish

or minced cornichons
Instructions
Tear the nori sheet in little pieces, place it in a food processor, and blend until it resembles flakes.

Add the chickpeas, mayo, tahini, lemon juice, and mustard to the food processor and pulse a few times until the vegan tuna salad reaches your desired consistency. Don't overblend, you want a chunky tuna salad! Season with salt and pepper.

Place it in a bowl and toss with shallots and relish.

Serve the vegan tuna salad with bread, as a sushi filling, or make vegan tuna sandwiches with it.
Notes
Keeps fresh for 3 days. Store it in an airtight container in the refrigerator.
Don't have a food processor? Chop the nori sheet very fine using a knife, and mash the chickpeas using a fork.
Tahini: Gives this vegan tuna an earthy flavor. Can be substituted with oil, vegan mayo, or almond butter.
Nori: Is essential for a fishy taste. It's the green sheet you make Sushi with. You find it in every Asian shop or within the Sushi section of every major supermarket.
Recommended Products
Nutrition
Calories:
93
kcal
|
Carbohydrates:
10
g
|
Protein:
3
g
|
Fat:
5
g
|
Saturated Fat:
1
g
|
Sodium:
232
mg
|
Potassium:
97
mg
|
Fiber:
2
g
|
Sugar:
1
g
|
Vitamin A:
16
IU
|
Vitamin C:
1
mg
|
Calcium:
20
mg
|
Iron:
1
mg
Did you make this recipe?
Let me know by leaving a recipe rating below, or by tagging @aline_made on Instagram. I love seeing your beautiful creations!